Tracy Pollan is an Emmy award–nominated actress who has enjoyed a successful career in television and film, and on the Broadway stage. She lives in Manhattan with her husband, Michael J. Fox, and their four children. She has served on the board of the Michael J. Fox Foundation for Parkinson's Research since its inception in 2000. Equal to Tracy's commitment to social causes and the arts is her lifelong passion for wholesome food, lovingly prepared. Tracy has always been a food enthusiast, to the delight of her husband and children.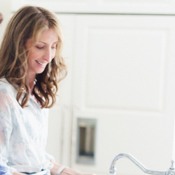 Dana Pollan has spent a lifetime focusing on health, fitness, and nutrition. She started her career in the industry 25 years ago as a cofounder of the Pollan-Austen Fitness Center, which became one of New York City's top-rated exercise studios. While she was at Pollan-Austen, Dana and her co-owners created, produced, and appeared in a series of six exercise videos promoting aerobic exercise, flexibility, body toning, and strength training. Dana then moved on to her second career as a full-time mother. Today, Dana lives in New York City with her husband and their three children. Having her own family has allowed Dana to reconnect with her true lifetime passion—cooking and food.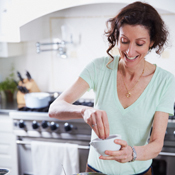 Lori Pollan, who holds an MBA, began her career in the health and fitness field 25 years ago. She cofounded the renowned Pollan-Austen Fitness Center where she guided clients through highly effective exercise and diet regimens. In the mid-nineties, Lori left the workforce to raise her three children. While a stay-at-home mom, Lori made it a priority to engage her children in cooking-related activities. They made their own Play-Doh and Goop, and baked and decorated cookies as art projects. During this time, in addition to being the family chef, she was also an active classroom and school volunteer, PTA president, and the author of numerous school newsletters. Lori is now a certified life coach, instructing clients in improved fitness, nutrition, and stress management so they can create a more balanced and healthy lifestyle.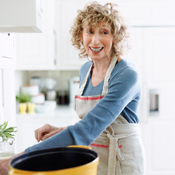 Corky Pollan has had a long and distinguished career in the magazine world, first as New York magazine's Best Bets Editor (a position she held for 18 years) and later as style director of Gourmet. While at Gourmet she was a major contributor to the magazine's weekly online Gourmet Newsletter, which covered food and cookware. Corky has written for the New York Times' dining section and the paper's Well blog. She has covered entertaining for Coastal Living as well as food and cooking for Cooking Channel's food blog. She is also the author of Shopping Manhattan, a guide to the city's best shops. Corky and her husband, lawyer and writer Stephen Pollan, live in Manhattan and have a weekend house in Connecticut where Corky indulges her love of gardening. But her true love has always been cooking, a passion shared by her three coauthors, daughters Lori, Tracy, and Dana—and by her son, Michael.
Photo Credits: John Kernick, Quentin Bacon
Website design: Three Square Design