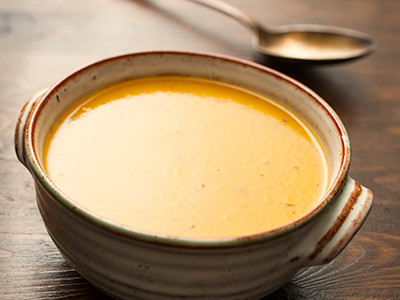 Makes about 2 quarts (4 to 6 servings)
Time: 1 hour
2 tablespoons raw shelled pumpkin seeds (pepitas)
Organic olive oil cooking spray
Sea salt
Freshly ground black pepper
2 tablespoons unsalted butter
1 cup finely chopped yellow onion
½ cup peeled and chopped carrots
2 cloves garlic, minced
1 teaspoon finely grated fresh ginger
7 cups peeled, seeded, and diced butternut squash, cut into 1-inch cubes
4 cups low-sodium vegetable broth
2 pinches ground nutmeg
Kosher salt
1 teaspoon Balsamic Vinegar Glaze
Preheat the oven to 350ºF.
Spread the pumpkin seeds across a rimmed baking sheet in a single layer and spray lightly with the cooking oil. Sprinkle with sea salt and pepper. Bake until lightly toasted, about 10 minutes. Remove from the oven and set aside to cool.
In a large stockpot over medium heat, melt the butter. Add the onion and carrots and sauté until they begin to soften, about 5 minutes. Add the garlic and ginger and stir for 30 seconds. Add the butternut squash and cook, stirring frequently, for 5 minutes. Pour in the vegetable broth and bring to a boil. Reduce the heat to low and cook uncovered, stirring occasionally, until the vegetables are soft, 15 to 20 minutes.
Remove the stockpot from the heat and allow the soup to cool until no longer steaming. Working in batches, ladle the soup into a blender (place a towel on the top when blending to avoid hot splashes) or food processor and blend on high until smooth. Pour the pureed soup into a clean pot. (As an alternative you can use a handheld immersion blender and blend the soup right in the pot.)
Return the soup to the heat and add the nutmeg, 2 teaspoons of kosher salt, and black pepper to taste. Stir to blend well and simmer until hot. Ladle the soup into individual bowls and top each serving with 1 teaspoon of the toasted pumpkin seeds. Add a swirl of balsamic vinegar glaze, ⅛ to ¼ teaspoon for each bowl, and serve.