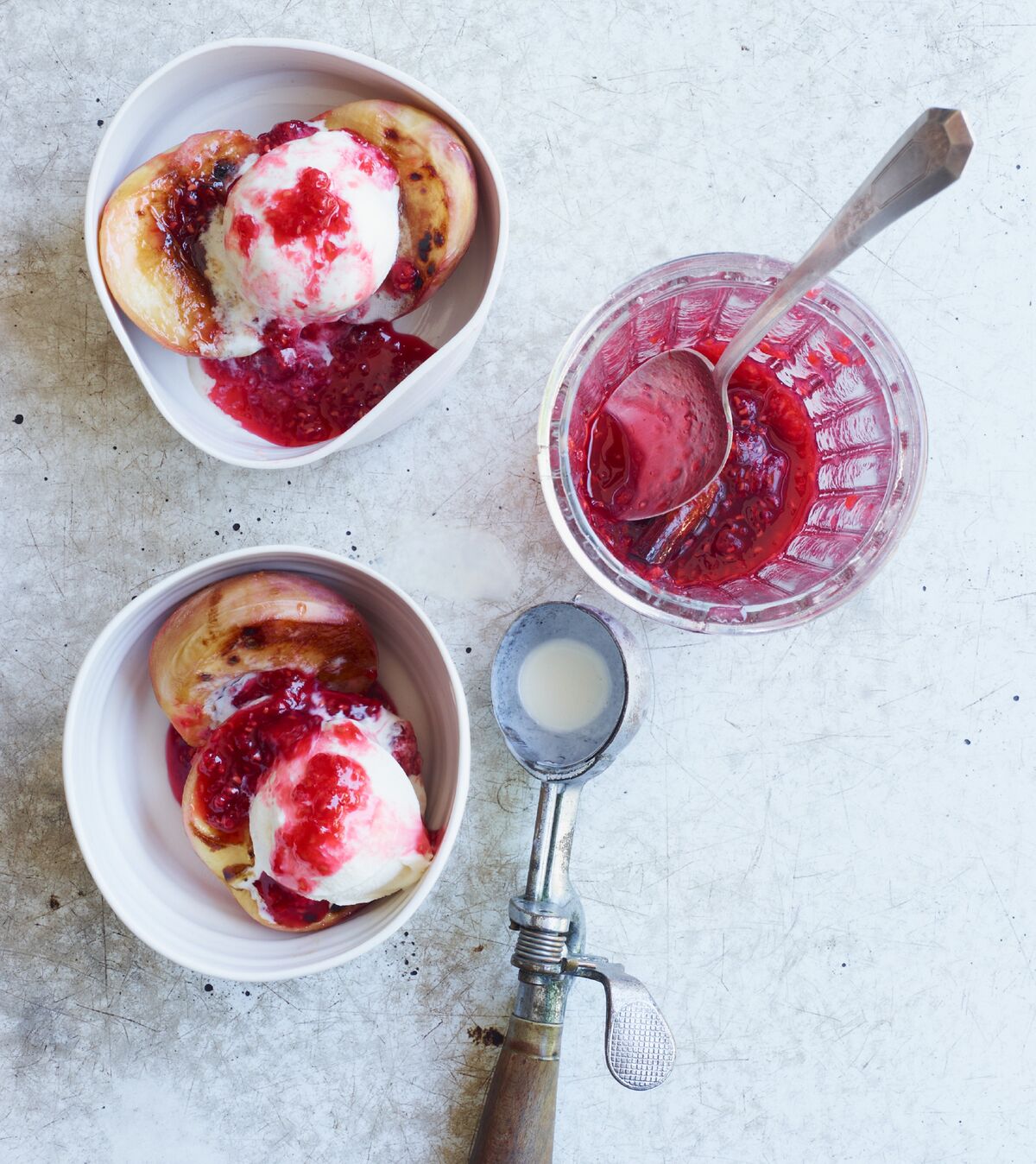 From THE POLLAN FAMILY TABLE, Scribner 2017, Photographs by John Kernick
4 servings
Time: 35 minutes
½ cup granulated sugar
1 cinnamon stick
1 bay leaf
1 tablespoon finely grated fresh ginger
1 cup fresh raspberries
3 tablespoons unsalted butter
3 tablespoons dark brown sugar
4 peaches, halved and pitted
1 tablespoon balsamic vinegar
1 pint vanilla or coffee ice cream
Set racks in the middle and the upper third of the oven and preheat the oven to 400ºF. Line a rimmed baking sheet with parchment paper.
In a small saucepan, combine the granulated sugar, cinnamon stick, bay leaf, ginger, raspberries, and ¼ cup of water. Simmer, stirring occasionally, for 8 minutes, until slightly thickened.
Discard the cinnamon stick and the bay leaf, and set aside.
In another small saucepan, melt the butter. Add the brown sugar and stir.
Arrange the peaches cut side up on the baking sheet. With a pastry brush, spread on the butter mixture. Drizzle each half with vinegar. Roast until the peaches are tender, 8 to 10 minutes. Remove the baking sheet from the oven.
Set the oven to broil. Return the baking sheet to the top rack of the oven, and broil until the sugar begins to bubble and caramelize, about 5 minutes.
To serve, arrange two peach halves each in four individual bowls. Top each serving with a scoop of ice cream and drizzle with the raspberry sauce.