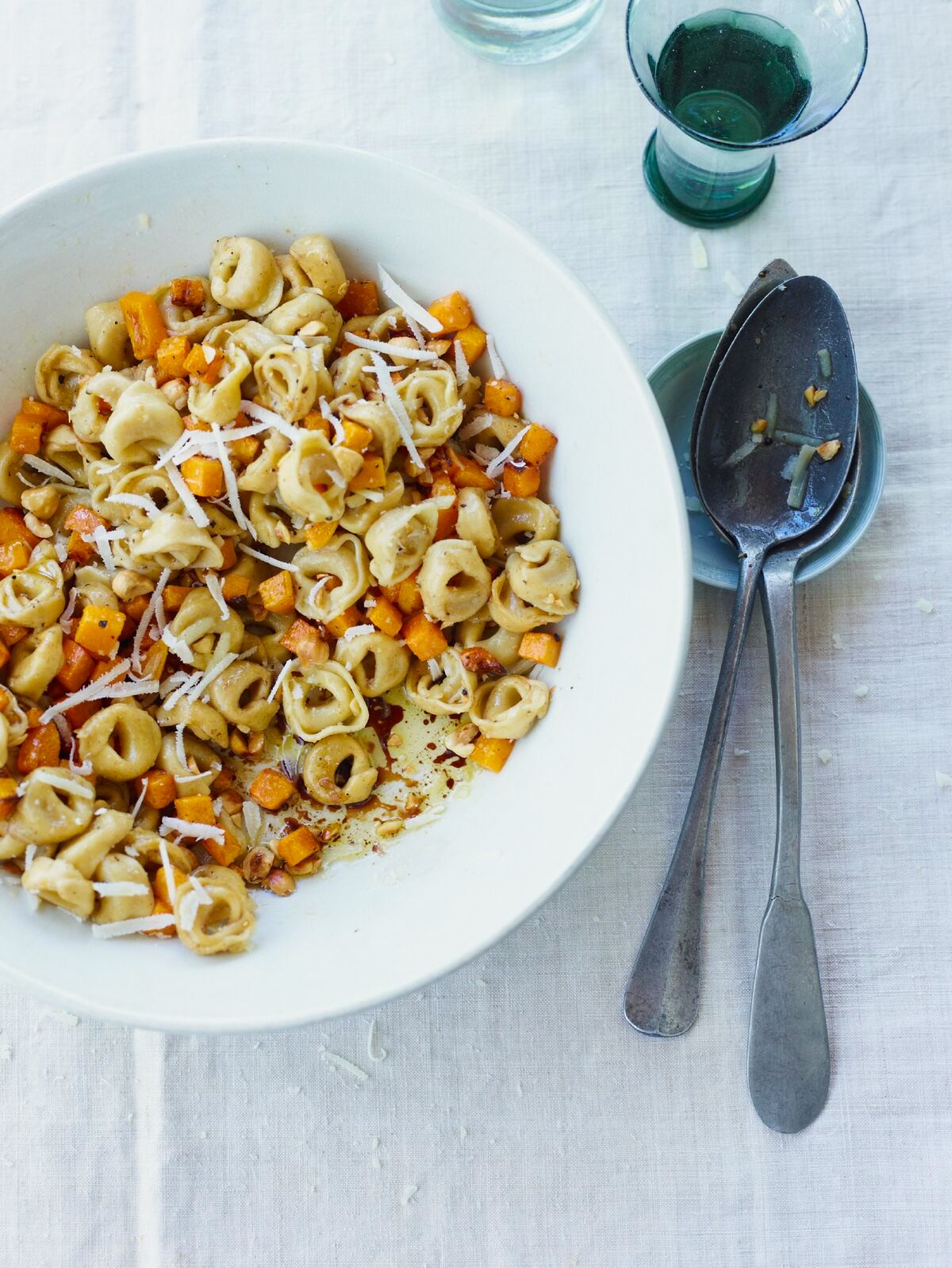 From THE POLLAN FAMILY TABLE, Scribner 2017, Photographs by John Kernick

4 servings
Time: 40 minutes
2 cups peeled and diced butternut squash, cut into 1/2-inch cubes
1 tablespoon extra-virgin olive oil
Kosher salt
Freshly ground black pepper
1/3 cup blanched raw hazelnuts
1 1/2 pounds cheese tortellini
6 tablespoons (3/4 stick) unsalted butter
1 clove garlic, minced
2 tablespoons balsamic vinegar
1/4 cup freshly shredded Parmesan cheese
Set a rack in the middle of the oven and preheat the oven to 425°F. Line a rimmed baking sheet with parchment paper.
In a large mixing bowl, combine the squash, oil, 1/4 teaspoon of salt and a pinch of pepper. Spread the squash on the baking sheet and roast until golden brown, about 25 minutes, flipping the squash halfway through the cooking time. Remove from the oven and set aside.
Meanwhile, place the hazelnuts in a small dry skillet over medium heat. Shake the pan and stir the nuts so that they do not burn. Cook until they begin to brown, 4 to 5 minutes. Transfer to a plate to cool. Chop the nuts roughly. Set aside.
Bring a large pot of water to a boil over high heat. Add 1 tablespoon of salt and the tortellini. Cook until al dente, about 1 minute less than the directions on the package. Drain in a colander.
Meanwhile, melt the butter in a large skillet over medium heat, stirring now and then, until the butter turns brown and starts to emit a nutty aroma, 3 to 4 minutes. Add the garlic and cook until the butter bubbles and the garlic begins to brown. Turn off the heat and let cool for 1 minute. Add the vinegar, 1/2 teaspoon of salt, and 1/8 teaspoon of pepper.
Add the tortellini and butternut squash to the butter sauce and toss to coat. Transfer to a serving bowl and sprinkle with the chopped hazelnuts and Parmesan cheese. Serve hot.