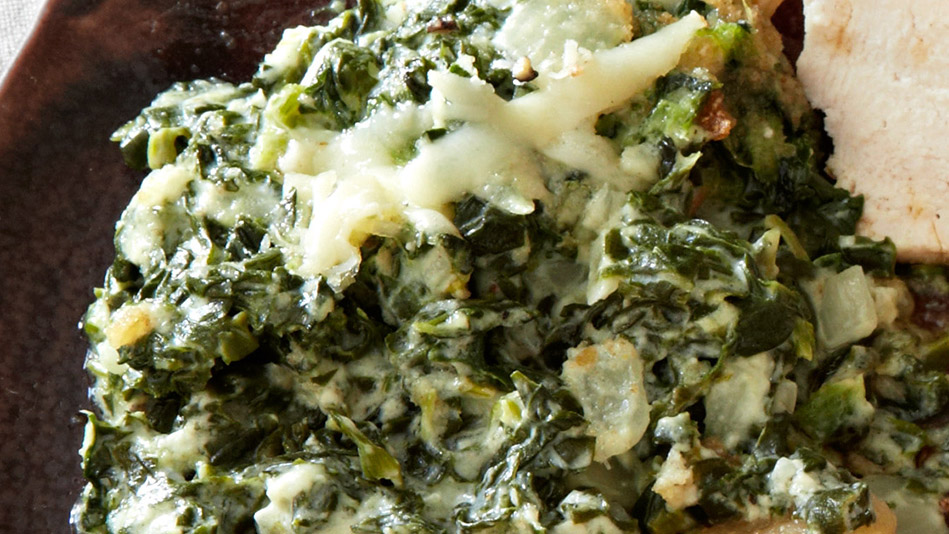 Photo: William Abranowicz

8 servings
Time: 1 hour
Five 10-ounce packages frozen chopped spinach, thawed
4 tablespoons (1/2 stick) unsalted butter
1/2 cup plain breadcrumbs Kosher salt
Freshly ground black pepper
2 cups finely chopped yellow onions
2 cloves garlic, minced
1/4 cup all-purpose flour
1 cup half-and-half
2 cups whole milk
1 cup shredded Parmesan cheese
1/4 teaspoon ground nutmeg
3/4 cup shredded Gruyère cheese
Set a rack in the middle of the oven and preheat the oven to 425ºF.
Squeeze out and discard all of the liquid from the spinach. Set the spinach aside.
In a large skillet over medium-high heat, melt 1 tablespoon of the butter. Add the breadcrumbs and a pinch each of salt and pepper and stir until golden brown, about 2 minutes. Transfer the breadcrumbs to a mixing bowl and set aside.
Wipe out the skillet with a paper towel. Melt the remaining 3 tablespoons of butter over medium heat. Add the onions and garlic and cook, stirring, until the onions are translucent but not brown, 6 to 7 minutes.
Add the flour and stir continuously until combined, about 1 minute. Pour in the half-and-half and milk and stir until the mixture thickens, 7 to 8 minutes.
Add the spinach and mix well. Fold in 1/2 cup of the Parmesan cheese and season with the nutmeg, 1 teaspoon of salt, and 1/4 teaspoon of pepper.
Transfer the mixture to a 9 by 13-inch baking dish or other large casserole. Scatter the remaining 1/2 cup of Parmesan cheese and all of the Gruyere cheese evenly over the top and sprinkle with the toasted breadcrumbs. Bake until the cheese is melted and the top is golden, about 20 minutes. Serve hot.