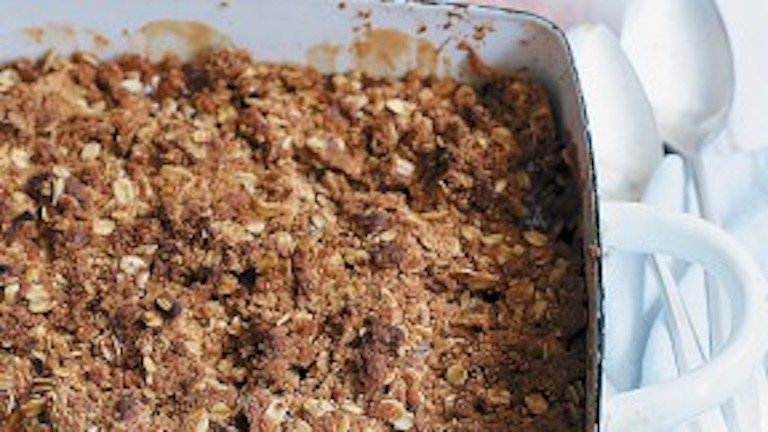 From THE POLLAN FAMILY TABLE, Scribner 2017, Photographs by John Kernick

10 servings
Time:1 1/2 hours
For the filling
4 pounds apples (8 or 9, assorted varieties), peeled, cored, and cut into ½-inch slices
¼ cup granulated sugar
1 tablespoon fresh lemon juice
2 teaspoons ground cinnamon
¼ teaspoon ground nutmeg
½ teaspoon finely grated fresh ginger
2 tablespoons quick-cooking tapioca or all-purpose flour
⅛ teaspoon kosher salt
For the crumble topping
1 ¼ cups all-purpose flour
1 ¼ cups old-fashioned rolled oats
1 ¼ cups firmly packed dark brown sugar
½ teaspoon ground cinnamon
⅛ teaspoon kosher salt
12 tablespoons (1½ sticks) unsalted cold butter, cut into small cubes
Set a rack in the middle of the oven and preheat the oven to 375°F.
For the filling:
Place the apples in a large mixing bowl. Add the granulated sugar, lemon juice, 2 teaspoons cinnamon, nutmeg, ginger, tapioca, and 1⁄8 teaspoon of salt and gently toss to combine. Spoon the filling into an ungreased 9-inch round, 2-inch-deep pie dish or an 11-inch oval, 2-inch-deep pie dish.
For the crumble topping:
In a medium mixing bowl, whisk together the 11⁄4 cups flour, rolled oats, brown sugar, ½ teaspoon cinnamon, and 1⁄8 teaspoon of salt. Add the butter and, working with your fingertips, a fork, or a pastry blender, combine the mixture until the crumbs are pea-size.
Spoon the topping evenly, but thickly, over the fruit filling.
Place the baking pan on a baking sheet or sheet of foil (this will catch any spills) on the middle rack of the oven. Bake until the fruit is bubbling and the top is nicely browned, about 1 hour. To ensure even baking, rotate the baking dish half- way through. (If the top begins to get too brown, cover it with a sheet of foil.)
Serve warm.