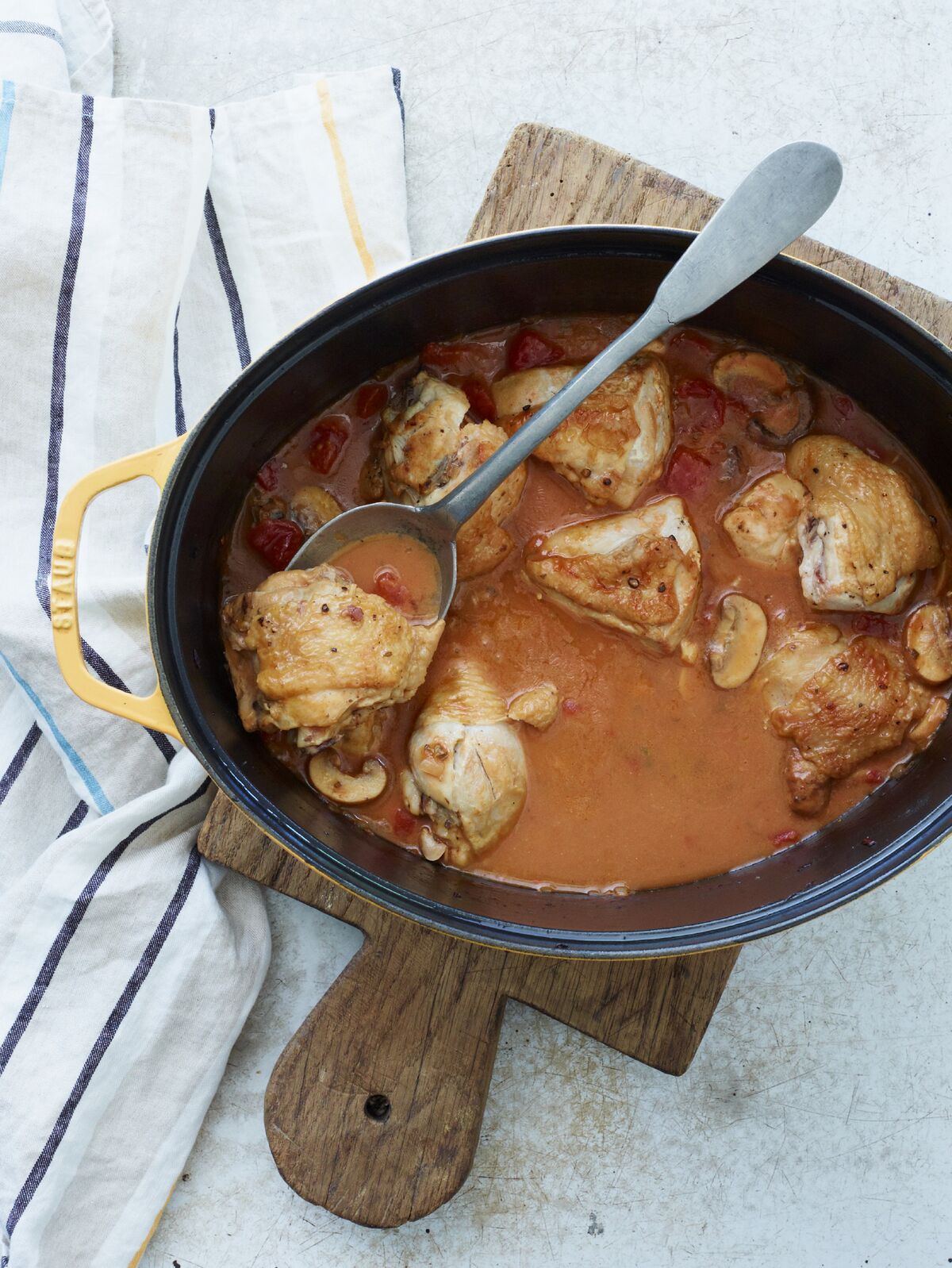 From THE POLLAN FAMILY TABLE, Scribner 2017, Photographs by John Kernick

4 servings
Time:1 1/2 hours
1 whole chicken (3 1/2 to 4 pounds), giblets and backbone removed, cut into 8 serving pieces
Kosher salt
Freshly ground black pepper
3 tablespoons extra virgin olive oil
1 large Spanish onion, thinly sliced
8 cremini or baby bella mushroom caps, thickly sliced
4 cloves garlic, finely chopped
2 tablespoons all-purpose flour
1 cup dry white wine
3/4 cup low-sodium chicken broth
One 14.5-ounce can diced tomatoes with juice
1 teaspoon minced fresh thyme leaves
1 tablespoon finely chopped fresh sage leaves
1 bay leaf
Set a rack in the middle of the oven and preheat the oven to 375°F.
Season the chicken liberally with salt and pepper.
In a Dutch oven or a large ovenproof pot, heat 2 tablespoons of the oil over medium-high heat until shimmering. Add 4 of the chicken pieces, skin side down. Cook undisturbed until the skin is golden, about 7 minutes. Flip the chicken pieces and cook until brown, about 4 minutes more. Transfer to a platter and repeat with the remaining pieces of chicken. Set aside.
Wipe the Dutch oven clean with paper towels and add the remaining 1 table- spoon of oil. Heat over medium-high heat until shimmering. Add the onion, mushrooms, and garlic. Cook, stirring occasionally, until the vegetables are tender and fragrant, about 8 minutes.
Add the flour and cook, stirring constantly, until the flour is thoroughly mixed with the onion and mushrooms, about 2 minutes.
Raise the heat to high and stir in the wine, scraping up any brown bits at the bottom of the pan. Add the chicken broth, tomatoes and their juice, thyme, sage, the bay leaf, 1 1⁄2 teaspoons of salt, and 1⁄8 teaspoon of pepper. Reduce the heat to medium-low and add the browned chicken and any accumulated juices, sub- merging the pieces into the liquid. Cover and place the pot in the oven.
Bake until the chicken is tender, about 30 minutes. Take off the lid and bake for an additional 10 minutes.
Remove the pot from the oven and, using tongs, transfer the chicken to a platter. Return the pot to the burner, turn the heat to high, and cook until the sauce is thickened, about 4 minutes. Remove the bay leaf. Spoon the mushrooms and sauce over the chicken and serve.