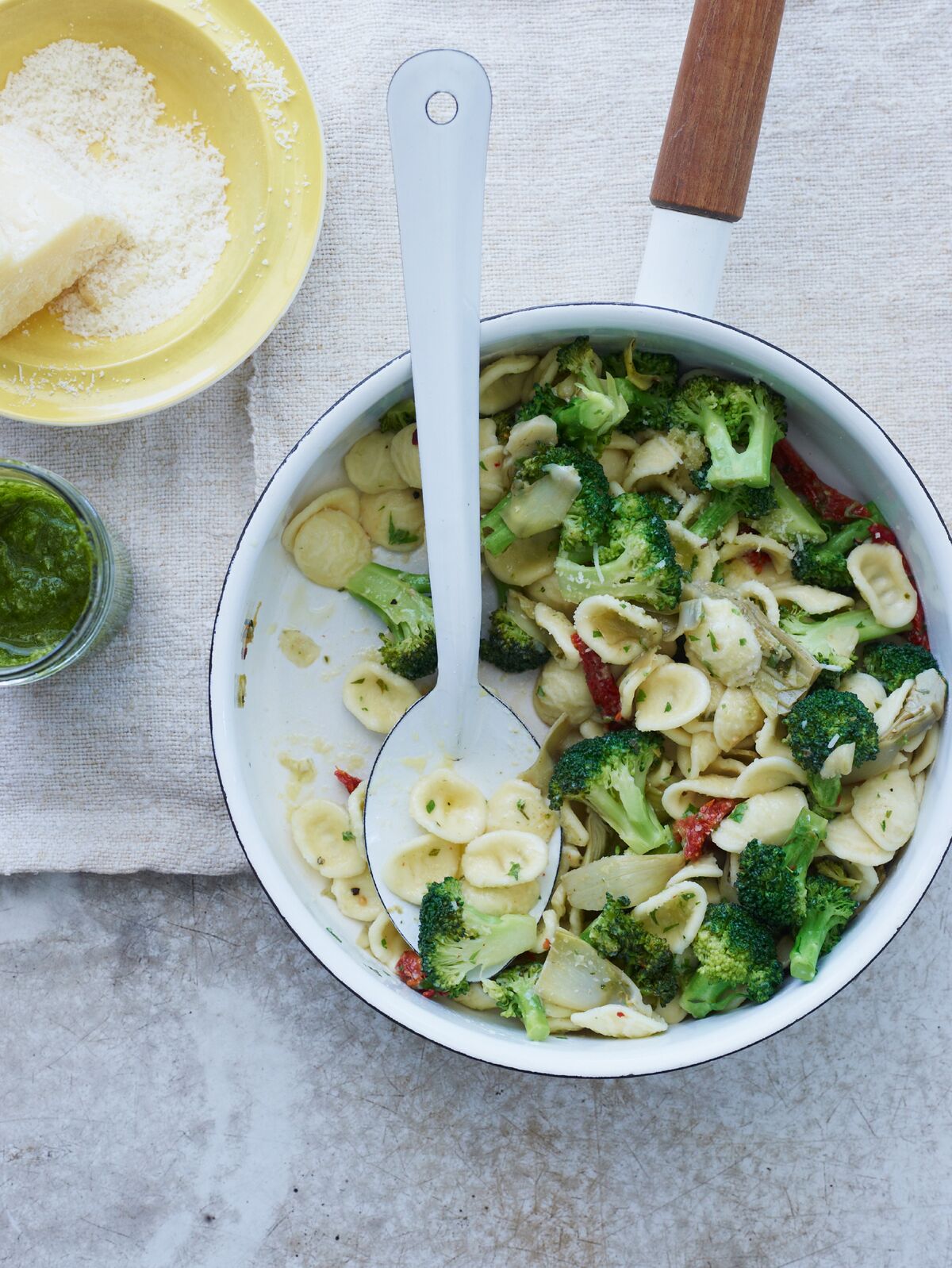 From THE POLLAN FAMILY TABLE, Scribner 2017, Photographs by John Kernick

4 to 6 servings
Time: 30 minutes
Kosher salt
1/3 cup extra virgin olive oil
5 cloves garlic, cut in thin slices
One 9 oz box frozen artichoke hearts, thawed and sliced in half lengthwise
1/8 tsp crushed red pepper flakes, or to taste
1/4 cup julienned sun-dried tomatoes in oil, drained
3 Tbsp finely chopped Italian (flat-leaf) parsley
5 cups 1-inch broccoli florets
1 lb orecchiette pasta
1/4 cup dry white wine
1/2 cup low-sodium vegetable broth
1/3 cup freshly grated Parmesan cheese
Bring a large pot of water to a boil over high heat and add 1 tablespoon of salt.
Meanwhile, heat the olive oil in a large skillet over medium-high heat. When the oil is shimmering, add the garlic and stir for 30 seconds. Add the artichoke hearts and sauté until they begin to turn golden brown, about 5 minutes. Add the red pepper flakes, sun-dried tomatoes, and 2 tablespoons of the parsley and cook for an additional 3 minutes. Remove from the heat and set aside.
Fill a large mixing bowl with water and ice and set aside.
Add the broccoli to the boiling water and blanch until the color brightens, 1 to 2 minutes. Using a slotted spoon, transfer the broccoli to the ice water to shock, leaving the pot of water boiling for the pasta. Once the broccoli has cooled, drain it in a colander.
Add the pasta to the boiling water and cook until al dente, about 1 minute less than the directions on the package. Reserve ¼ cup of the pasta water and drain the pasta in the colander.
Return the skillet with the artichokes to medium-high heat, add the white wine and the vegetable broth, and cook until it is hot, 2 to 3 minutes. Add the broccoli and cook, stirring, for an additional 3 to 4 minutes. Fold in the pasta, adding some of the reserved pasta water if the sauce seems dry, and toss until well combined. Stir in the Parmesan cheese and season with 1 teaspoon of salt and pepper to taste. Transfer the pasta to a serving bowl and sprinkle with the remaining 1 tablespoon of parsley. Serve hot.