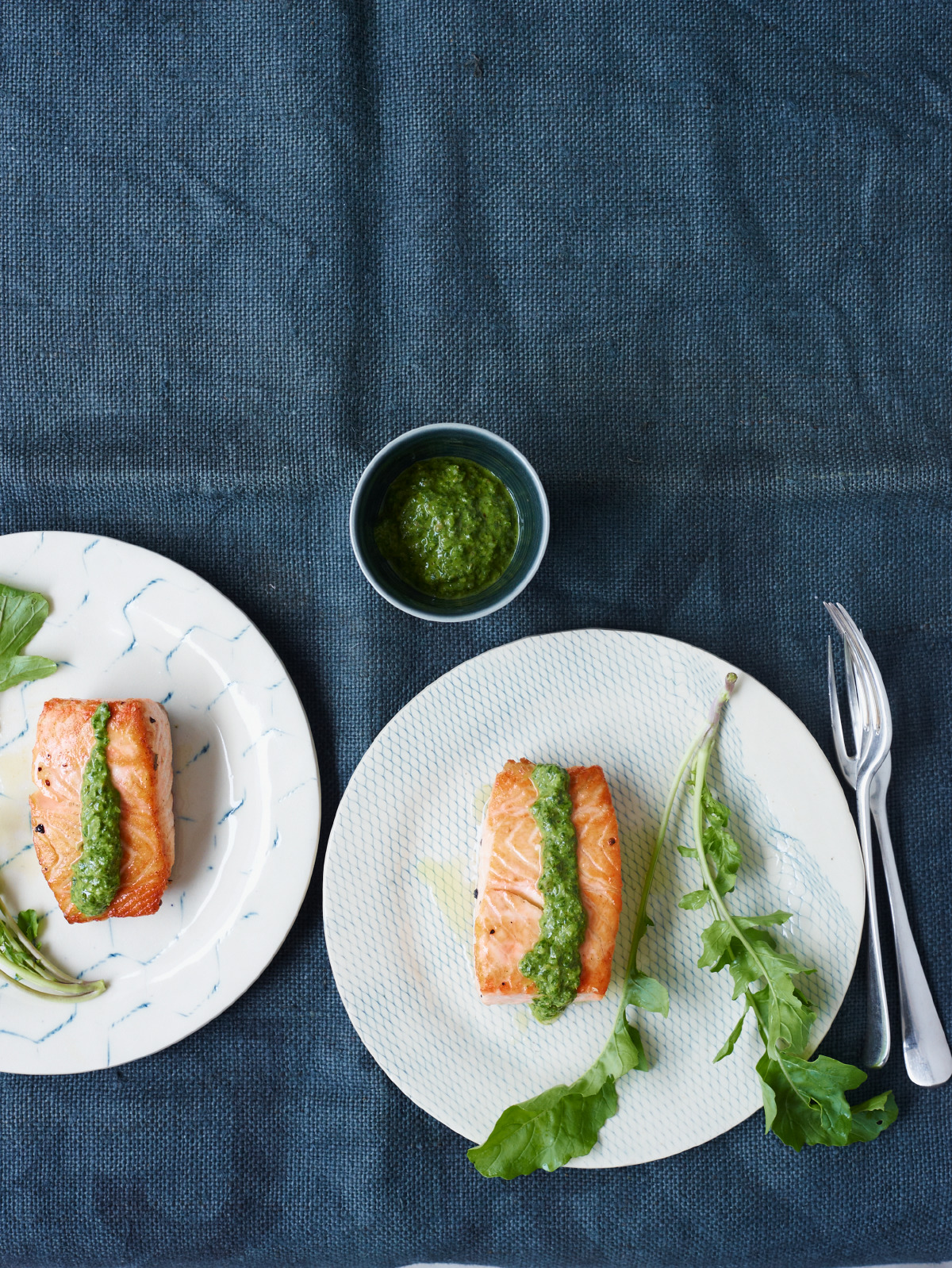 From THE POLLAN FAMILY TABLE, Scribner 2017, Photographs by John Kernick

4 servings
Time: 30 minutes
For the salsa verde
1 garlic clove, halved
1 tablespoon capers, drained
1 tablespoon roughly chopped shallot
1 teaspoon Dijon mustard
1/2 cup packed Italian (flat-leaf) parsley leaves
1/2 cup packed fresh cilantro leaves
1/2 cup packed fresh mint leaves 1/4 cup finely sliced fresh chives
1/3 cup extra-virgin olive oil 1
1/2 teaspoons red wine vinegar
1 tablespoon fresh lemon juice
Sea salt
Freshly ground black pepper
For the salmon
Four 6-ounce salmon fillets, skinless
2 tablespoons extra-virgin olive oil
Sea salt
Freshly ground black pepper
4 lemon wedges
Preheat the oven to 450°F.
For the salsa verde:
In a food processor or a blender, combine the garlic, capers, shallot, mustard, parsley, cilantro, mint, and chives. Blend until coarsely chopped. Slowly add 1/3 cup of olive oil, the vinegar, lemon juice, and 2 tablespoons of water, and blend until smooth, stopping to scrape down the sides with a rubber spatula as needed. Transfer to a small mixing bowl and season with salt and pepper.
For the salmon:
Coat each fillet with 1½ teaspoons of oil and generously season with salt and pepper.
Place a large dry ovenproof skillet over medium-high heat. When the pan is very hot, lay the salmon fillets rounded side down and cook until a nice brown crust forms, about 3 minutes. Carefully flip the fillets to the other side and place the skillet in the oven. Cook for 3 to 5 minutes for a rare center, or 6 to 7 minutes for more well-done.
Place the salmon fillets on individual plates and spoon salsa verde down the center of each fillet. Garnish each plate with a lemon wedge, and pass the remaining sauce separately.