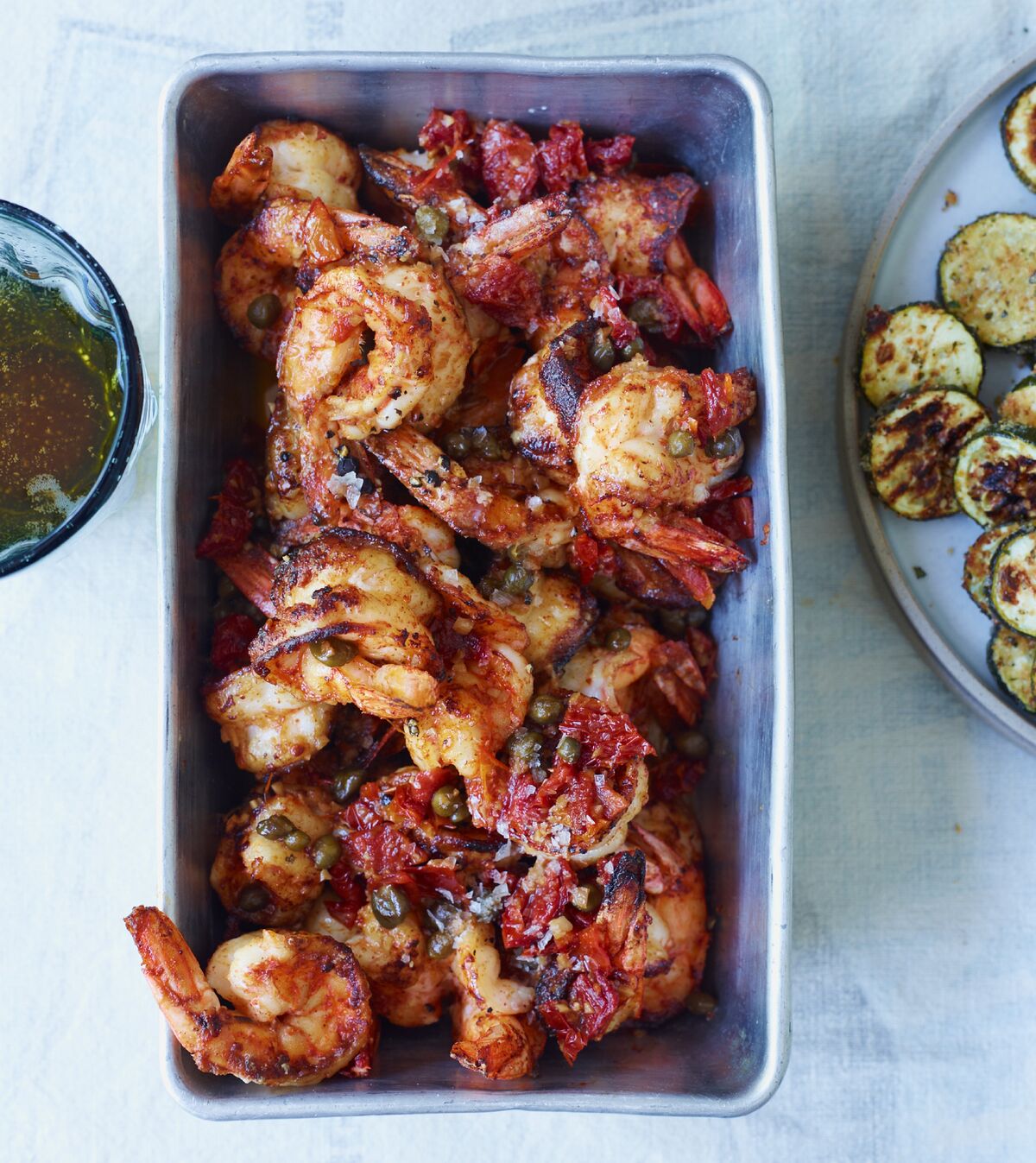 From THE POLLAN FAMILY TABLE, Scribner 2017, Photographs by John Kernick

6 servings
Time: 30 minutes
2 teaspoons all-purpose flour
1 tablespoon paprika
1 teaspoon granulated sugar
Sea salt
Freshly ground black pepper
2 pounds large shrimp (15 to 20 per pound), peeled, deveined, and butterflied
2 tablespoons extra virgin olive oil
6 tablespoons (¾ stick) unsalted butter
1 tablespoon minced garlic
2 tablespoons chopped sun-dried tomatoes in oil
2 teaspoons capers, drained
½ cup plus 1 tablespoon dry white wine
1 tablespoon fresh lemon juice
1 tablespoon finely chopped Italian (flat-leaf) parsley
Preheat the oven to 350°F.
In a small mixing bowl, combine the flour, paprika, sugar, ¼ teaspoon of salt, and ⅛ teaspoon of pepper. Lay the shrimp in a single layer on a rimmed baking sheet. Sprinkle the mixture on the shrimp, making sure to get both sides.
Heat 1 tablespoon of the oil in a large skillet over medium-high heat. When the oil is shimmering, place half the shrimp in one layer in the skillet, cut side down with tails sticking up. Let cook undisturbed for 1 to 2 minutes. Flip the shrimp and sear the other side, another 2 minutes. Transfer the shrimp to a small shallow baking dish. Wipe the skillet clean with paper towels and repeat with 1 tablespoon of the oil and the remaining shrimp. Place the baking dish in the oven and bake until lightly browned on the edges and opaque in the centers, 4 to 5 minutes.
While the shrimp are baking, wipe out the skillet with paper towels and return it to the burner over low heat. Melt 1 tablespoon of the butter. Add the garlic and stir for 30 seconds. Add the sun-dried tomatoes and capers, raise the heat to medium-high, and sauté for 1 to 2 minutes, taking care not to burn the garlic. Add the wine and lemon juice and bring to a boil. Reduce the heat to medium and cook for an additional 4 minutes. Swirl in the remaining 5 tablespoons of butter and season with salt and pepper. Pour the sauce over the shrimp, sprinkle with the parsley, and serve.