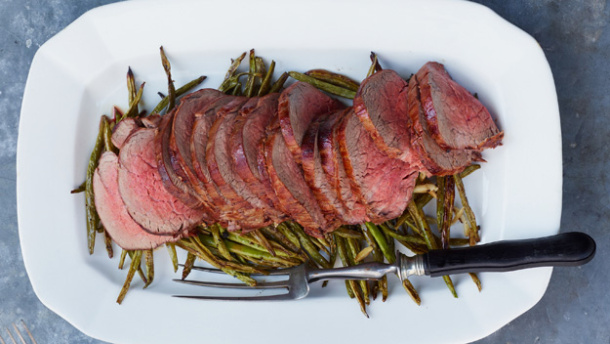 From THE POLLAN FAMILY TABLE, Scribner 2017, Photographs by John Kernick

6 servings
Time:1 1/2 hours
2 ½ pounds beef tenderloin
2 extra large beef bouillon cubes
2 cloves garlic, minced
1 ½ teaspoons Dijon mustard
1 tablespoon tomato paste
Black pepper
2 teaspoons Worcestershire sauce
1 tablespoon unsalted butter
3/4 cup red wine
1 tablespoon dry sherry
1 cup low-sodium beef or low-sodium chicken broth
1 tablespoon cornstarch mixed with 2 tablespoons cold water
Poke the beef tenderloin with a knife or thick skewer to make small holes all over. Set aside.
In a small mixing bowl, combine the bouillon cubes, the garlic, mustard, tomato paste, 1/8 teaspoon of pepper, and the Worcestershire. Pour in ¼ cup of boiling water to dissolve the bouillon. Using the back of a wooden spoon, crush the bouillon cubes. Keep crushing and stirring until you've made a nice thick paste.
Rub the paste all over the meat, rotating it to coat all sides well. Transfer the meat to a roasting pan, cover loosely with foil, and marinate for a minimum of 30 minutes or up to 1 hour.
While the meat is marinating, set a rack in the middle of the oven and preheat the oven to 425°F.
Pour enough water into the roasting pan to come to a depth of ¼ to ½ inch. Place the pan in the oven and roast, covered, for 15 minutes.
Remove the foil and rotate the pan. Continue cooking and check after 10 minutes that there is still liquid in the pan; add ¼ cup of hot water if needed. Roast for an additional 5 minutes for rare, an additional 15 minutes for medium-rare, and an additional 20 minutes for medium, or until the center of the roast registers the desired temperature on an instant-read thermometer.
RARE: 125°F (approximate total cooking time 30 minutes)
MEDIUM-RARE: 130°F (approximate total cooking time 40 minutes)
MEDIUM: 140°F (approximate total cooking time 45 minutes)
Transfer the roast to a platter or cutting board, cover with foil to keep warm, and allow it to rest while you prepare the gravy.
Place the roasting pan with all of the drippings on a burner over medium heat. Scrape up the brown bits with a wooden spoon. Add the butter and stir. Whisk in the wine, sherry, and broth. Add the cornstarch-water mixture, whisking until thickened, another 2 to 3 minutes.
Slice the roast and arrange on a platter. Serve the gravy separately.