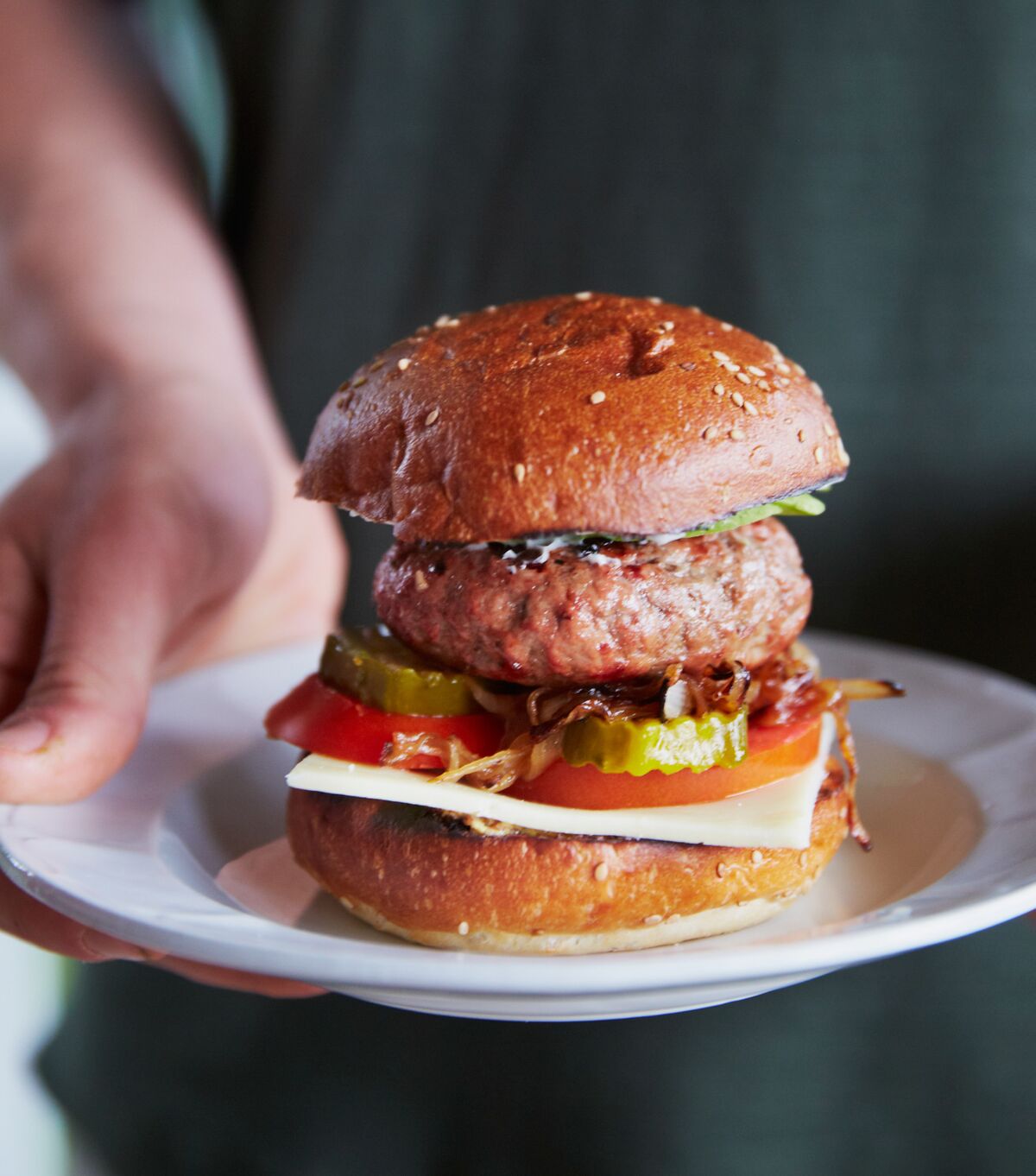 From THE POLLAN FAMILY TABLE, Scribner 2017, Photographs by John Kernick
6 servings
Time: 35 minutes
2 pounds ground turkey (preferably dark meat)
4 teaspoons extra virgin olive oil plus extra for coating hands
1 tablespoon finely grated red onion
1½ teaspoons Dijon mustard
1 tablespoon finely chopped Italian (flat-leaf) parsley
1 clove garlic, minced
1 teaspoon ketchup
Kosher salt
Freshly ground black pepper
1 tablespoon freshly grated Parmesan cheese
2 tablespoons cold unsalted butter, cut into 6 pieces
6 slices Swiss, cheddar, or jalapeño Jack cheese (optional)
6 hamburger buns (preferably whole-grain)
Your favorite burger toppings for serving
Place the turkey in a large mixing bowl. Add 1 teaspoon of the oil, the onion, mustard, parsley, garlic, ketchup, ½ teaspoon of salt, and ½ teaspoon of pepper and mix well.
Put the Parmesan cheese in a small dish. One at a time, dip the butter pieces into the Parmesan, making sure to coat all sides.
Oil your hands and form the turkey into 6 patties. Make an indentation in the center of each patty and press a piece of butter into it. Mold the meat gently over the butter to completely enclose it in the turkey.
Heat a large grill pan or skillet over medium-high heat. Add the remaining 1 tablespoon of oil to lightly coat the bottom of the pan. When the oil is hot, arrange the patties in the pan and cook until the meat is brown, about 5 minutes. Flip the burgers and place a slice of cheese on top, if desired. Cook for 4 to 5 minutes more, until cooked through. Place the burgers on the buns and serve with your favorite toppings.