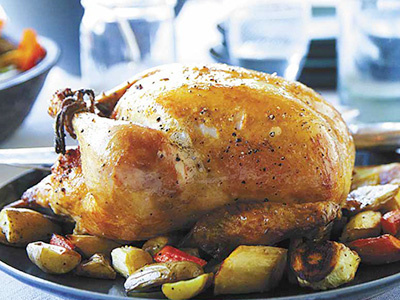 From THE POLLAN FAMILY TABLE, Scribner 2017, Photographs by John Kernick
4 servings
Time 1 hour
1 whole chicken (3½ to 4 pounds), giblets removed
Kosher salt
Freshly ground black pepper
4 small carrots, peeled and cut on the diagonal into 1-inch pieces
10 small Yukon gold potatoes, scrubbed and quartered
4 small parsnips, peeled and cut on the diagonal into 1-inch pieces
2 tablespoons extra virgin olive oil
1 cup low-sodium chicken broth
½ cup dry white wine
1 tablespoon cornstarch mixed with
1 tablespoon water
1 tablespoon balsamic vinegar
1 tablespoon unsalted butter
Remove the chicken from the refrigerator 1 hour before cooking to allow it to reach room temperature. Dry the chicken with paper towels and liberally season it inside and out with salt and pepper.
Set racks in the upper and lower thirds of the oven and preheat the oven to 450ºF. Place an ovenproof skillet on the lowest rack.
When the oven reaches 450°F, pull the lower rack out and carefully place the chicken in the hot skillet, breast side up and legs to the back of the oven (the hottest spot). Roast for 15 minutes.
Meanwhile, spread the carrots, potatoes, and parsnips on a rimmed baking sheet and drizzle with the olive oil, ½ teaspoon of salt, and ⅛ teaspoon of pepper; toss to thoroughly coat.
After the chicken has roasted for the 15 minutes, place the baking sheet with the root vegetables on the top rack of the oven. Reduce the temperature to 425°F and roast the chicken and vegetables for 35 minutes without opening the door.
Remove the chicken from the oven. Check the internal temperature with an instant-read thermometer inserted into the breast; the chicken is done when it registers 165°F.
Transfer the chicken to a platter. Tent and let it rest while you make the gravy. The chicken's temperature will climb to 170°F.
Turn off the oven. Remove the baking sheet, flip the vegetables over, and return them to the oven to keep warm.
Set the skillet with any remaining chicken juices on a burner over medium-high heat. Slowly add the chicken broth and wine, turn the heat to high, and bring to a boil, scraping up any brown bits in the bottom of the pan, about 2 minutes. Stir in the cornstarch mixture and boil, whisking, until slightly thickened, about 3 minutes. Add the vinegar and the butter, swirling the skillet until the butter melts. Pour the gravy into a gravy boat.
Transfer the chicken to a cutting board and carve as desired. Arrange the chicken on a clean platter, and surround with the vegetables. Serve, passing the gravy separately.