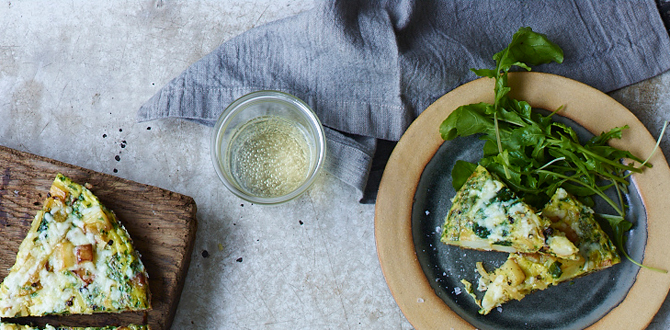 4 servings as a main course, 6 servings as a side
Time: 1 hour
1¼ cups peeled and diced Yukon gold potatoes, cut into ½-inch cubes
2 or 3 tablespoons unsalted butter
8 large eggs
Kosher salt
Freshly ground black pepper
1 tablespoon finely chopped Italian (flat-leaf) parsley
1 teaspoon chopped fresh thyme leaves
1 medium white onion, halved lengthwise and thinly sliced crosswise (1 1/4 cups)
1 packed cup of baby spinach leaves
1/2 cup shredded Manchego cheese
Line a plate with paper towels. Place the potatoes in a medium microwave-safe bowl with a lid, and add 1 tablespoon of the butter. Cover the bowl and microwave on high for 3½ minutes. Remove the bowl (it will be hot) and shake to loosen the potatoes. Return the bowl to the microwave and cook until tender, about 3½ minutes more. Set aside.If you don't want to use a microwave, place the potatoes in a small saucepan and add cold water to cover. Bring the water to a boil and cook partially covered for 5 to 7 minutes, until the potatoes are fork-tender. Remove from the heat, drain well, and return to the dry saucepan. Set aside. (You need only 2 tablespoons of butter in total if using this non-microwave method.)
In a mixing bowl, combine the eggs with 1 teaspoon of salt, 1/8 teaspoon of pepper, the parsley, and thyme; whisk to blend.
Place a medium ovenproof, nonstick skillet with a broiler-safe handle over medium heat. Add 2 tablespoons of butter. When it melts and starts to sizzle, add the potatoes in a single flat layer and cook undisturbed for 5 minutes. Flip the potatoes with a spatula and cook for an additional 3 to 5 minutes, stirring occasionally, until lightly browned. Transfer the potatoes with a slotted spoon to the paper-towel lined plate, leaving the remaining butter in the skillet.
Set a rack in the upper third of the oven and turn the oven on to broil.
Add the onion to the butter and saute over medium heat until golden brown and tender, 4 to 6 minutes. Add the spinach and saute for an additional 2 minutes, until wilted. Return the potatoes to the pan and pour the egg mixture over the vegetables. Stir quickly to mix all the ingredients together. Cook undisturbed until the edges begin to set, 4 to 5 minutes.
Run a rubber or silicone spatula around the rim of the pan to loosen the sides. Sprinkle the top of the tortilla with the cheese and place the pan under broiler until the cheese is lightly browned, about 2 1/2 minutes. Remove the pan from the oven. Slide the tortilla onto a platter, browned side up. Let it cool for 5 minutes, then slice into wedges and serve.