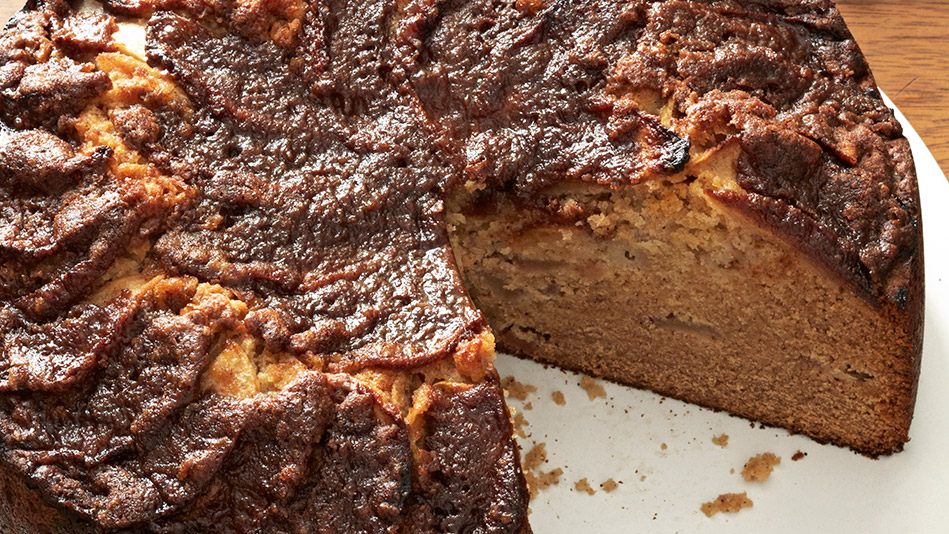 Photo: William Abranowicz
10 servings
Time: 1 1/2 hours
For the cake
1/2 pound (2 sticks) unsalted butter, at room temperature, plus extra for greasing pan
3 3/4 cups peeled and diced Granny Smith apples, cut into 1/4-inch cubes (3 large)
2 teaspoons ground cinnamon
2 cups plus 1 tablespoon granulated sugar
2 large eggs
4 cups sifted all-purpose flour
1/2 teaspoon baking powder
2 teaspoons baking soda
1/2 teaspoon kosher salt
1/2 cup whole milk
For the topping
4 cups peeled and sliced Granny Smith apples, cut into 1/4-inch slices (4 large)
4 tablespoons (1/2 stick) unsalted butter, cut into small pieces
3/4 cup firmly packed dark brown sugar
1 teaspoons ground cinnamon
2 tablespoons all-purpose flour
Set a rack in the middle of the oven and preheat the oven to 350°F. Butter a 9 by 13-inch baking pan.
For the cake:
In a large mixing bowl, toss the chopped apples with 2 teaspoons of cinnamon and 1 tablespoon of the granulated sugar. Set aside.
Using a stand mixer or electric hand mixer, combine the remaining 2 cups of granulated sugar and 2 sticks of butter and cream until fluffy. Beat in the eggs. Add 4 cups of flour, the baking powder, baking soda, salt, and milk and mix until combined. Stir in the chopped apples and spoon the batter into the pan.
For the topping:
Arrange the sliced apples in slightly overlapping rows to completely cover the batter. In a small mixing bowl, add 4 tablespoons of butter, the brown sugar, 1 teaspoon of cinnamon, and 2 tablespoons of flour. Using a fork or your fingers, combine the mixture until the crumbs are pea-size. Sprinkle the topping over the apples.
Bake until the topping is brown and a cake tester inserted in the center comes out with a few crumbs clinging to it, 50 to 60 minutes. To ensure even baking, rotate the pan halfway through. Cool slightly in the pan on a wire cooling rack and serve warm.