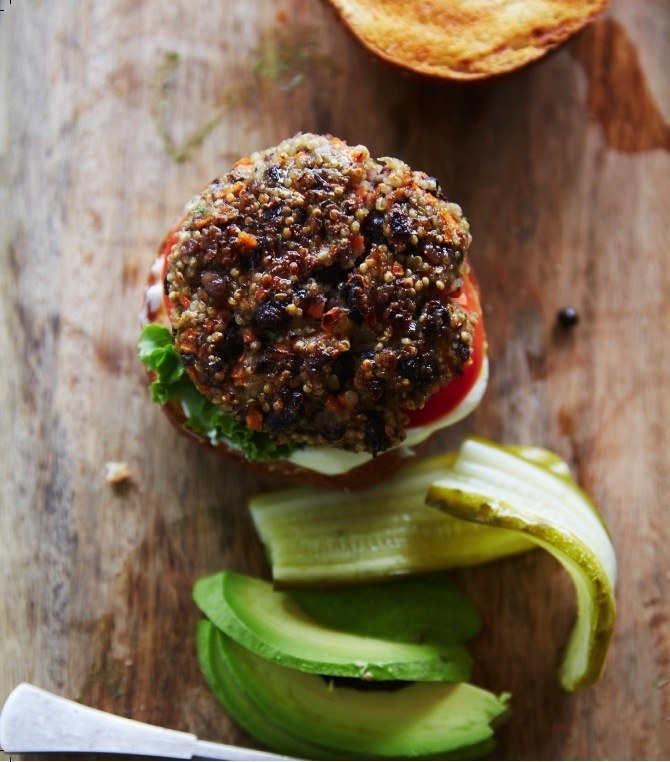 From THE POLLAN FAMILY TABLE, Scribner 2017, Photographs by John Kernick
4 servings
Time: 45 minutes
¼ cup quinoa, rinsed and drained
½ cup low-sodium vegetable broth
1 cup organic canned black beans, rinsed and drained
1 tablespoon finely chopped scallions
½ cup peeled and finely chopped carrots
¼ cup plain breadcrumbs
1 large clove garlic, minced
Kosher salt
Freshly ground black pepper
1 large egg
2 tablespoons extra-virgin olive oil
4 multigrain hamburger buns
1 ripe avocado, thinly sliced (optional)
Your favorite burger toppings for serving
Combine the quinoa and vegetable broth in a small saucepan and bring to a boil. Reduce to a simmer, cover, and cook until all the liquid is absorbed, about 10 minutes. Remove from the heat, set aside and let cool slightly.
Meanwhile, in a large mixing bowl, mash the beans with a potato masher, making sure to leave a few chunks. Add the scallions, carrots, breadcrumbs, garlic, ½ teaspoon of salt, and ⅛ teaspoon of pepper and mix well. Add the cooked quinoa and the egg and combine.
Using your hands, form the mixture into four individual patties and place on a platter.
Heat a large nonstick skillet over medium-high heat. Add the oil and heat until shimmering. Reduce the heat to medium, place the patties in the pan, and cook until golden brown, about 5 minutes. Carefully flip and brown the other sides, about 5 minutes more. Assemble the burgers and buns on a platter. Top with slices of avocado, if desired, and serve with your favorite toppings.