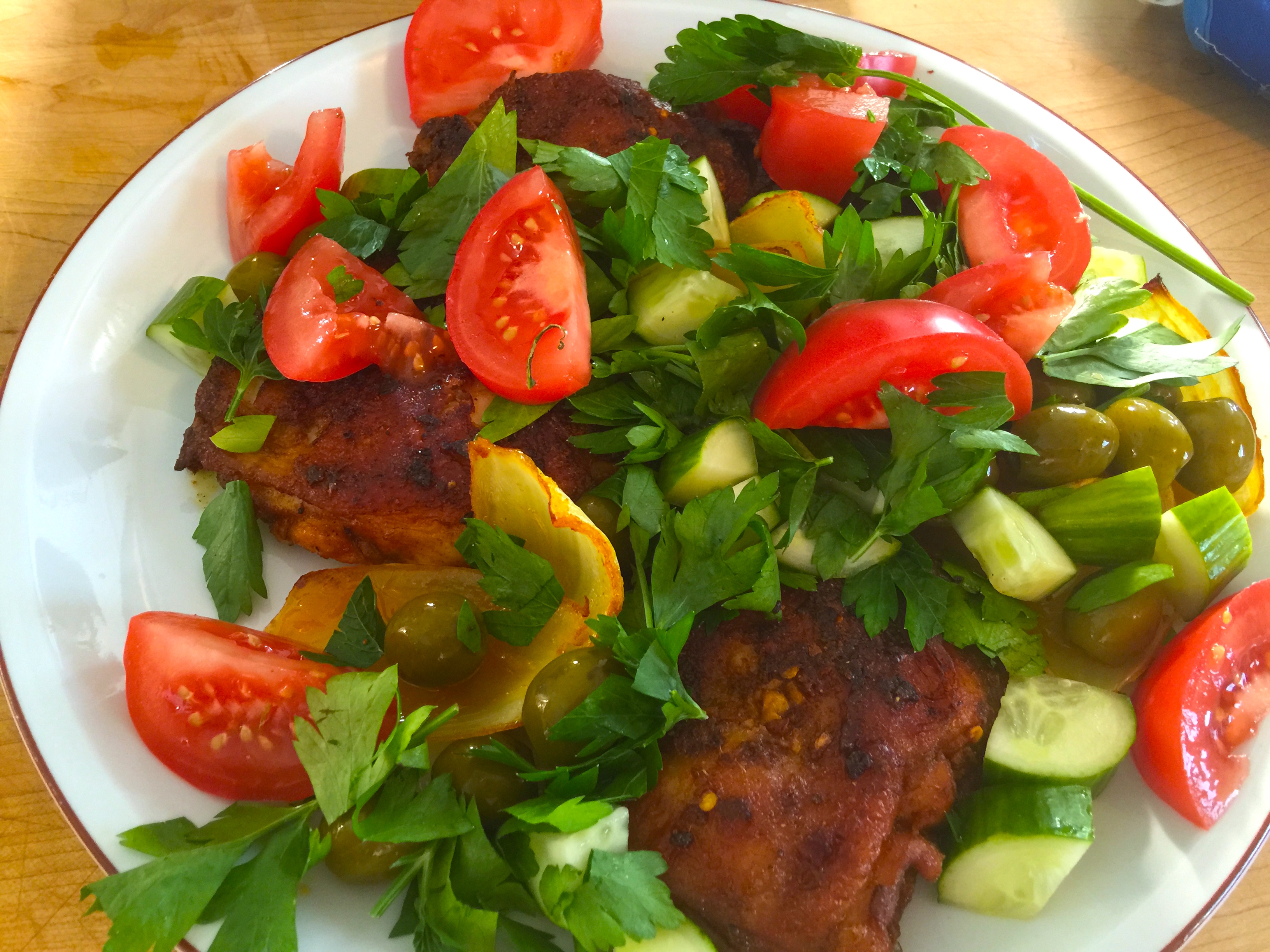 At this point in summer we're always looking for a transitional chicken dish, one that's so quick and easy to make that you can just pop it into the oven and forget about it. But we also want one that's zesty and hearty enough for the cooler days of fall. Our Turkish-Spiced Chicken is a winner on both counts. Though we've lavished it with intense flavors –cumin, coriander, turmeric, and smoked paprika– everything blends together into a comforting dish that spans the seasons.
To speed the cooking process we've eliminated the need to pre-brown the chicken, so the pieces go straight from the marinade into the oven. And the whole meal is cooked on one rimmed baking sheet, making cleanup a breeze.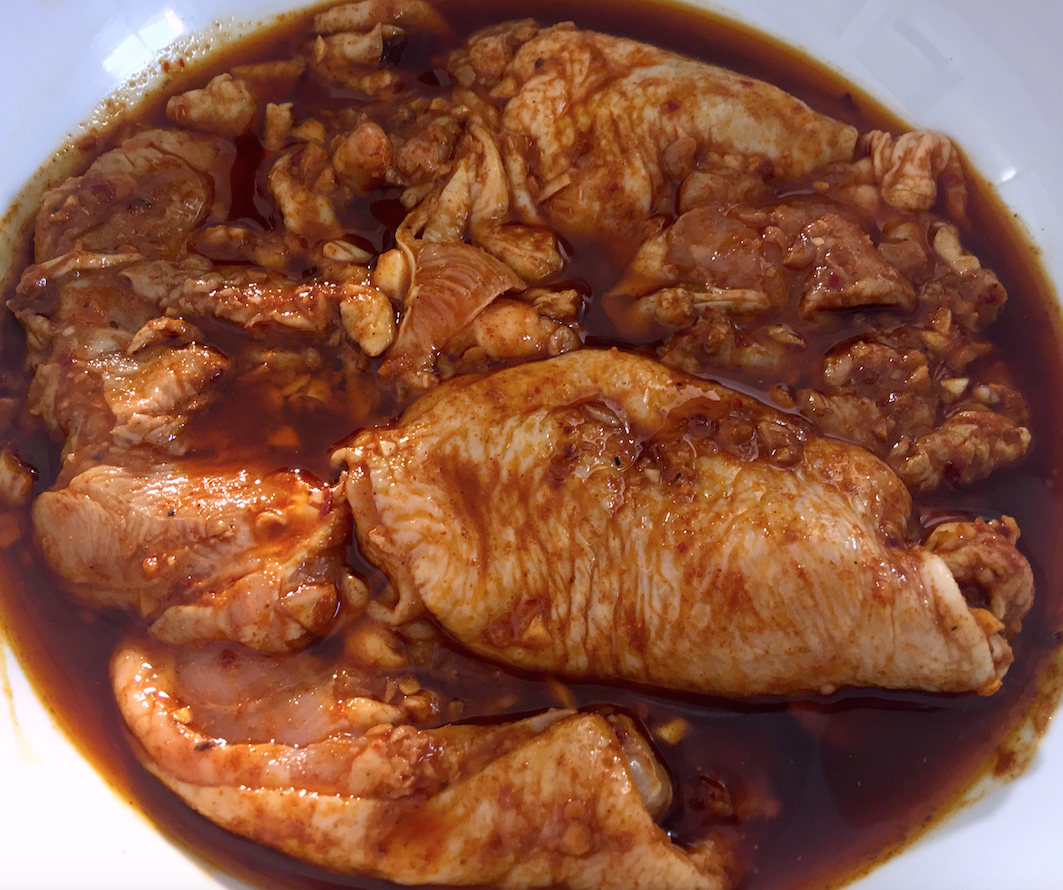 Coat the chicken thoroughly with the marinade, cover the bowl, and place it in the refrigerator.
abcd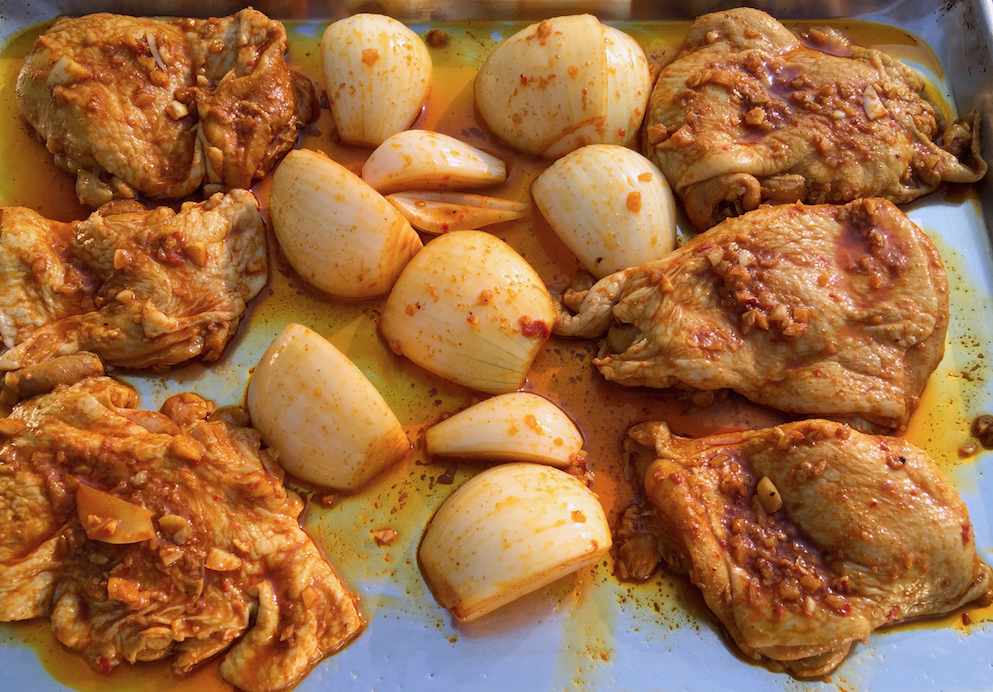 Chicken and onions spread in a single layer on the rimmed baking sheet.
Turkish-Spiced Chicken
4 servings
For the Marinade
2 teaspoons ground cumin
2 teaspoons ground coriander
2 teaspoons paprika
1 teaspoon smoked paprika
1 teaspoon turmeric
1/2 teaspoon cinnamon
1/4 teaspoon red pepper flakes, or to taste
6 cloves garlic, minced
Kosher salt
Freshly ground black pepper
3 tablespoons fresh lemon juice
1/2 cup extra virgin olive oil
For the Chicken
1 tablespoon extra virgin olive oil
8 bone in, skin on chicken thighs
1 large onion, quartered
2 tomatoes, quartered
3/4 cup quartered cucumber rounds
1/2 cup pitted olives, green or black
1/3 cup roughly chopped Italian (flat-leaf) parsley
Preheat the oven to 425° F.
In a large mixing bowl add the spices, the red pepper flakes, garlic, 1 teaspoon of salt, 1/2 teaspoon of pepper, the lemon juice, and the olive oil, and whisk to combine. Add the chicken, and coat thoroughly. Cover and place in the refrigerator for at least one hour, or overnight.
Remove the chicken from the refrigerator, ideally 1 hour before cooking, if you've marinated it overnight. Add the quartered onion to the marinade and toss to coat.
Spread 1 tablespoon of olive oil on a rimmed baking sheet. Remove the chicken and the onion from the marinade and place the chicken, skin side up, along with the onion, in a single layer on the baking sheet. Spoon any of the left-over marinade onto the chicken and onions and place the sheet in the oven.
Roast the chicken for 45 to 50 minutes until the skin is browned and crisp.
Arrange the chicken and onions on a serving platter, top with the tomatoes, cucumber, and olives, sprinkle with the parsley, and serve.