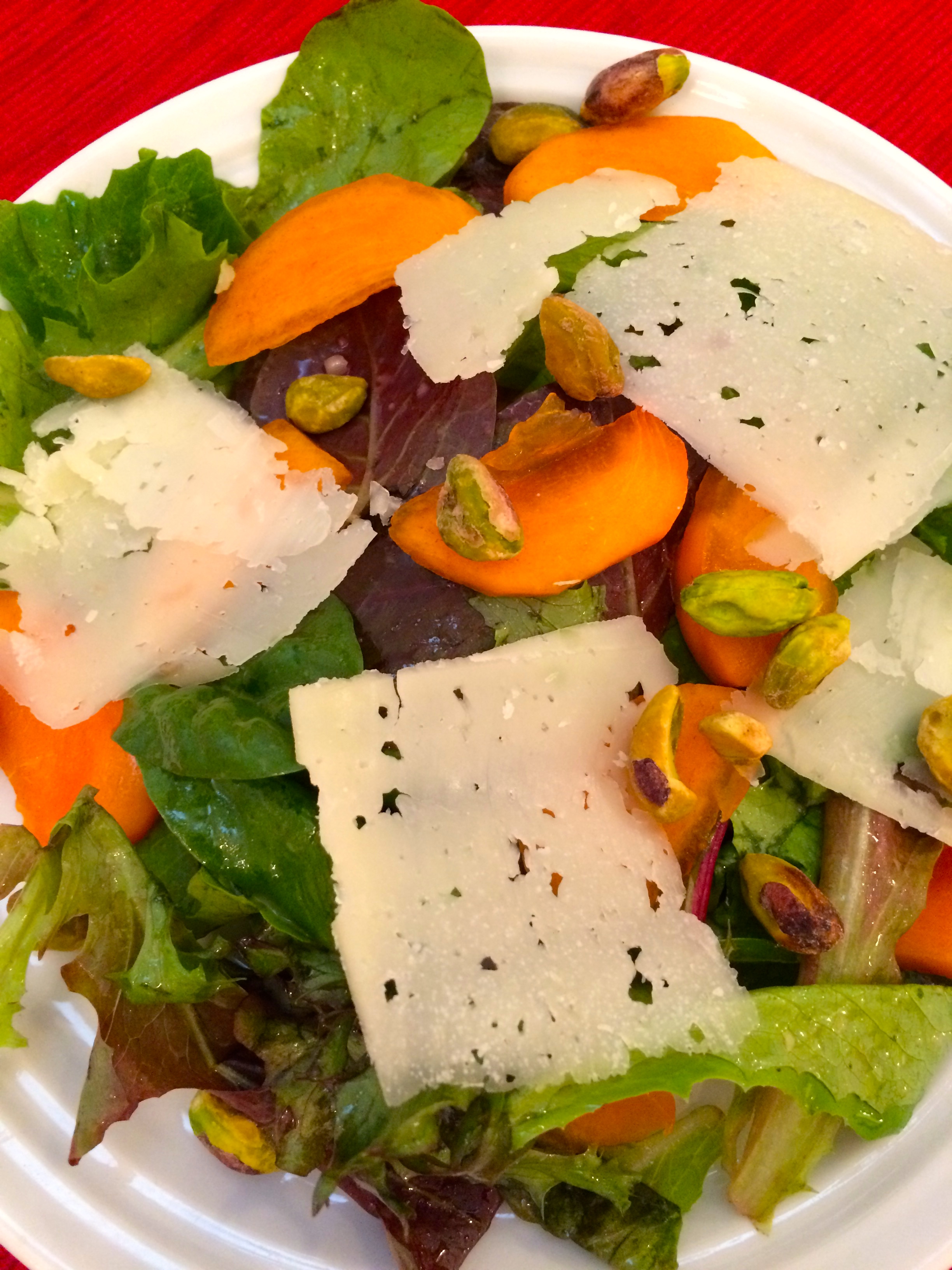 We love adding fruit to our greens and we're thrilled that it's Persimmon season once again. Referred to as "the fruit of the gods," persimmons are deliciously sweet with a delicate, honey-like flavor.
Historically, persimmons were not a fruit our family was familiar with. It was that exotic one that would turn up in a fruit basket and we weren't exactly sure how to eat it—how do you know when it is ripe, do you eat it whole, does it need to be peeled? After some experimentation we determined the Fuyo persimmons (as opposed to the Hachiya) would work best in a salad. Paired with the toasted pistachios, and the rich and slightly salty Manchego cheese, the combination of these flavors together are scrumptious.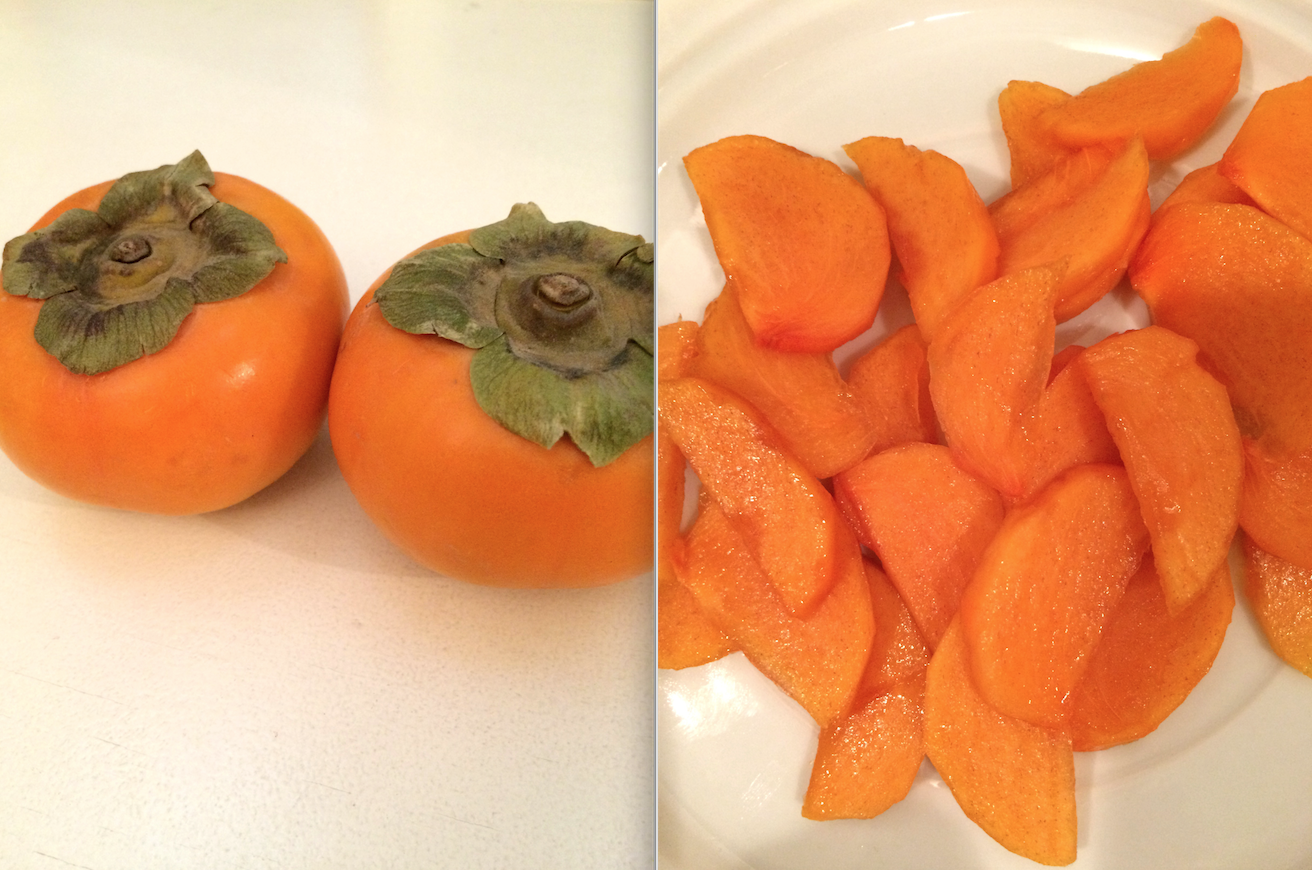 We discovered persimmons are ripe when they are a rich orange color and still firm. We peel and slice them into thin wedges.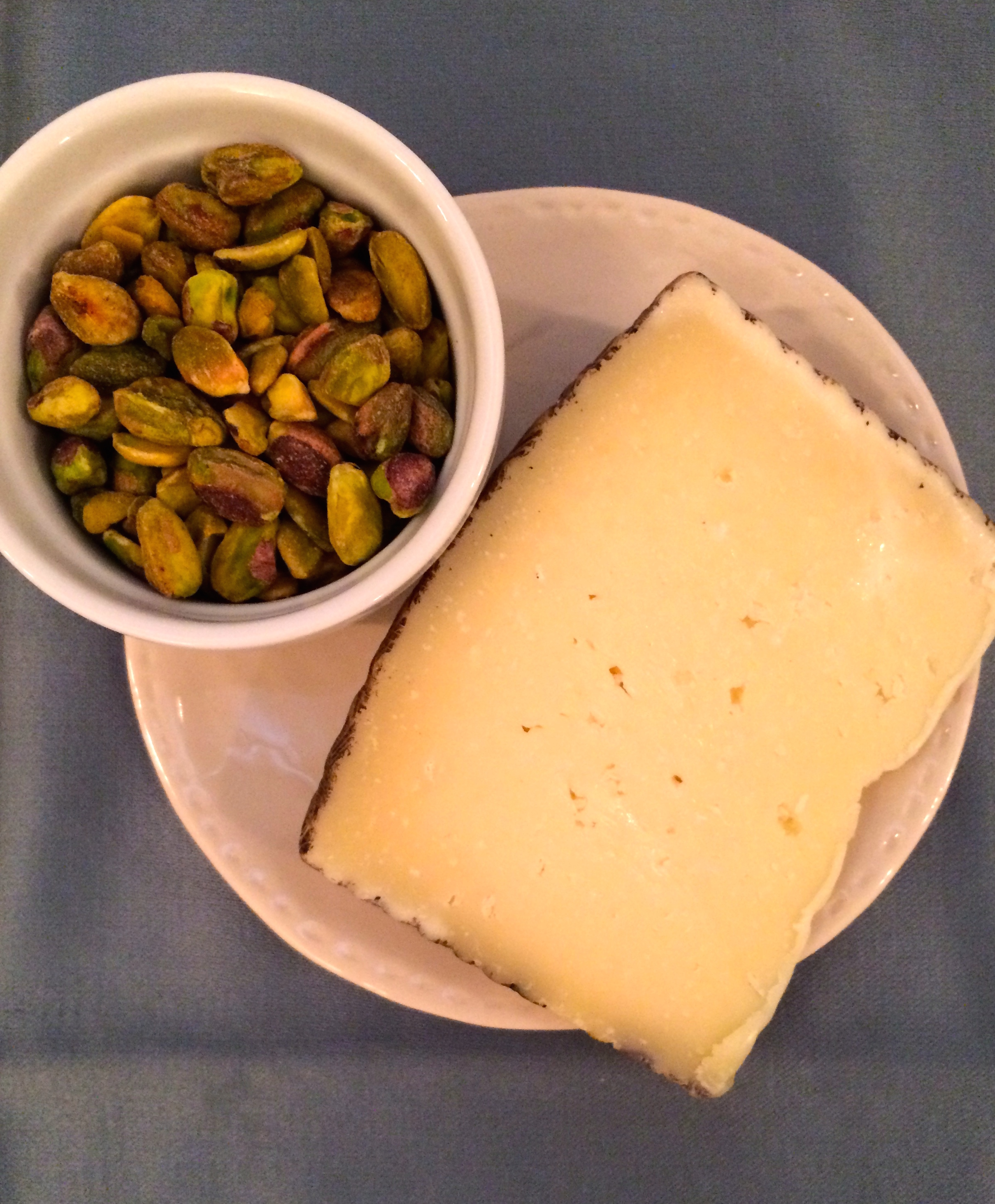 The combination of the toasted pistachio nuts, Manchego cheese, and persimmons is delicious.
Mesclun Greens with Persimmons, Pistachios, and Manchego Cheese
4 servings
3 tablespoons shelled pistachio nuts
Sea salt
1 tablespoon Champagne vinegar
2 teaspoons very finely chopped shallots
1/2 teaspoon Dijon mustard
3 tablespoons extra virgin olive oil
Freshly ground black pepper
5 ounces mesclun greens
1/2 cup shaved Manchego cheese
2 firm but ripe Fuyo persimmons, peeled, halved, and sliced into thin wedges
Preheat the oven to 350° F.
Spread the pistachio nuts on a baking sheet in a single layer. Bake until fragrant, about 7 minutes. Transfer to a plate and set aside.
In a small bowl add 1/8 teaspoon of sea salt, the vinegar, and shallots and mix well.
Add the mustard, olive oil, and black pepper to taste. Whisk until emulsified.
Place the mesclun greens in a large salad bowl. Add half of the persimmon slices. Pour half of the dressing over the greens and persimmons and toss. Add more dressing to taste and toss again.
Place the dressed greens on individual salad plates. Arrange the remaining persimmon slices on each salad, sprinkle with pistachio nuts, top with the Manchego cheese, and serve.