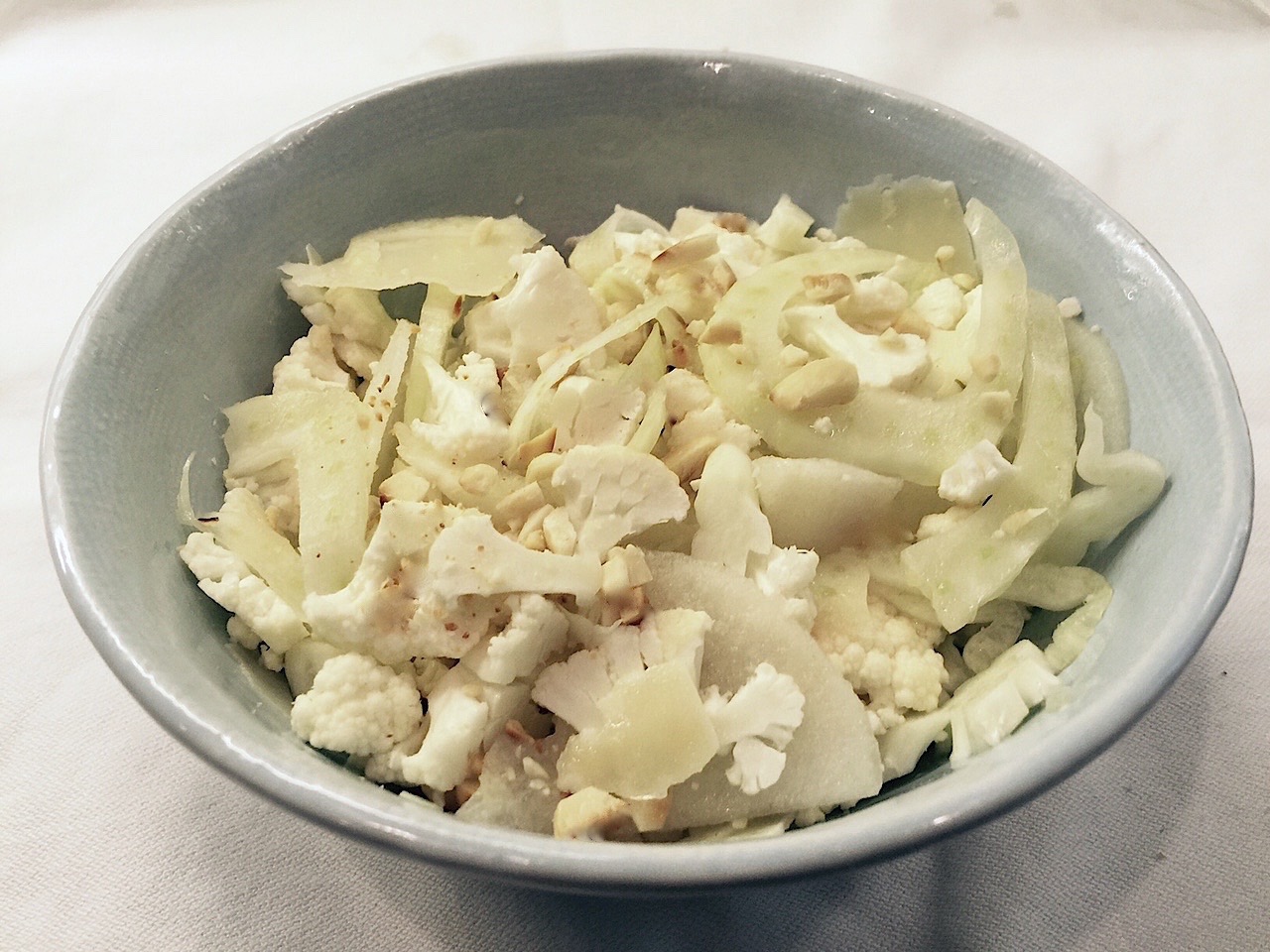 Cauliflower is having it's moment right now, but we were introduced to shaved cauliflower salads a couple of years ago by Serge Madikians of Serevan (our favorite Dutchess County restaurant), and we immediately fell in love. This salad is fresh and light, a wondrous blend of anise flavored fennel, crunchy Asian pear, and nutty-fruity Parmesan cheese. Just forget the rule that deep-colored vegetables are the healthiest–cauliflower rivals kale in health benefits.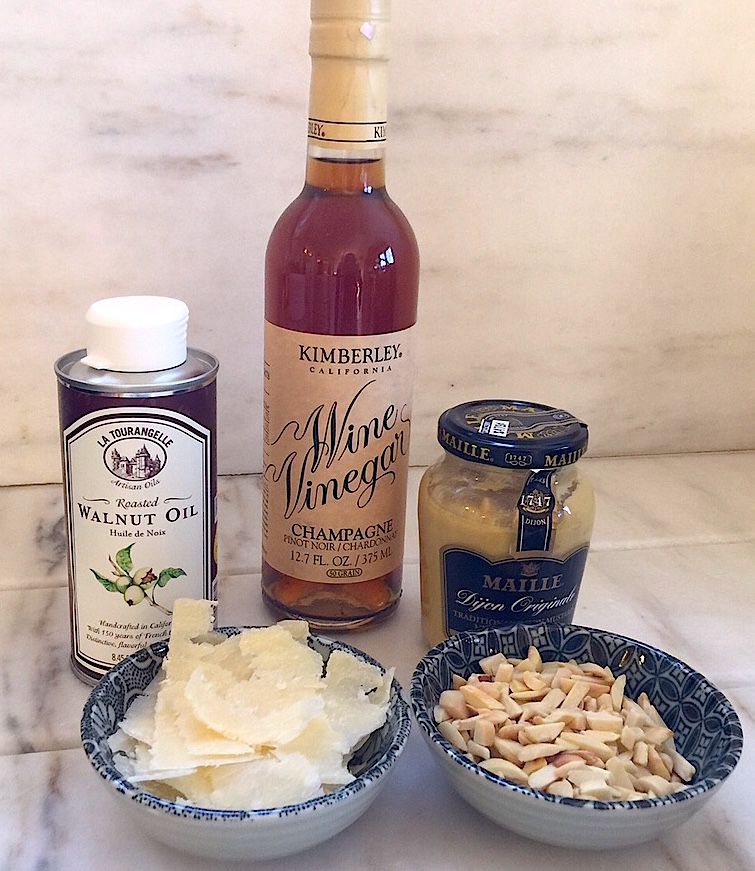 Mise en place. The dressing is so simple and so tasty.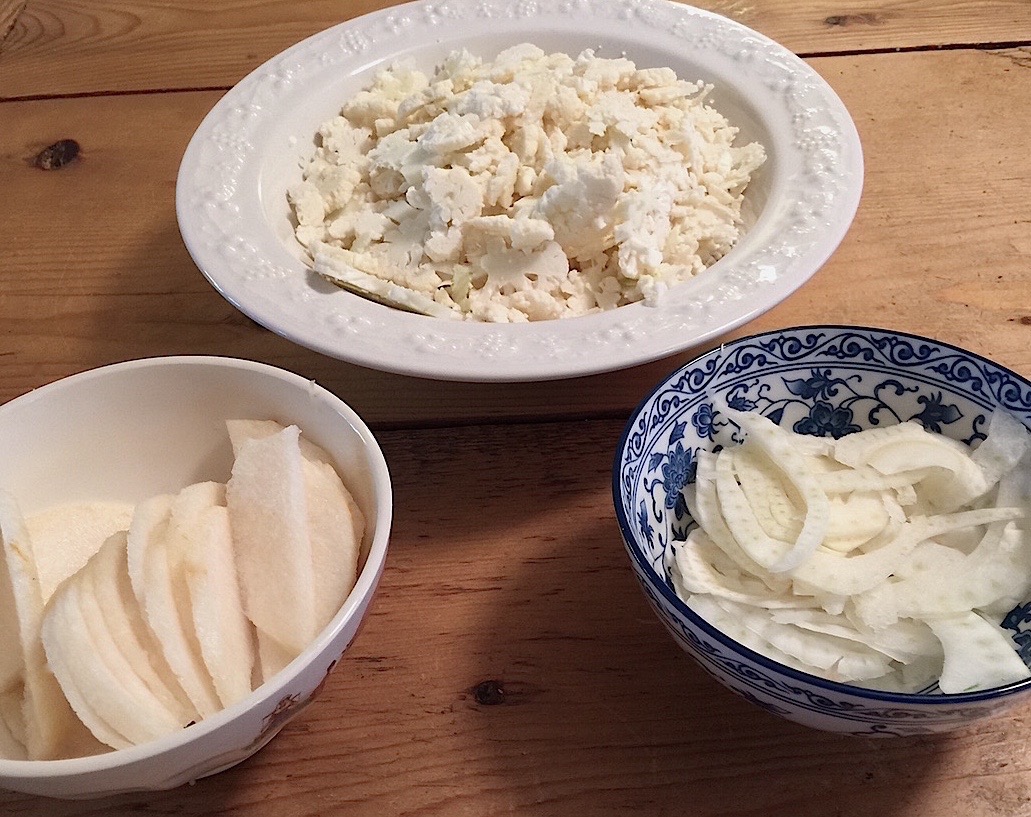 We slice the vegetables very thinly.
White Winter Salad
4 servings
1/3 cup slivered almonds
4 tablespoons white balsamic or Champagne vinegar
1 1/2 teaspoons Dijon mustard
4 tablespoons walnut oil (or grapeseed oil)
Kosher Salt
White pepper (or freshly ground black pepper)
4 cups shaved cauliflower (very thinly sliced with a mandoline or a knife)
1/2 cup shaved fennel (very thinly sliced with a mandoline or a knife)
1/2 Asian pear, peeled and cut into thin slices
1/3 cup shaved Parmesan cheese
Place the almonds in a small dry skillet over medium heat. Cook until they just begin to brown, shaking the pan and stirring so they do not burn, 4 to 5 minutes. Transfer the nuts to a plate to cool. Chop roughly and set aside.
In a small mixing bowl, or a jar with a tight lid, combine the vinegar, mustard, oil, 1/4 teaspoon of kosher salt, and 1/8 teaspoon of pepper. Whisk or shake vigorously until emulsified.
In a salad bowl, combine the cauliflower and fennel. Add some of the dressing and toss gently. Add the toasted almonds, Asian pear, Parmesan cheese, and more dressing to taste, and toss once more. Season with salt and pepper and serve.