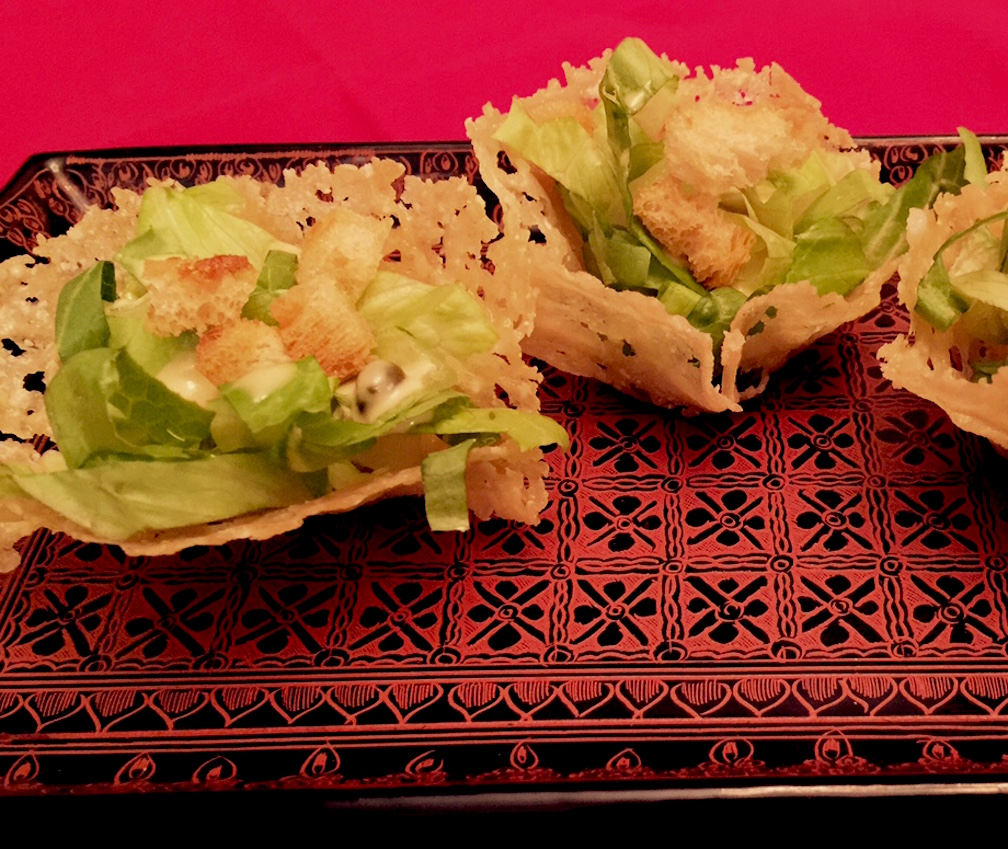 We took one of our family favorites, our Vegetarian Caesar Salad, and made it into a delicious and delightful party appetizer. The crispy Parmesan cup serves as the bowl for the crunchy romaine, tangy dressing, and mini croutons. Here's a salad you can happily eat by hand.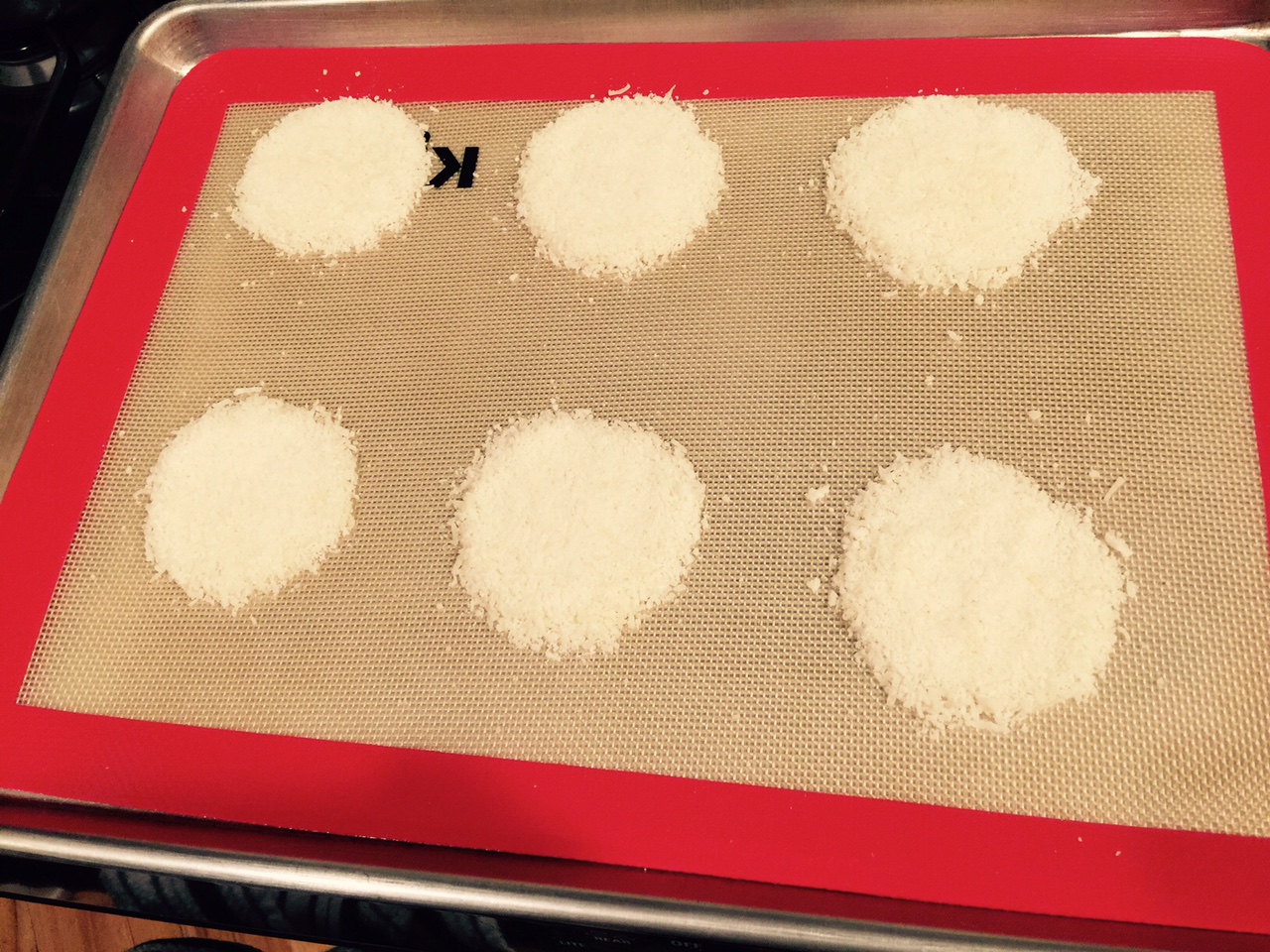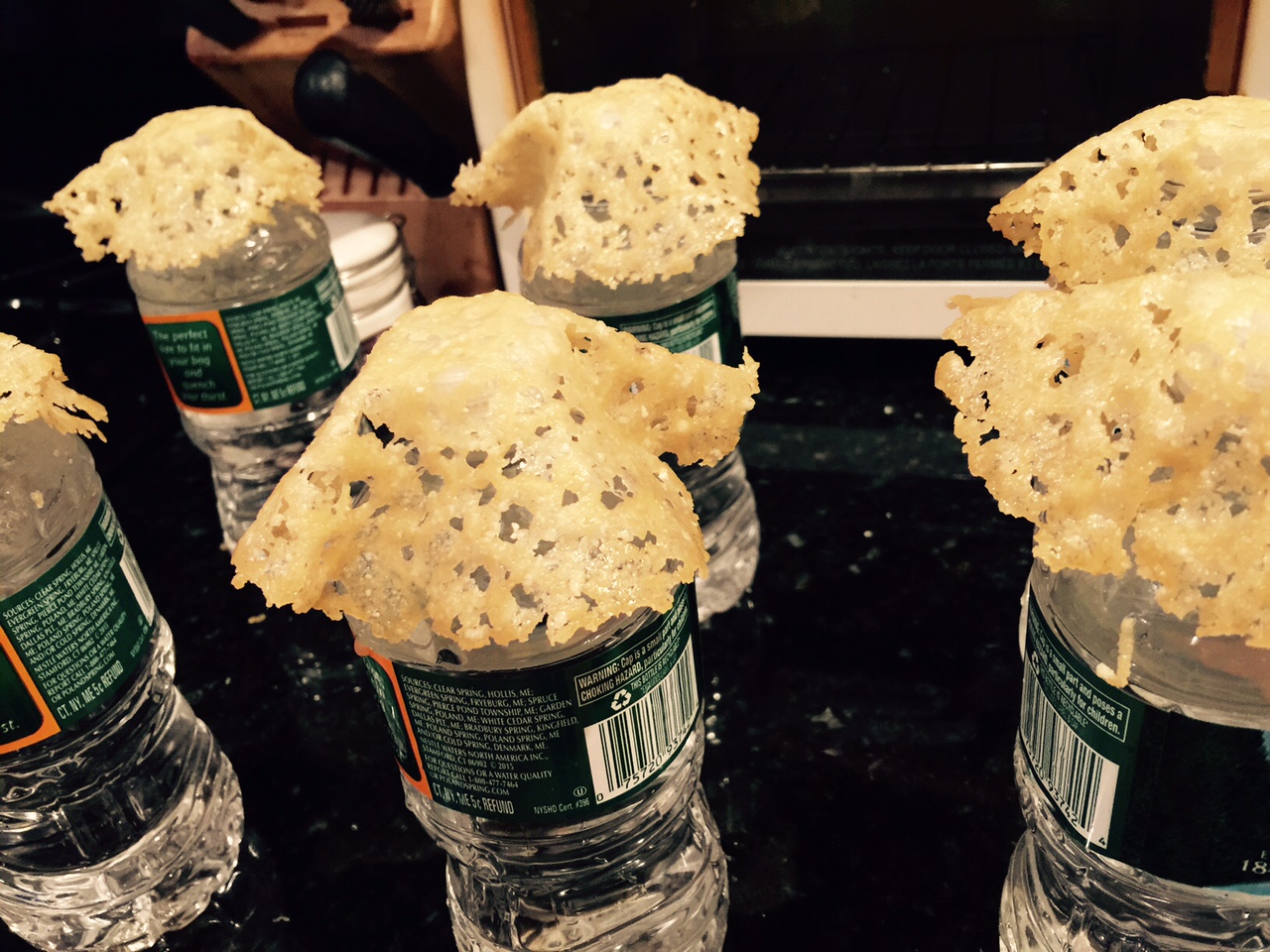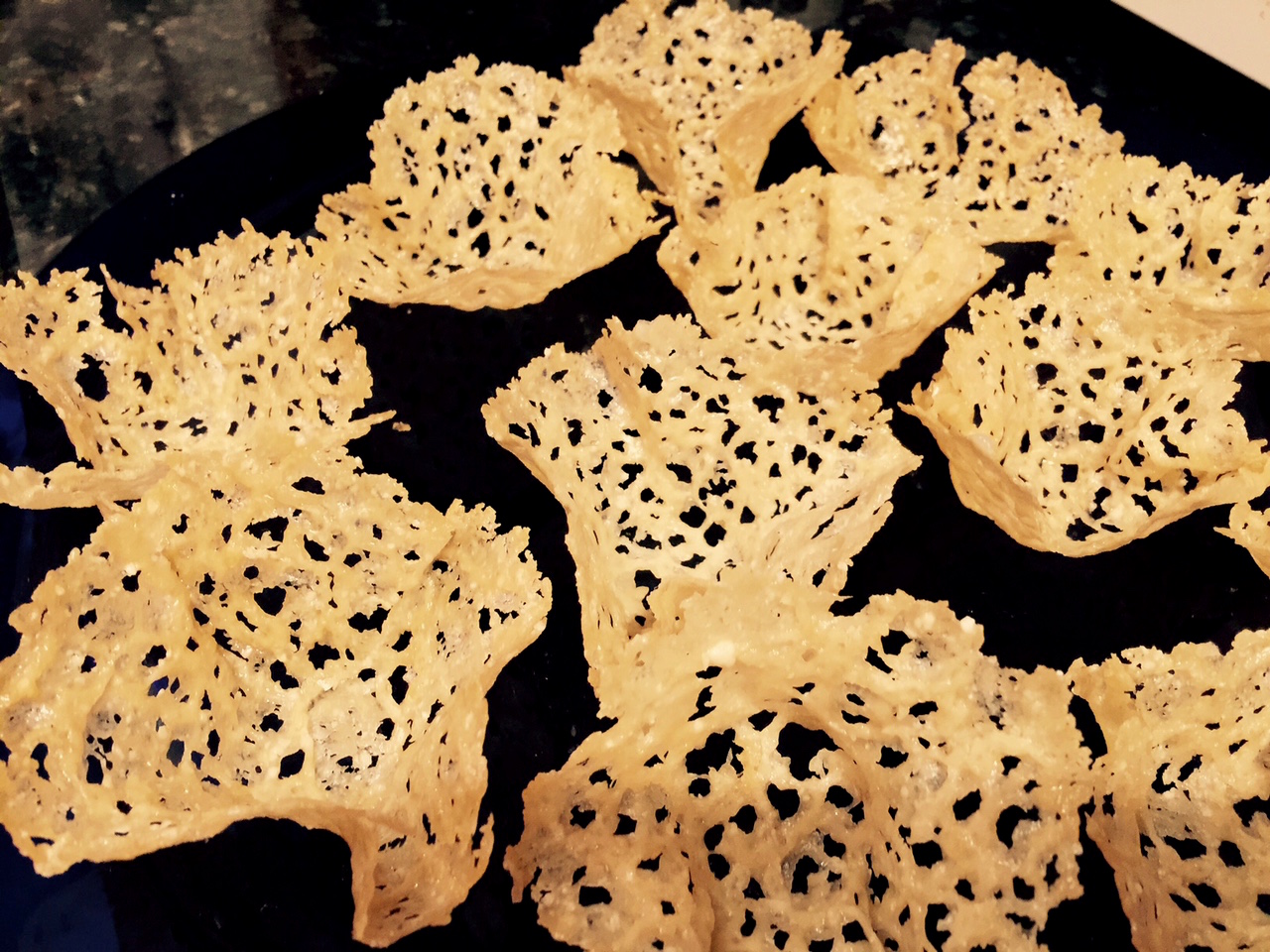 Melt and mold, then let the Parmesan cups cool.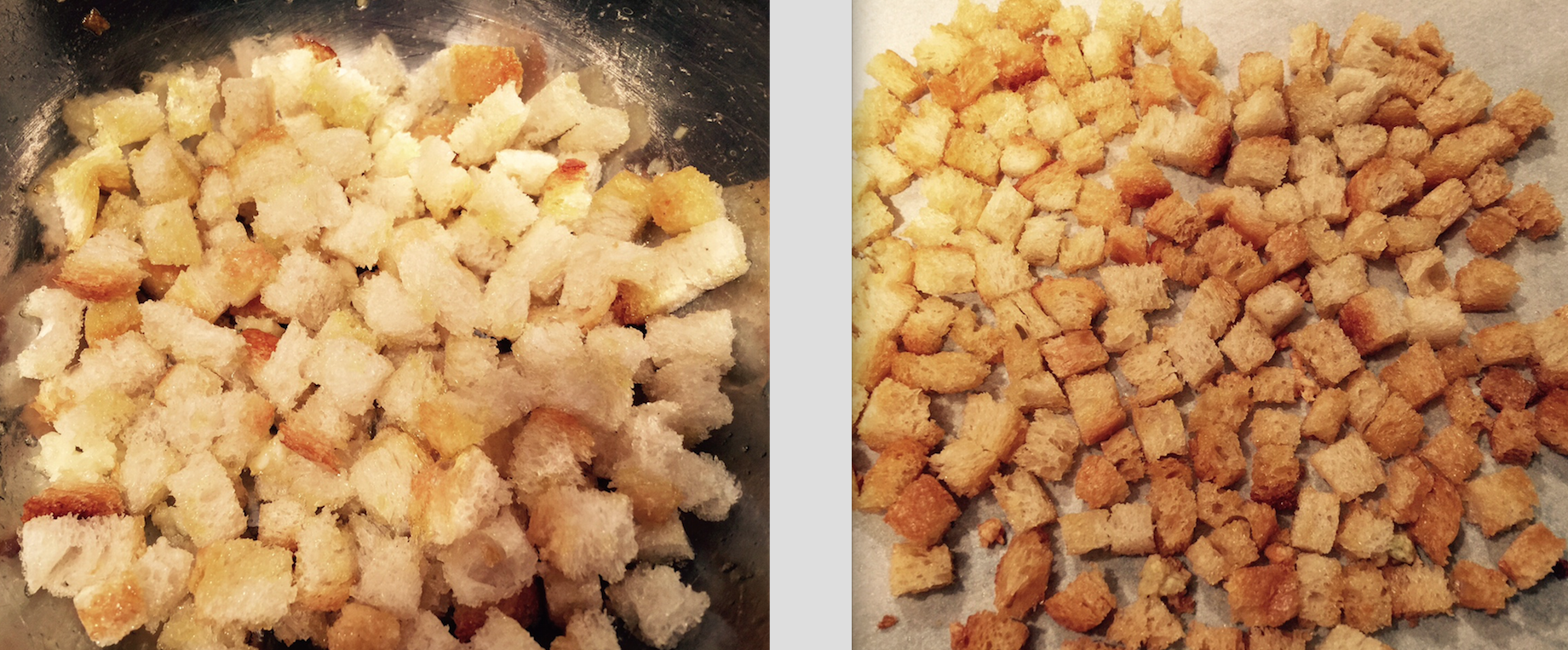 Mini croutons.
Mini Vegetarian Caesar Salad Parmesan Cups
6 to 8 servings
For the Parmesan Cups
1 cup finely grated fresh Parmesan cheese (do not use pre-grated)
For the Croutons
1 cup day old bread (peasant, baguette, or multigrain) cut into 1/4-inch cubes
3 teaspoons extra virgin olive oil
1 clove garlic, minced
For the Dressing and Salad
1 tablespoon mayonnaise
1 teaspoon Dijon mustard
1 clove garlic, minced
Sea salt
Freshly ground black pepper
2 tablespoons plus 2 teaspoons extra virgin olive oil
2 teaspoons fresh lemon juice
1/4 teaspoon vegetarian steak or Worcestershire sauce
1 teaspoon capers
2 cups chiffonade romaine hearts (or cut into thin strips)
For the Parmesan Cups
Set a rack in the middle of the oven and preheat the oven to 350° F.
Line a rimmed baking sheet with a silicone baking mat or parchment paper. Set out 6 shot glasses, small water bottles, or miniature muffin tins.
Working in 2 batches, spoon 1 tablespoon plus 1 teaspoon of the grated cheese onto the mat or parchment paper, creating 6 mounds, spaced 1-inch apart. Gently pat down the top of the cheese with your fingers.
Bake for 7 minutes until the cheese is melted and bubbly. Turn off the oven, open the oven door and, leave the sheet pan on the rack until the cheese stops bubbling, 2 to 3 minutes. Using a spatula, quickly remove each Parmesan round (one at a time) and place on the reserved glass, bottle, or tin, shaping it with your hands to form a cup. Let cool and remove the cups to a platter.
Set the oven back to 350° F. and repeat for the second batch.
For the Croutons
Preheat the oven to 350° F.
In a medium size bowl, combine the bread cubes, olive oil, and garlic. Mix together until the bread is coated. Spread the bread on a rimmed baking sheet and bake for 10 minutes, until golden, flipping once halfway through. Set aside.
For the Dressing
In a small mixing bowl whisk together the mayonnaise, mustard, garlic, a pinch of salt, and a pinch of pepper. Very slowly pour the oil into the bowl, whisking until the mixture has emulsified. Whisk in the lemon juice and steak sauce, and stir in the capers.
To Assemble
Fill each Parmesan cup with some of the romaine, top with 1 teaspoon of the dressing, sprinkle with 3 or 4 croutons, and serve.