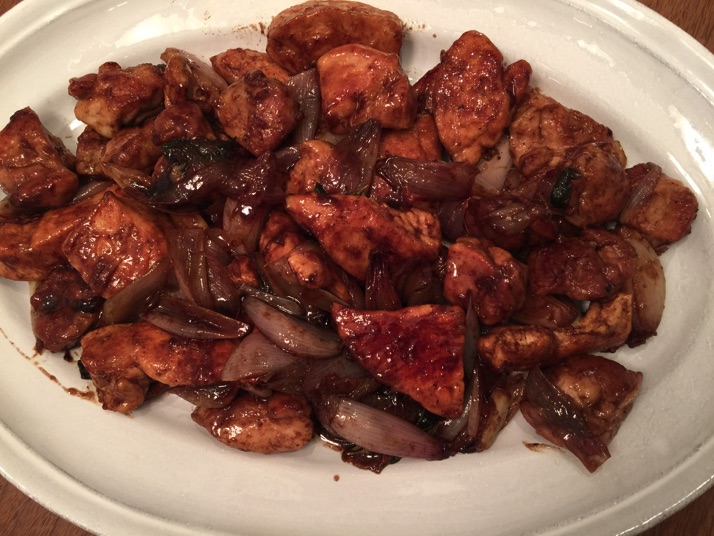 There is a little Italian restaurant in our neighborhood on the Upper East Side of Manhattan that has been a family favorite for more than twenty years. It's a Sunday night tradition, as long as there isn't too much homework, to go out for a family meal, a last chance to relax before the start of another busy work/school week. Everything at this restaurant is delicious and it's very hard to decide what to order. There are usually quiet little negotiations to find the family member who will split the two entrees you can't decide between. Nine times out of ten, one of these choices is the Pollo Balsamico.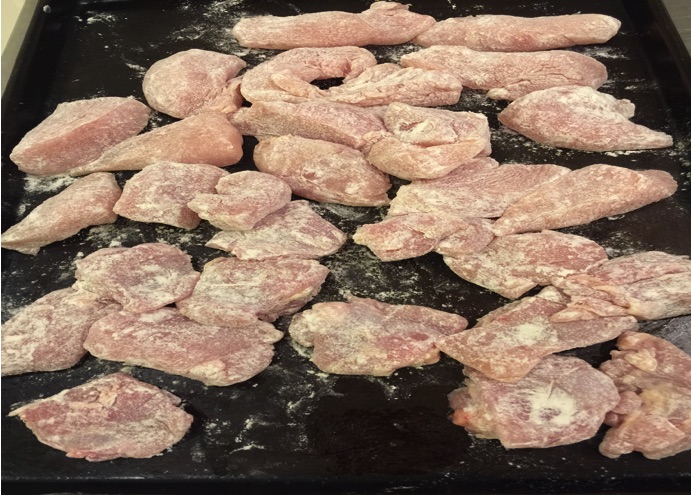 We have always assumed that this dish is a classic Italian recipe. The first bite of the succulent chicken brings you directly to a corner trattoria right off the Spanish steps. One day we decided we wanted to attempt to cook this meal at home. We assumed this would be easy. All we had to do was look though the countless cookbooks lining our shelves. Not so easy. We found Barbecued Chicken with Balsamic Vinegar; Chicken Bites with Vinegar and Sausage, Chicken Scarpiello… but not one recipe even resembled Pollo Balsamico.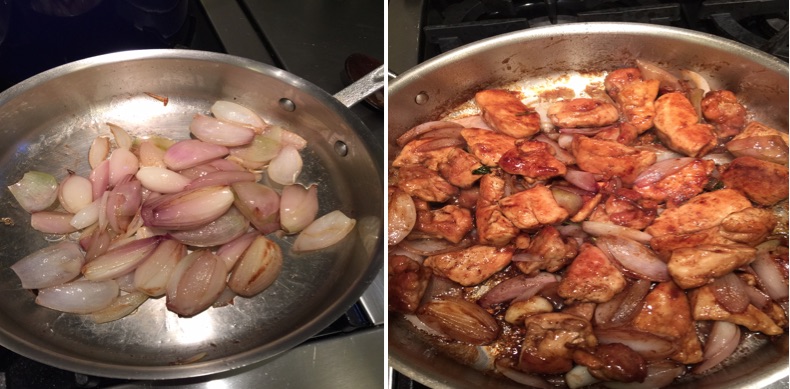 The first step was simply to go into the restaurant and ask if they had a recipe. They smiled politely and said, "No Señora, there is no recipe and it is very difficult to make." Apparently it was a closely guarded secret. It was time try to recreate this mouth-watering dish ourselves.
First we tried to parse out the many flavors and figure out which ingredients were in the recipe. Was it red wine or white? Which herbs did we taste? Sage? Was that rosemary perhaps? It's actually really fun to deconstruct and try to tease out a recipe, a sort of culinary science project. We settled on trying red wine, sage, and rosemary and a splash of chicken stock. We were on our way. The restaurant adds baby pearl onions to the chicken but we wanted to try shallots instead. We spent one long afternoon recreating the dish and much to our surprise it was delicious. Not exactly the same; but it's pretty darn close!
Pollo Balsamico
4 to 6 servings

1/2 cup all purpose flour
Kosher salt
Freshly ground black pepper
3 boneless skinless chicken breasts, 4 boneless skinless chicken thighs, each cut into 2 inch long pieces
3 tablespoons extra virgin olive oil, or as needed
2 gloves garlic
3 tablespoons butter
4 large shallots, peeled and cut into quarters
1 teaspoon roughly chopped fresh rosemary
1 tablespoon roughly chopped fresh sage leaves
1/2 cup red wine
1/2 cup low-sodium chicken broth
1/4 cup good quality balsamic vinegar
Put the flour in a wide shallow dish and season with 1/2 teaspoon of salt and 1/8 of teaspoon pepper. Dredge the chicken pieces in the flour and shake off the excess. Transfer the chicken pieces to a baking sheet.
Place a large skillet over medium-high heat and add enough olive oil to coat the bottom of the pan. When the oil is shimmering add the garlic cloves and half of the chicken pieces to the pan and cook until the chicken has formed a fine golden crust, 4 to 5 minutes. Flip the chicken pieces and cook the other sides for an additional 3 to 4 minutes, turning occasionally, until browned. Transfer the chicken to a platter and repeat with the remaining chicken adding more oil if necessary. Set aside.
Heat the remaining 1 tablespoon of olive oil and 1 tablespoon of butter in a medium skillet over medium heat until shimmering. Add the shallots, rosemary, and sage, and sauté, stirring frequently until soft and nicely browned, 7 to 8 minutes. Set aside.
Return the original skillet to medium-heat. Add the red wine, the chicken stock, and 2 tablespoons of butter. Raise the heat to medium-high and bring to a low boil. Add the chicken pieces, the shallots with the herbs, 1/2 teaspoon of salt and 1/8 teaspoon of pepper. Cook until all of the chicken is incorporated into the sauce. Add the balsamic vinegar to the pan and stir frequently until the sauce thickens, about 3 minutes. Transfer the chicken to a serving platter. Spoon the sauce and shallots all over the chicken and serve.