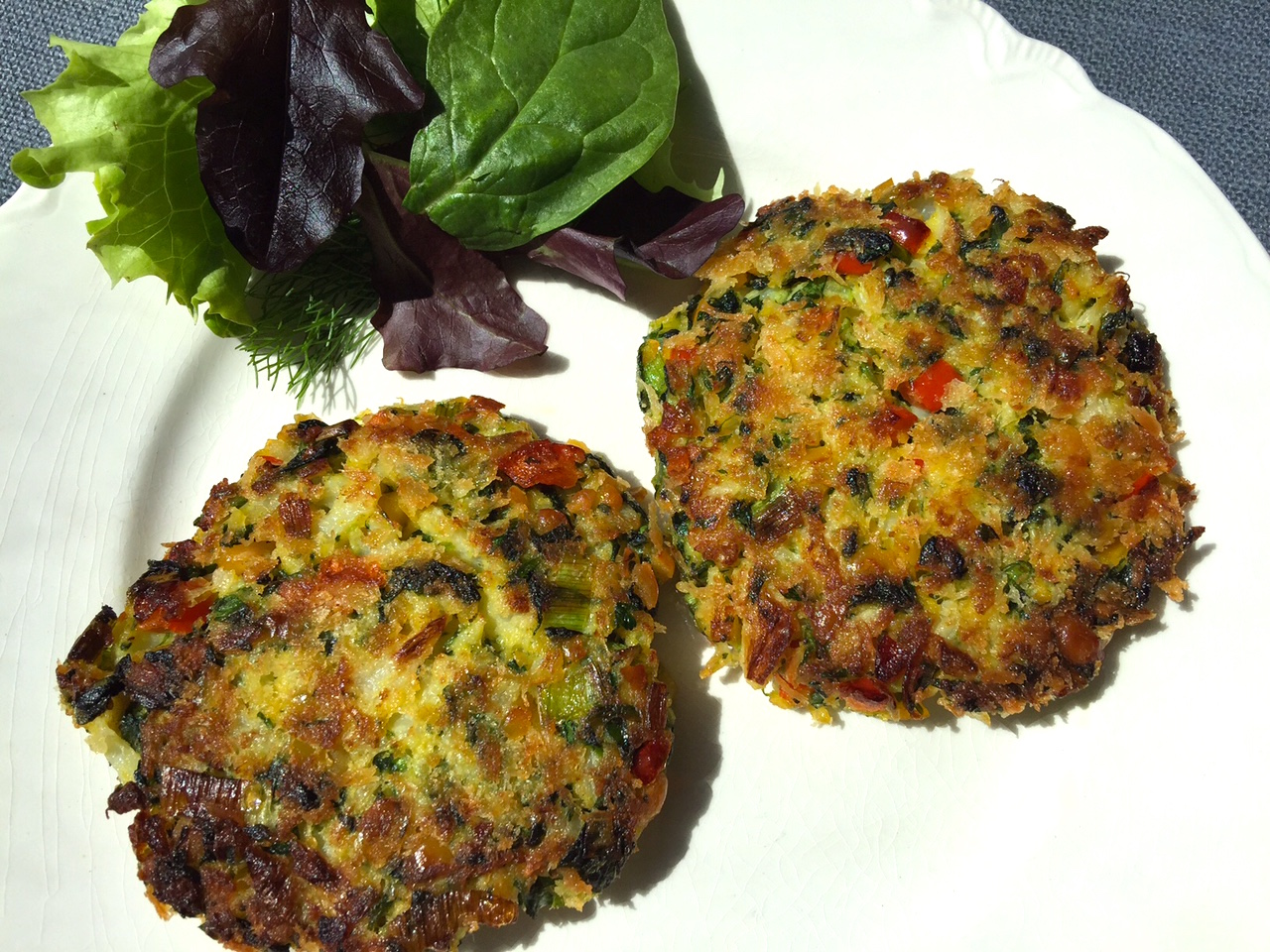 Our chickpea patties have the added goodness of smashed cauliflower, giving them a wonderful light flavor and texture. Then we pack them with veggies like spinach, red pepper, and scallions, and add tasty Mediterranean herbs and spices, such as cumin, turmeric, and parsley. The end result—a great tasting dish, chock full of legume protein and nutritious vegetables.

This recipe is quick and easy when you pre-prep all your veggies.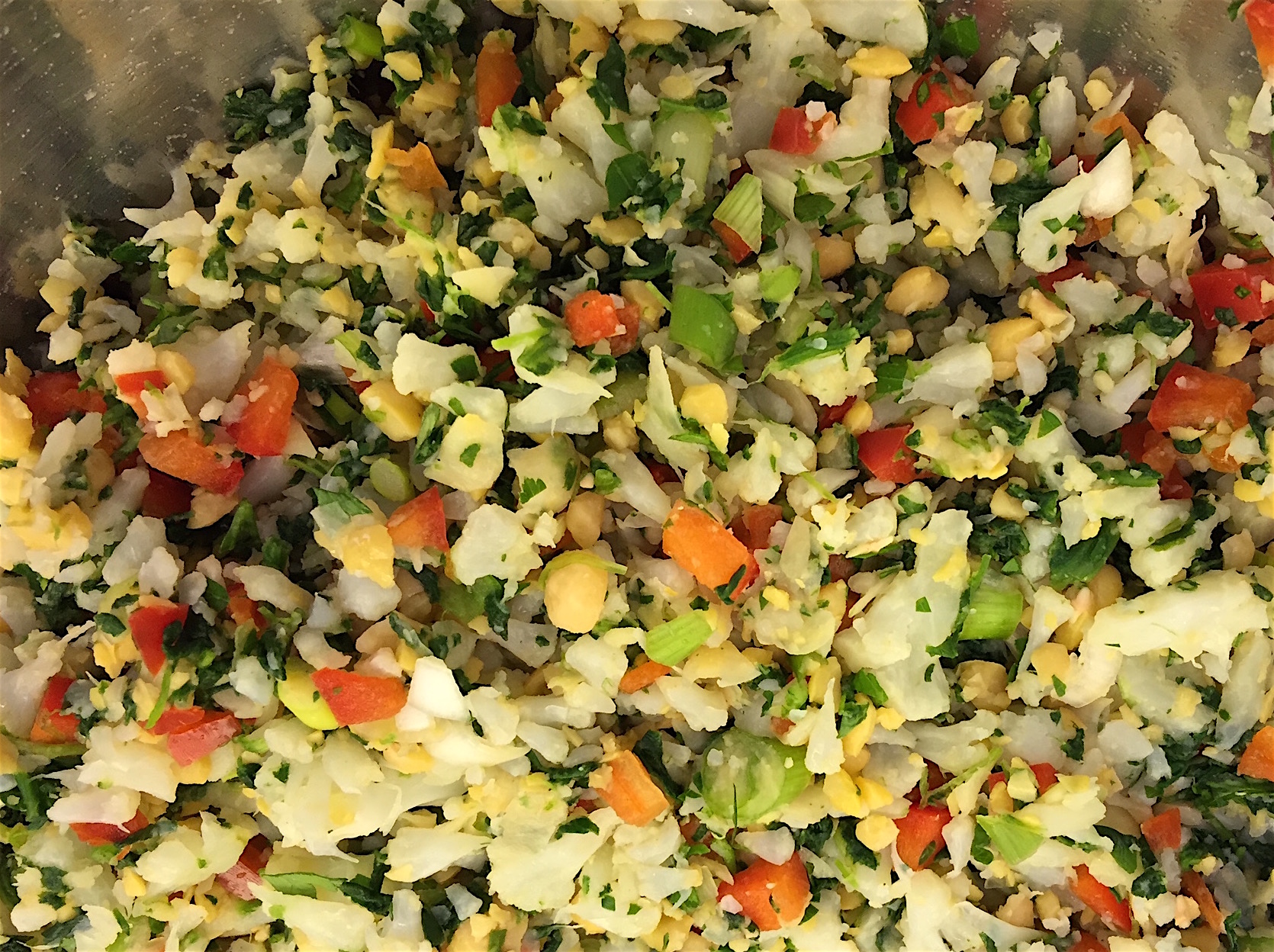 The chopped vegetables, herbs, and spices are added to the smashed chickpeas and cauliflower.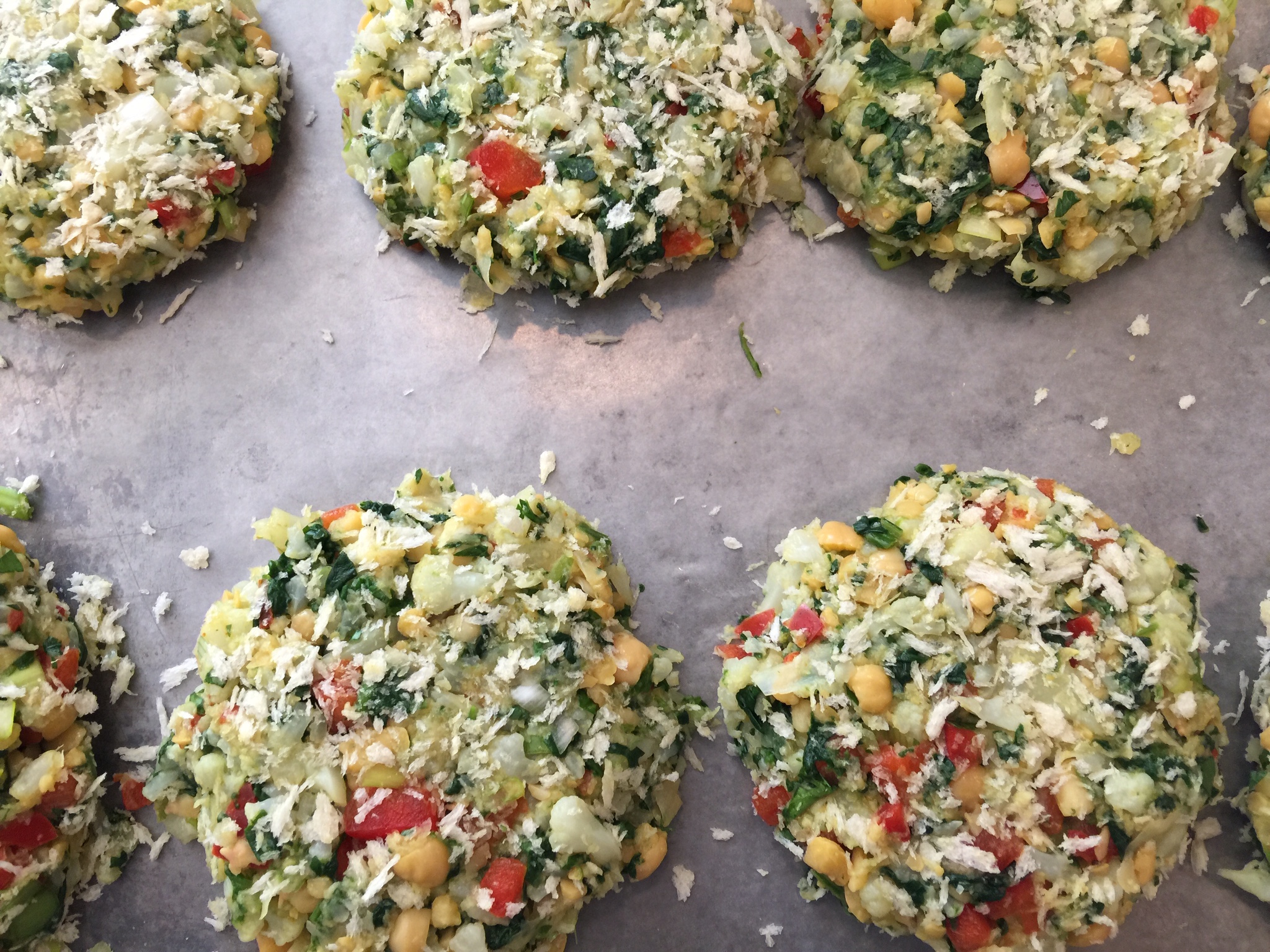 Scoop up handfuls of the mixture and shape into patties, coating lightly with panko.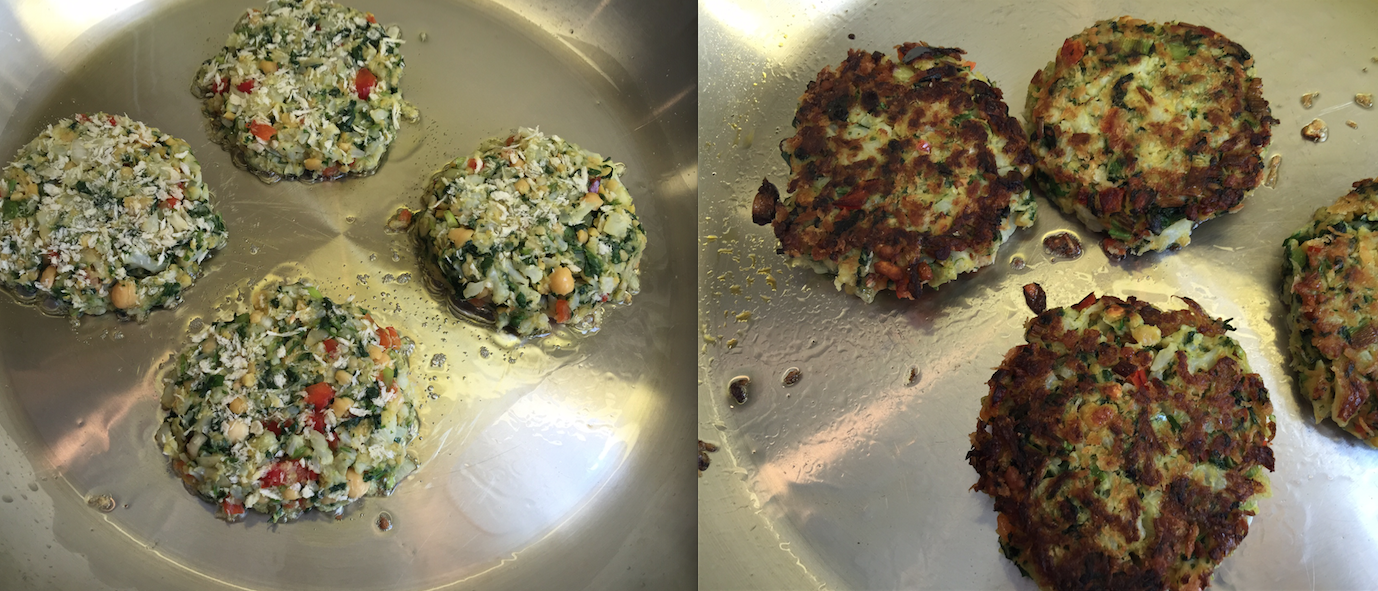 Cook the patties undisturbed until golden brown.
Mediterranean Cauliflower, Spinach, and Chickpea Patties
Serves 4 to 6
3 cups cauliflower florets, approximately 2-inch pieces
1 1/2 cups cooked chickpeas (or one 15-ounce can organic chickpeas, rinsed and drained)
1/2 cup tightly packed frozen chopped spinach, thawed and squeezed of excess liquid
3/4 cup finely chopped red peppers
4 scallions, white and light green parts, finely chopped
3 cloves garlic, minced
2 tablespoons finely chopped Italian (flat-leaf) parsley
1/4 teaspoon cumin
1/4 teaspoon turmeric
Sea salt
Freshly ground black pepper
2 large organic eggs, lightly beaten
1/2 cup plus 1/4 cup panko breadcrumbs
4 tablespoons extra virgin olive oil
1 cup dressing or sauce of your choice (tahini**, salsa, spiced yogurt, etc.)
Place the cauliflower in a steamer basket and cook over medium-high heat until just tender, 8 to 10 minutes. Set aside.
Meanwhile, preheat the oven to 350° F. Line a rimmed baking sheet with parchment paper and line a large platter, or another baking sheet, with wax paper.
Place the chickpeas into a large mixing bowl and using a potato masher or fork; mash the chickpeas until they are crushed. Add the cauliflower and mash again until the ingredients are well smashed (but not smooth.) Add the spinach, red peppers, scallions, garlic, and parsley and mix well. Stir in the cumin, turmeric, 1 teaspoon of salt, and 1/4 teaspoon of pepper and mix. Add the eggs and 1/2 cup of the panko, stirring to combine all the ingredients.
Place the remaining 1/4 cup of panko breadcrumbs in a shallow dish. Take a handful of the chickpea mixture and shape into a patty approximately 1/2-inch thick. Coat lightly with the panko. Place the formed patty on the wax paper lined platter or baking sheet. Repeat with the remaining chickpea mixture; you will have 8 to 10 patties.
Heat 2 tablespoons of the oil in a large nonstick skillet over medium heat until shimmering. Place half the patties in the pan, and cook undisturbed until golden brown, about 4 minutes. Flip the patties and cook until the second side is golden, about 4 minutes more. Transfer the patties to the parchment lined baking sheet. Wipe the skillet clean with paper towel, heat the remaining oil, and cook the remaining patties. Add these to the baking sheet, place it in the oven and cook for 10 minutes.
Transfer the patties to a platter, season with additional salt and pepper to taste, and serve hot with the sauce passed separately.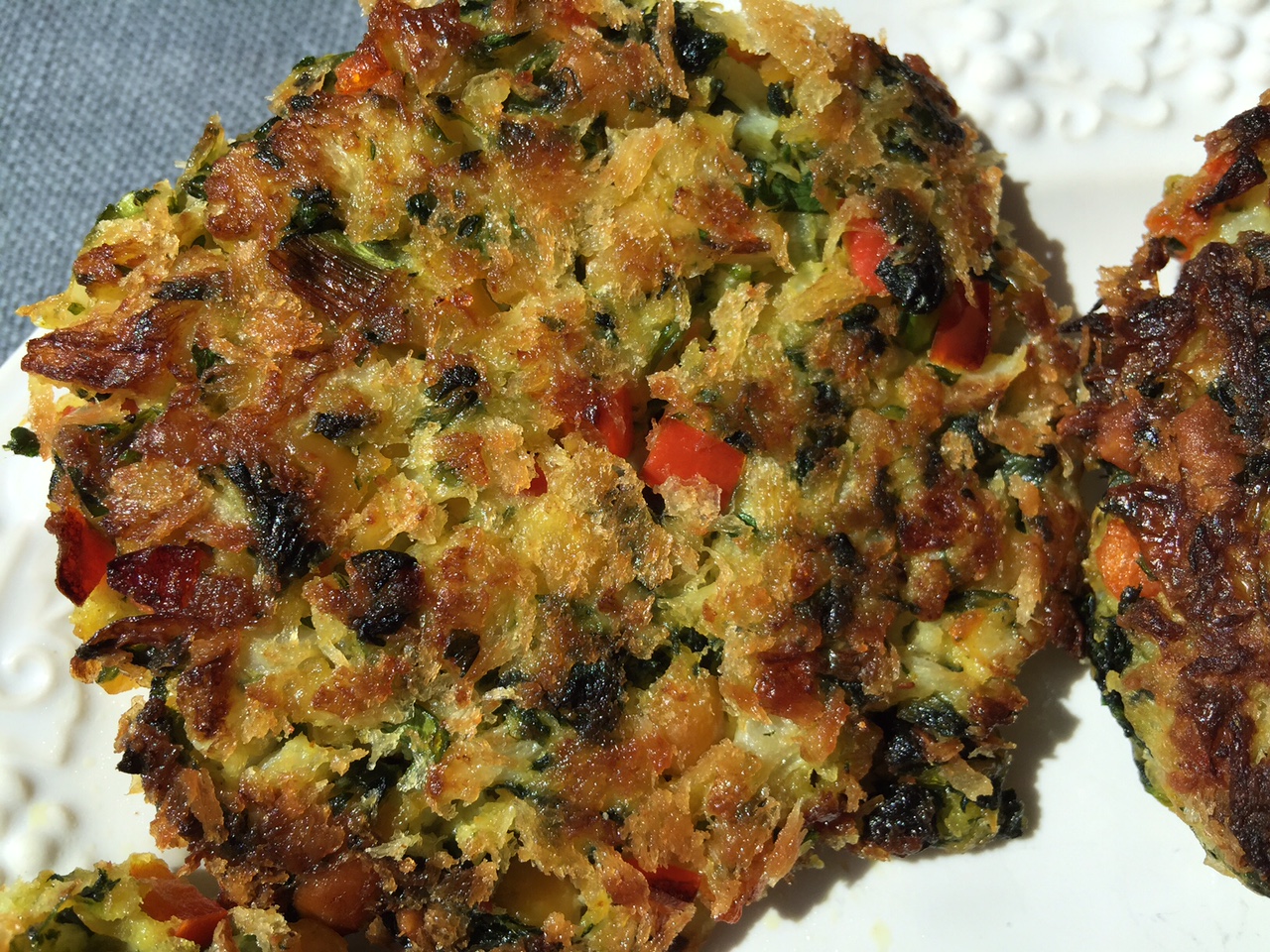 **Poblano-Tahini Sauce
1/3 cup roughly chopped poblano pepper
1 clove garlic, quartered
1/3 cup tahini (sesame paste)
1 tablespoon extra virgin olive oil
3 tablespoons freshly squeezed lemon juice
1/2 cup water, or more as needed
1/2 teaspoon sea salt
1/8 teaspoon freshly ground black pepper
Place all of the dressing ingredients in a blender or the bowl of a food processor, and blend until smooth. (Add additional water to attain your desired consistency.) Set aside.