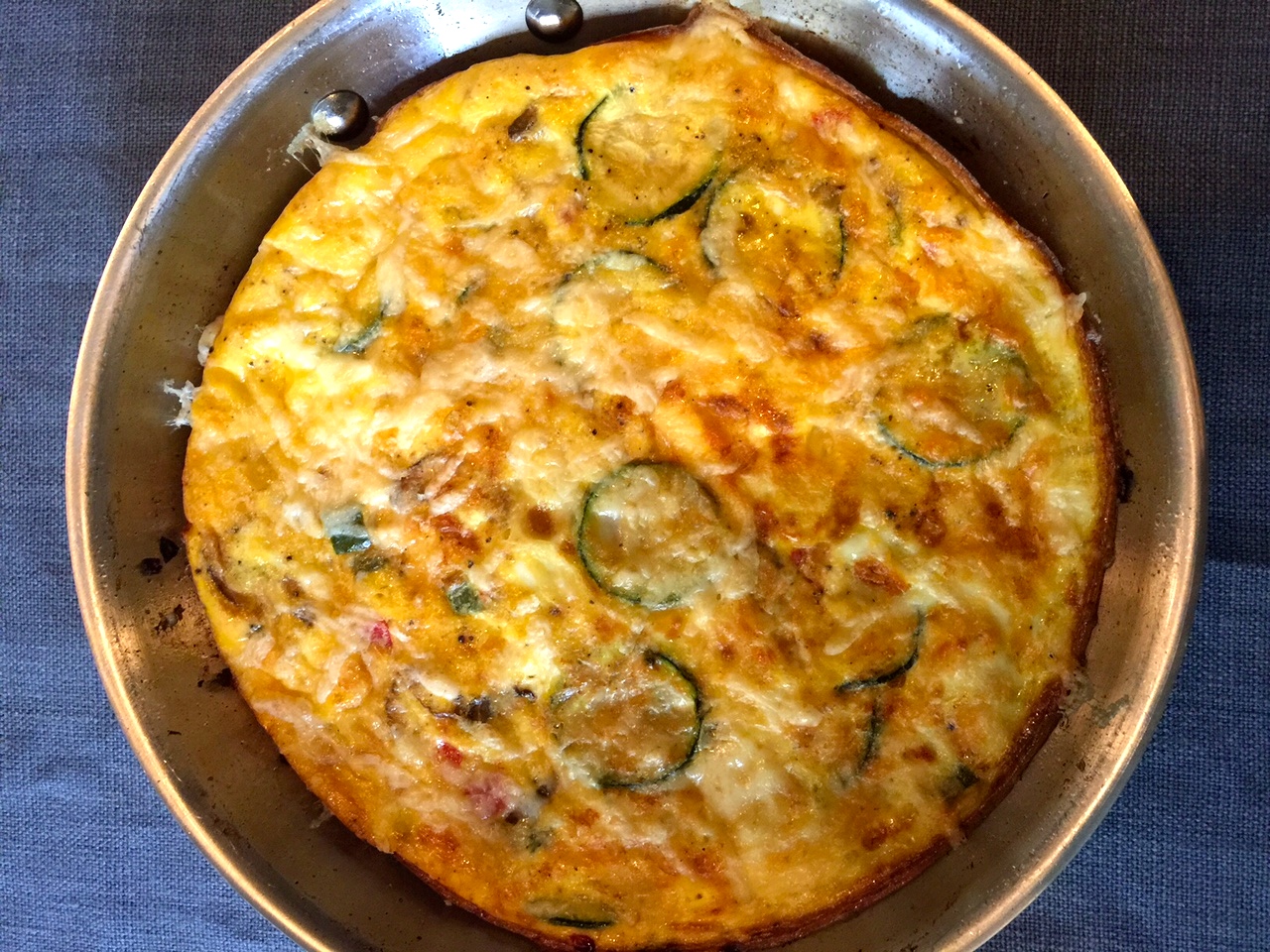 Until recently eggs have at times gotten a bad rap. Research now suggests however, that eggs are in fact healthy for us and they are packed with vitamins and minerals. Frittatas are one of those dishes that are perfect for any meal—we make them for breakfast, lunch, and dinner, or serve them as an appetizer when entertaining. They taste just as good cold, room temperature, or hot out of the oven and they are easy to prepare—you need just one skillet and the filling options are endless. We chose mushrooms, peppers, onions, and zucchini, but if you have other vegetables in your fridge you want to use up—go for it. Most important tip; for the filling, stick to ingredients that are already cooked—too much moisture dilutes the eggs.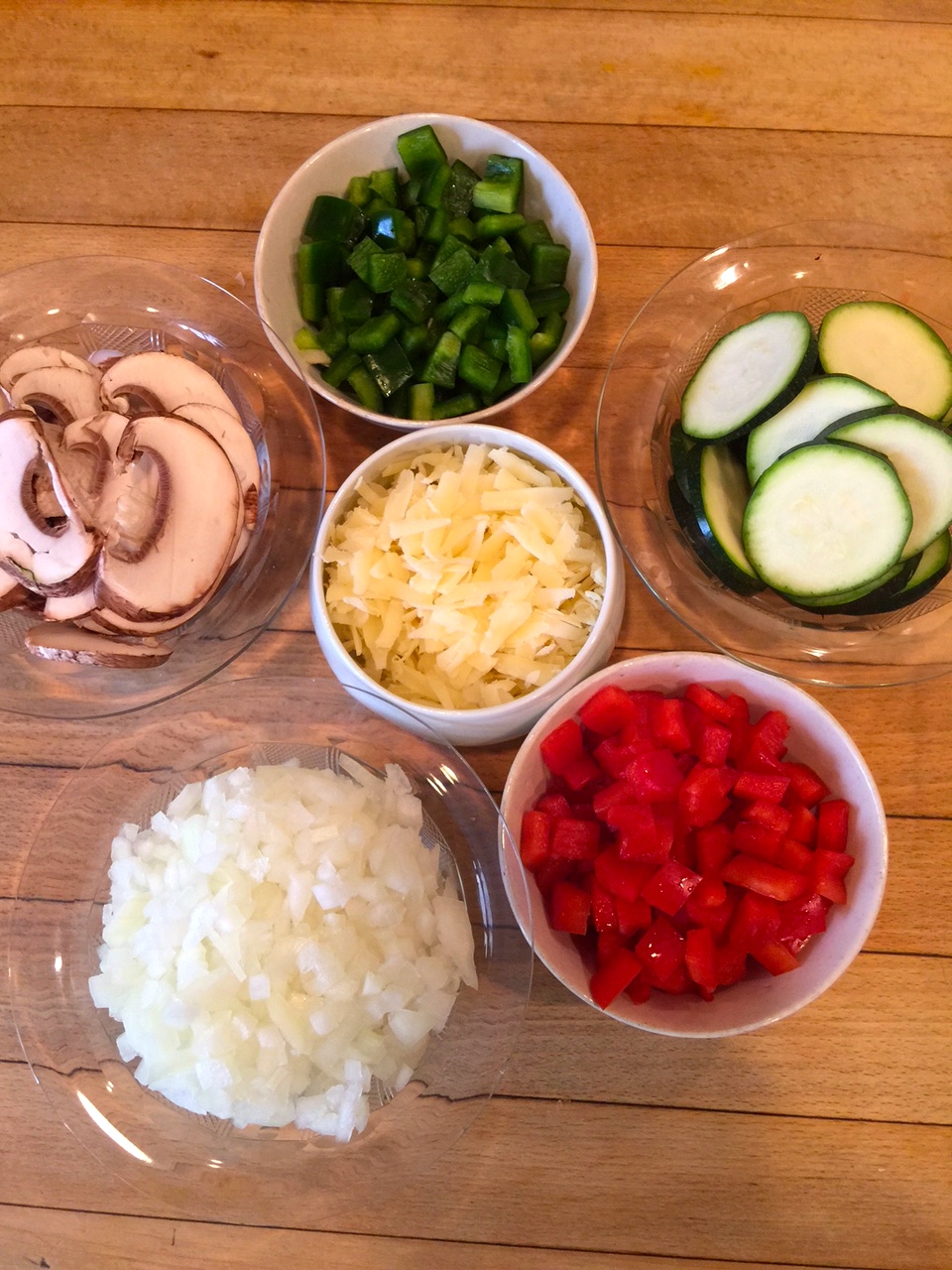 We use onions, peppers, mushrooms, zucchini, and Gruyere cheese.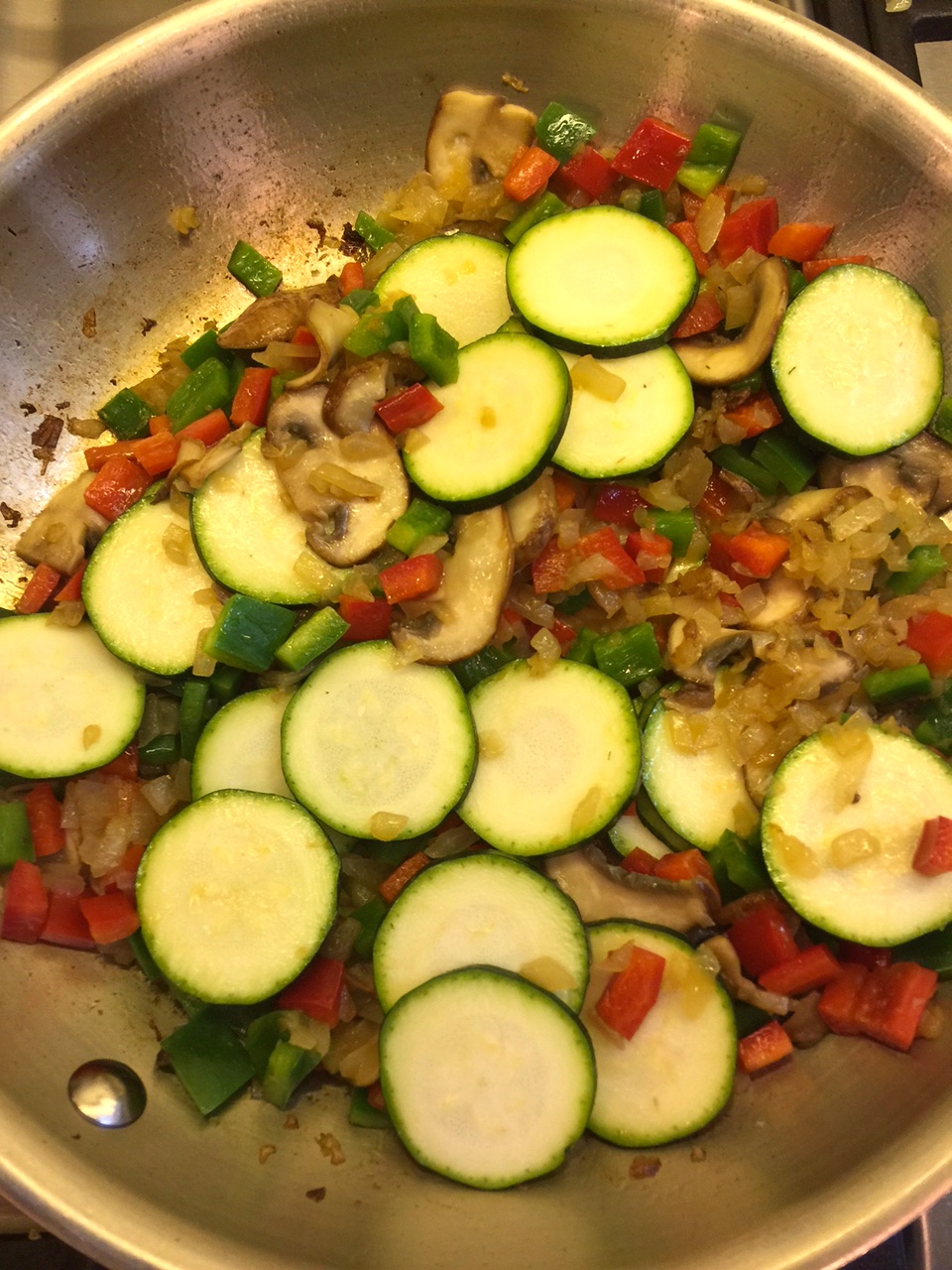 All the vegetables cook in the skillet, and then the eggs are added.
Zucchini, Mushroom, Pepper, and Gruyere Frittata
4 servings
1 tablespoon plus 1 teaspoon olive oil
1 cup finely chopped yellow onions
1 cup stemmed and thinly sliced cremini mushrooms
½ cup diced red peppers, cut into ½ inch cubes
½ cup diced green peppers, cut into ½ inch cubes
1 cup sliced zucchini, cut into ¼ inch rounds
Kosher salt
Freshly ground black pepper
8 large eggs
1/3 cup whole milk
¾ cup shredded Gruyere cheese
Preheat the oven to 350°F.
Heat the oil in a 10-inch ovenproof skillet over medium-low heat. When shimmering, add the onions and sauté until translucent, about 4 minutes. Add the mushrooms and cook until softened and most of their liquid is released, about 3 minutes. Stir in the peppers, and after one minute add the zucchini. Cook for an additional 3 minutes, or until the zucchini begins to soften. Add ¼ teaspoon of salt and 1/8 teaspoon of pepper and mix.
Meanwhile, whisk the eggs, just enough to combine the whites and yolks (over-beating will cause the frittata to fall). Add ½ teaspoon of kosher salt and ¼ teaspoon of pepper. Add the milk and ½ cup of the cheese and gently mix.
Pour the egg mixture over the vegetables in the skillet covering them evenly. Cook the frittata, without stirring, until it's edges start to set and curl away from the pan, about 5 minutes.
Place the skillet in the oven and cook for about 18 minutes or until puffed and set (be careful not too overcook). Remove from the oven, sprinkle the remaining ¼ cup of cheese over the top and bake in the oven for an additional 2 minutes. Turn the oven on to broil, and cook for 1 to 2 minutes or until the cheese on the top is lightly golden.
Slice the frittata into wedges and serve.