Right now, for us, chard is the new kale. Don't get us wrong—we still LOVE kale—but we've been craving chard and ogling beautiful photos featuring chard for the last couple of months. Swiss, red or rainbow, we don't care. It has such a zesty, slightly salty flavor, which makes it an ideal ingredient for pastas, casseroles, frittatas––the list could go on and on…. Popular in Mediterranean cooking, it's exceptionally good for you—it's considered one of the most nutritious vegetables there is. So we've been on a mission to come up with some scrumptious chard recipes.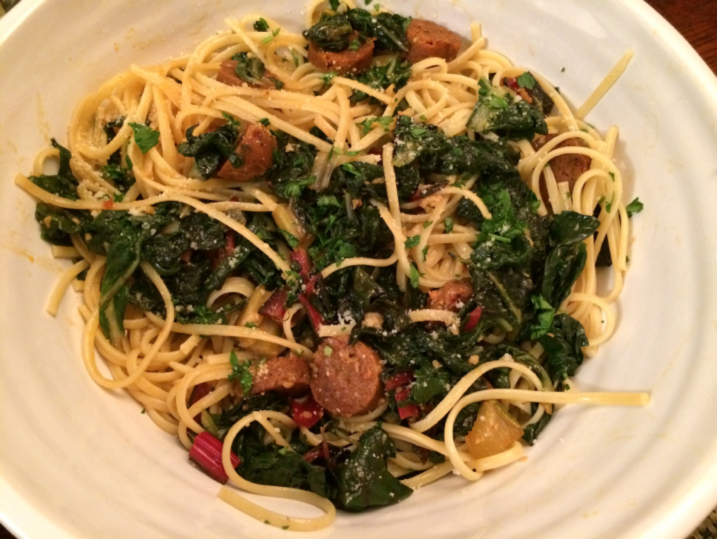 This one, a pasta dish, is super easy to make and so full of flavor…And it can be modified for lots of tastes and diets––you can easily make it vegan, gluten free, whole wheat, and low fat with simple substitutions. We like to make it vegetarian because it's one of those vegetarian dishes that have a lot of appeal to meat eaters—they don't feel like they're missing anything in terms of flavor or texture. It's perfect for your Meatless Monday meal.
We do like pasta—a lot. We know a lot of people who won't eat it. We think the key for us is that we make pasta recipes that have tons of vegetables or other ingredients so that we really are satisfied with the portion of pasta that we are meant to eat (no—it's not a one pound box for two people.)
We happen to love this dish with an artisanal veggie sausage a friend introduced us to—she's a tried and true meat eater and she loves it! But you can also use any kind of cooked Italian meat or poultry sausage that you like in this recipe and there are a lot of organic ones to choose from these days. You just need to cook your sausages through, then cut them into rounds and brown.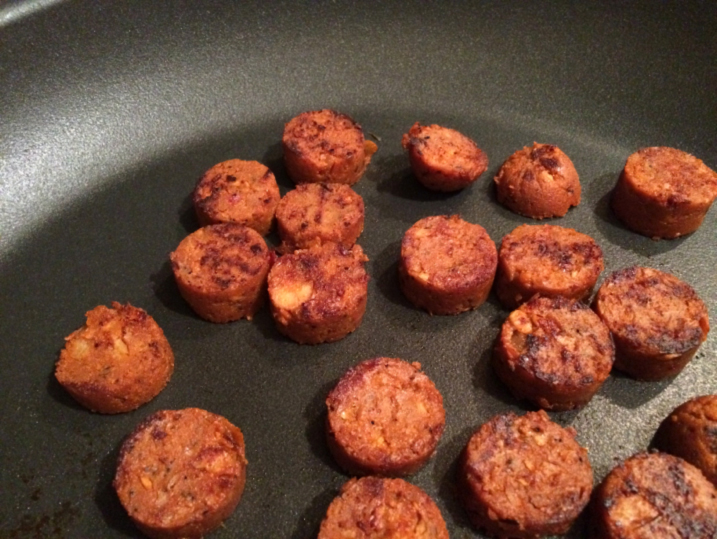 We doubled the amount of chard we would normally use for this recipe. We just found that it cooked down so much in the sautéing process that there wasn't enough green for our liking. We used both Swiss and rainbow chard—we can't tell you if they taste much different but we love the combination of colors. Look at this raw rainbow chard––it looks like a painting.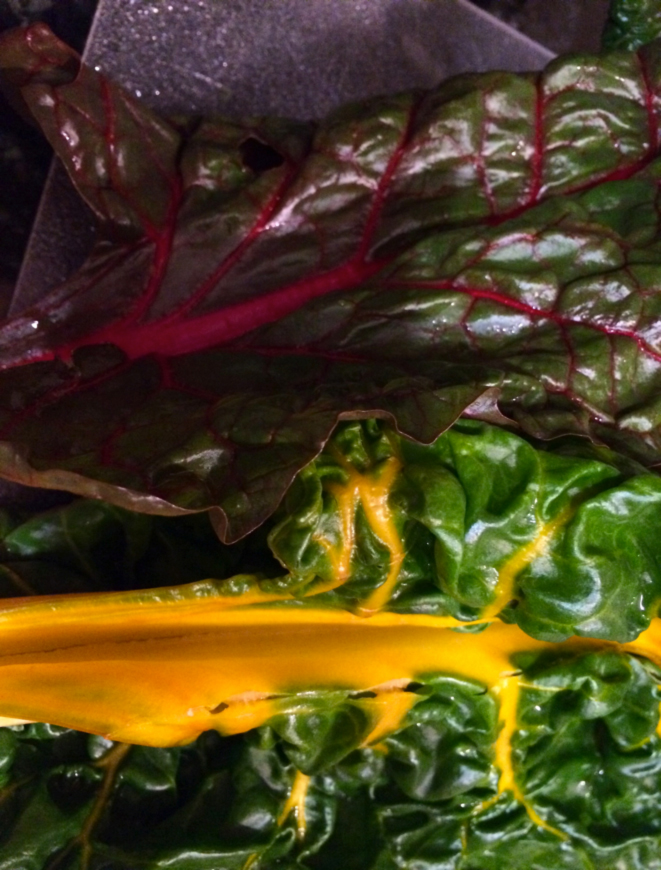 When sautéing the chard we begin with the chopped ribs and tender stems—even before we put in the garlic–-our kids don't like them too crunchy. Then we add the garlic and hot pepper flakes and finally the chard leaves. When you put so much leafy vegetable in the skillet it really is quite bountiful at first––you almost can't imagine that it will ever cook down. We put a large lid on top at the beginning to help the wilting process, but you still have to stir frequently so that it cooks evenly and doesn't burn.
After the chard has wilted you add the sausage back in to get it good and hot.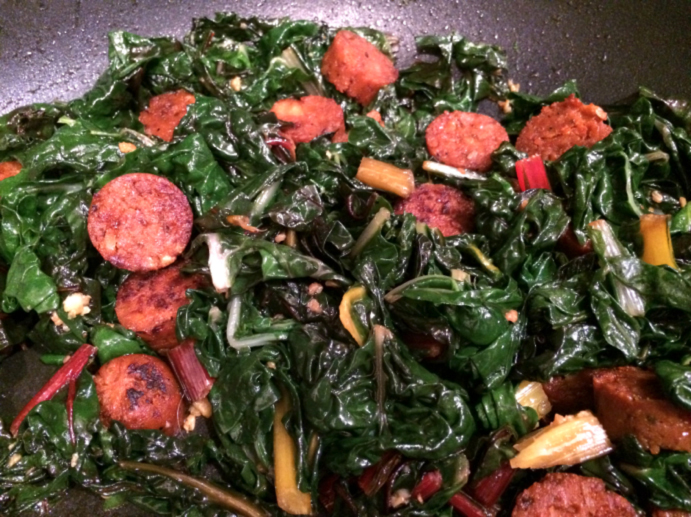 It's so beautiful and tasty–-you really could take this sauté right here, skip the pasta, and serve it in countless ways––on a bed of polenta, quinoa, or lentils, or chop it a little finer and use it in a frittata. All delicious alternatives. But for us, this pasta dish really hits the spot.
Bucatini with Sautéed Chard and Vegetarian Sausage
4 to 6 servings
Ingredients
2 pre-cooked Italian vegetarian sausages (we like Field Roast), cut into 1/3 to 1/2-inch round slices (you can also use any kind of cooked Italian meat or poultry sausages)
Kosher salt
1 pound bucatini (or spaghetti)
1/4 cup extra virgin olive oil
2 large bunches chard (Swiss, red, rainbow or a combination) leaves cut into 1 inch wide strips, ribs and tender stems roughly chopped (discard the thicker part of the stems)
4 cloves garlic, minced
1/8 teaspoon crushed red pepper flakes, or to taste
3 tablespoons chopped Italian (flat-leaf) parsley
Freshly ground black pepper
1/4 cup freshly grated Parmesan cheese (optional)
Heat a large skillet over medium-high heat. Add the sausage in one layer; cook undisturbed until browned, 2 to 4 minutes. Using tongs, flip and cook on the other side for an additional 2 to 4 minutes. Set the sausage aside in a dish or bowl.
Bring a large pot of water to a boil over high heat and add 1 tablespoon of salt. Add the pasta to the pot of boiling water and cook until al dente, about 1 minute less than the directions on the package. Reserve 1/4 cup of the pasta water and drain the pasta in a colander.
Meanwhile, wipe down the skillet with paper towels, set it over medium heat, and add the oil. When the oil is shimmering add the chard stems and sauté for 2 minutes. Stir in the garlic, red pepper flakes, and 2 tablespoons of the parsley, and cook for 1 minute. Add the chard and sauté, stirring until wilted, 7 to 9 minutes (you can cover the skillet with a large lid but continue to stir.) Once wilted, add in the browned sausage, and season with 1/2 teaspoon of salt and 1/8 teaspoon of black pepper.
Add the drained pasta to the skillet with 3 tablespoons of the reserved pasta water and cook, stirring, until the pasta is coated, 2 to 3 minutes. Transfer the pasta to a serving bowl, and sprinkle with the remaining parsley, and Parmesan cheese (if desired). Season to taste with salt and pepper and serve hot.