When we visited our grandmother (Corky's mom), on Sundays she would often serve us a delicious chicken dinner. It wasn't a stew, and it wasn't a roast. Grandma called it "potted," and we can remember that the chicken was always incredibly moist, tender, and delicious. When we'd ask her how she made it she would say, "You brown the chicken, put it in a pot, add a little chopped onion, a little water, and cook it slowly." Not much to go on. But when we began to "braise" chicken and meat we realized that braising (the cooking technique of the moment) was very much like our grandma's old-fashioned potting. Braising is a gentle, slow simmering method of cooking that produces succulent chicken and a full-bodied rich sauce. The secret is to take the time to carefully sear and brown the pieces, and to add only a moderate amount of liquid (too much, and you have a stew). Instead of water, you can add a broth, wine, citrus juices, vinegar, or a combination of liquids, and instead of onions a cornucopia of vegetables. We've added nutrient-rich butternut squash, healthful spices, and super-healthy chickpeas for a depth of flavor. But we must confess that chickpeas are such a favorite that we toss them into any dish, anytime we can.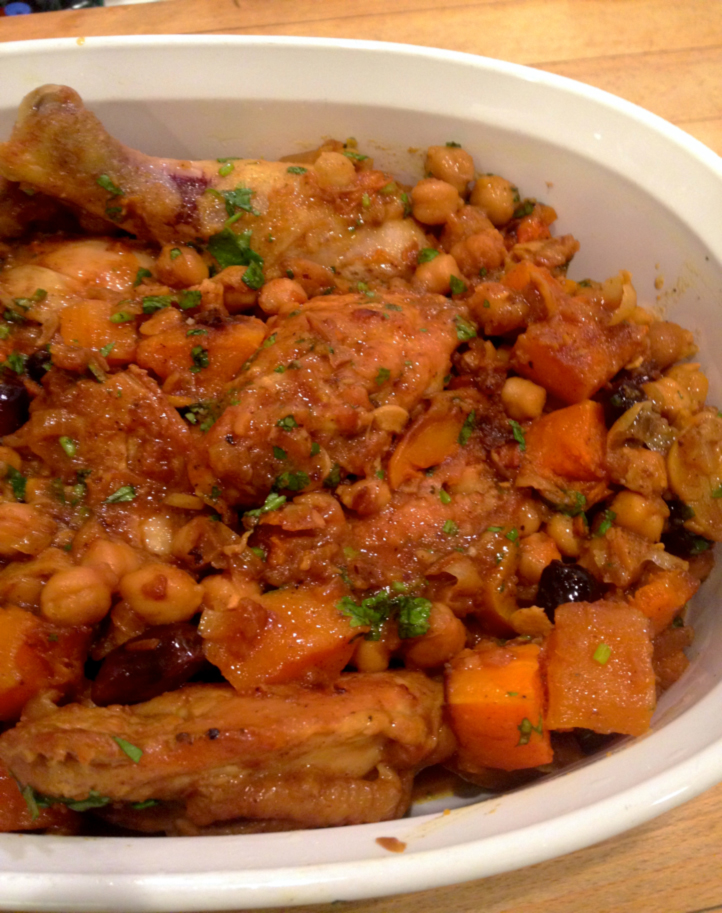 Roasting caramelizes the butternut squash and adds an unexpected sweetness.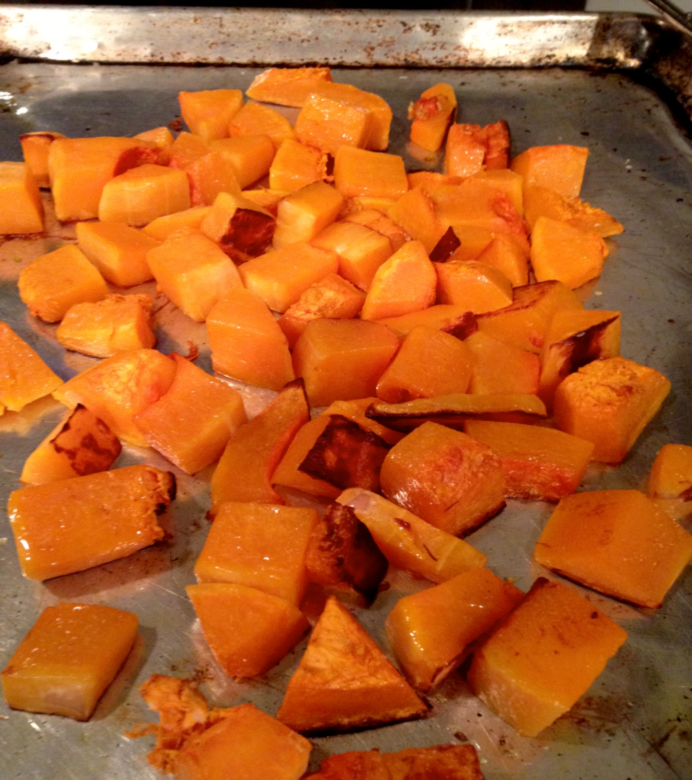 You can easily customize this dish to reflect family preferences. We like a mix of chicken thighs and legs (for that family member who is wild about drumsticks), but you can go for all thighs, all breasts, or a mix of both. With braising it doesn't matter which cuts you choose, they all turn out moist and tender.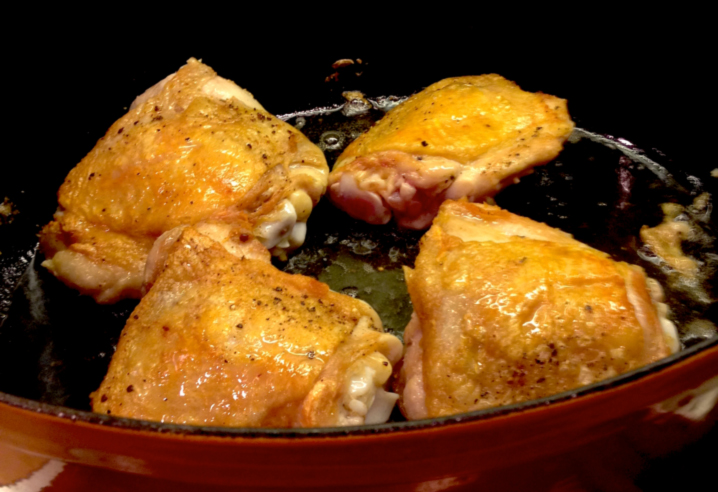 Braised Chicken with Roasted Butternut Squash and Chickpeas
4 servings
1 small butternut squash, peeled and cut into 1-inch pieces
3 1 /2 tablespoons extra virgin olive oil
Kosher salt
Freshly ground black pepper
6 bone-in, skin-on chicken thighs
4 bone-in, skin-on chicken drumsticks
1 large Spanish onion, chopped
3 cloves garlic, thinly sliced
1 teaspoon cumin
1 teaspoon coriander
1 teaspoon turmeric
1 /2 teaspoon ground cinnamon
1 /8 teaspoon red pepper flakes (or to taste)
1 bay leaf
2 cups organic low-sodium chicken broth
3 teaspoons grated lemon zest
3 tablespoons lemon juice
1 cup canned chickpeas, rinsed and drained
1/2 cup pitted Kalamata olives
1 tablespoon chopped cilantro
Preheat oven to 425° F.
Spread the butternut squash in a single layer on a rimmed baking sheet, add 1 1/2 tablespoons of olive oil, 1/2 teaspoon of salt, and 1/8 teaspoon of pepper and toss to coat. Roast for 10 minutes, turn and roast for an additional 5 to 10 minutes until fork tender.
Dry the chicken and generously season with salt and pepper.
Heat 2 tablespoons of oil in a Dutch oven over medium-high heat until shimmering. Add 4 chicken thighs, skin side down, and cook for 5 to 7 minutes until golden brown. Using tongs turn and cook for 3 additional minutes. Transfer to a platter and repeat with the remaining chicken. Remove and set aside.
Drain all but 1 tablespoon of the oil, reduce the heat to medium, and add the onions. Cook for 5 to 7 minutes until soft, add the garlic and cook an additional 2 minutes. Add the cumin, coriander, turmeric, cinnamon, red pepper flakes, and bay leaf and cook, stirring constantly until fragrant, about 1 minute. Slowly pour in 1/2 cup of the broth, stirring to deglaze the pan, and cook until the liquid is slightly reduced. Add the remaining 1 1/2 cups of broth, the lemon zest and lemon juice, 1/2 teaspoon of salt, and a pinch of pepper. Reduce the heat to low, cover, and simmer the sauce for 15 minutes.
Add the chicken, squash, and chickpeas and gently stir to combine. Keep the heat at a simmer, and cook, covered, for 30 minutes. Add the olives and cook for an additional 15 minutes. Remove the chicken and vegetables to a platter, spoon the sauce over the chicken, garnish with cilantro, and serve.