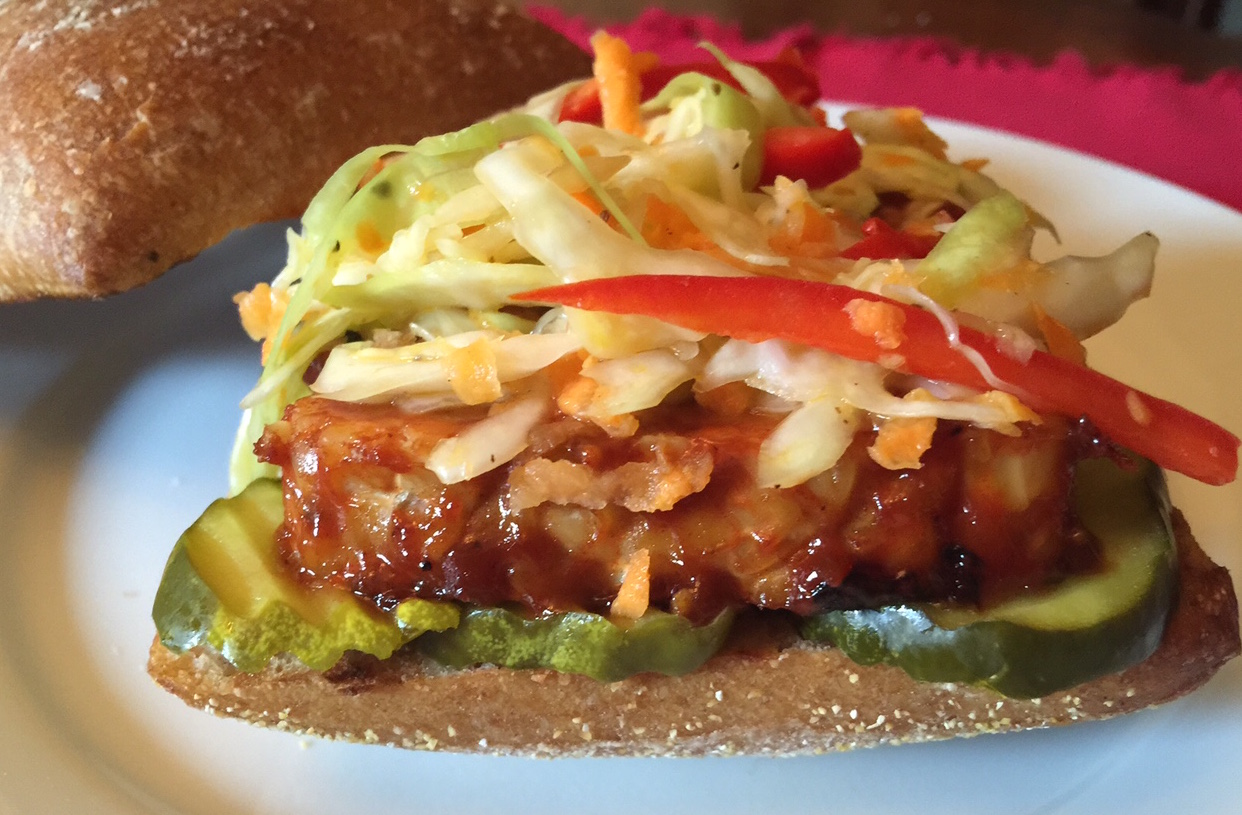 Something about barbecue sauce and cabbage slaw makes for a perfect combination. We didn't want the vegans and vegetarians to feel left out, so we combined our easy to make spiced barbecue sauce with tempeh to create these delicious barbecue tempeh sandwiches.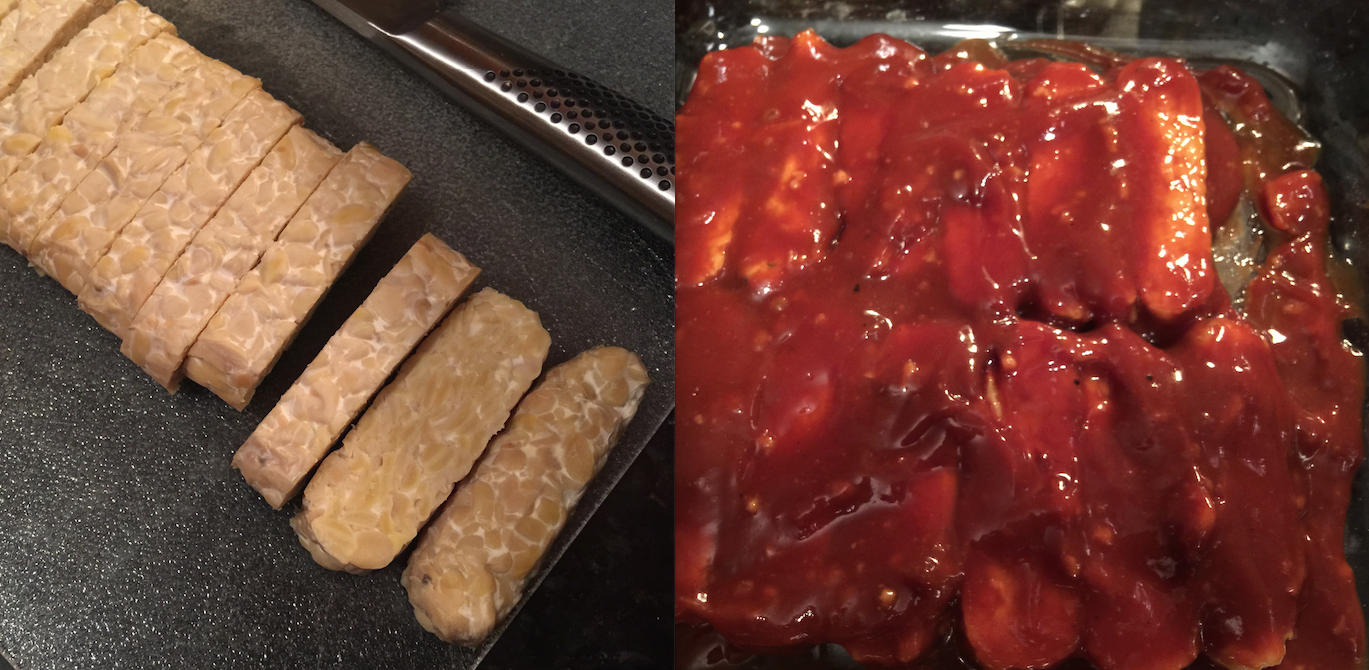 Cut the tempeh into strips and let marinate in the barbecue sauce.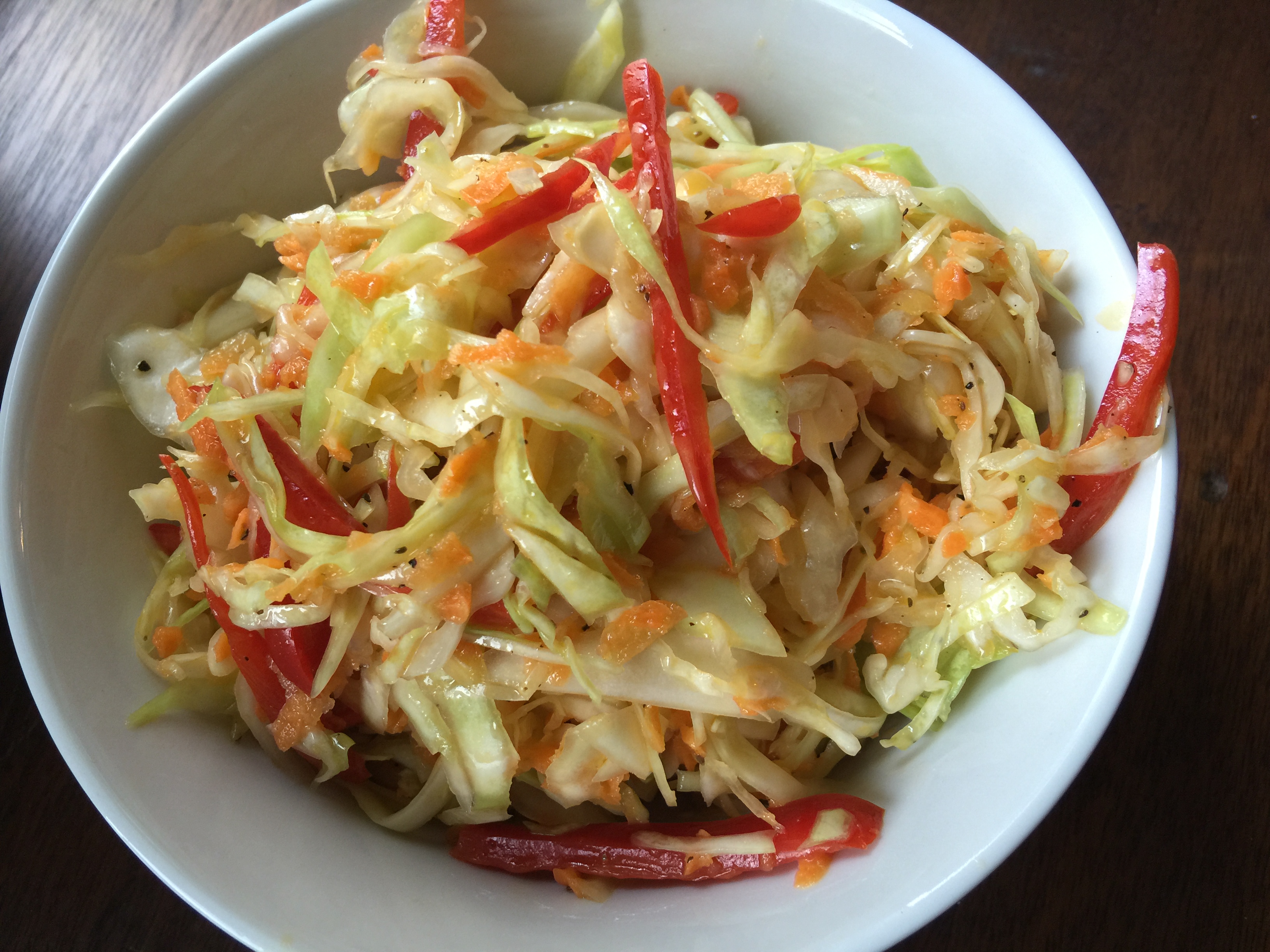 While the tempeh marinates, prepare the slaw.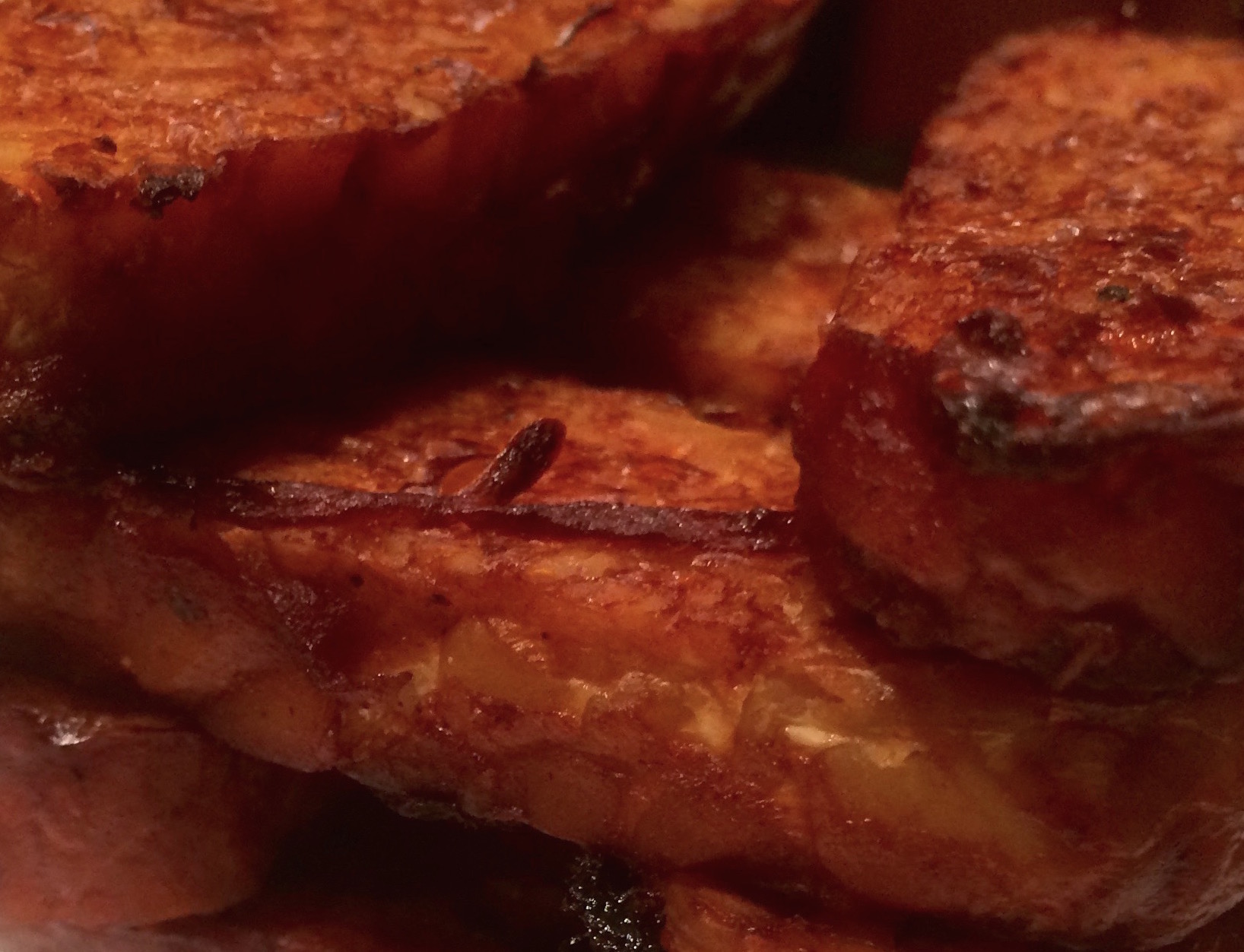 The slices are browned and crisp after cooking.
For the Barbecue Sauce
1 cup ketchup
3 tablespoons apple cider vinegar
1/3 cup brown sugar, tightly packed
2 teaspoons smoked paprika
2 tablespoons vegetarian Worcestershire or steak sauce
3 cloves garlic, minced
1 teaspoon cumin
2 tablespoons yellow mustard
1/4 teaspoon cayenne pepper, or to taste
1 teaspoon kosher salt
1 teaspoon freshly ground black pepper
For the Tempeh Sandwiches
8 ounces plain tempeh, cut crosswise into 1/4- to 1/2-inch strips
4 whole or multi-grain buns
Sliced pickles, optional
For the Slaw Dressing
1/2 cup apple cider vinegar
3 tablespoons white balsamic vinegar
1/4 cup extra virgin olive oil
1/2 teaspoon celery seed
2 teaspoons Dijon mustard
1 teaspoon raw cane sugar (or granulated sugar)
1 teaspoon sea salt
Freshly ground black pepper
For the Slaw
6 cups shredded green cabbage
1 cup shredded carrot
1/2 cup julienned red pepper, 1 1/2- to 2- inch strips
For the barbecue sauce, whisk together all the sauce ingredients in a small saucepan over low heat and bring to a simmer. Cook for 5 to 8 minutes until combined and slightly thickened.
Spread the bottom of a casserole dish with barbecue sauce to cover. Arrange the tempeh slices in the casserole in a single layer. Pour more barbecue sauce over the tempeh and thoroughly coat, using the back of a wooden spoon. Let the tempeh marinate for at least 20 minutes (or as long as 2 hours in the refrigerator.) Set aside while you prepare the slaw.
In a glass jar with a lid or in a small mixing bowl, combine all the slaw dressing ingredients. Shake the jar vigorously or whisk in the bowl to emulsify.
In a large mixing bowl combine the cabbage, carrot, and red pepper. Add 1/2 cup of the dressing and toss well. Add more dressing, as needed, to taste. Season with additional salt and pepper and set aside.
Preheat the oven to 400º F.
Line a rimmed baking sheet with parchment paper or with a silicone baking mat. Using tongs gently shake off excess sauce as you place the tempeh on the baking sheet in a single layer. Bake for 30 minutes, flipping the tempeh halfway through. Assemble 4 or 5 slices of the barbecued tempeh on each bun, top with slaw, and pickles, and serve.