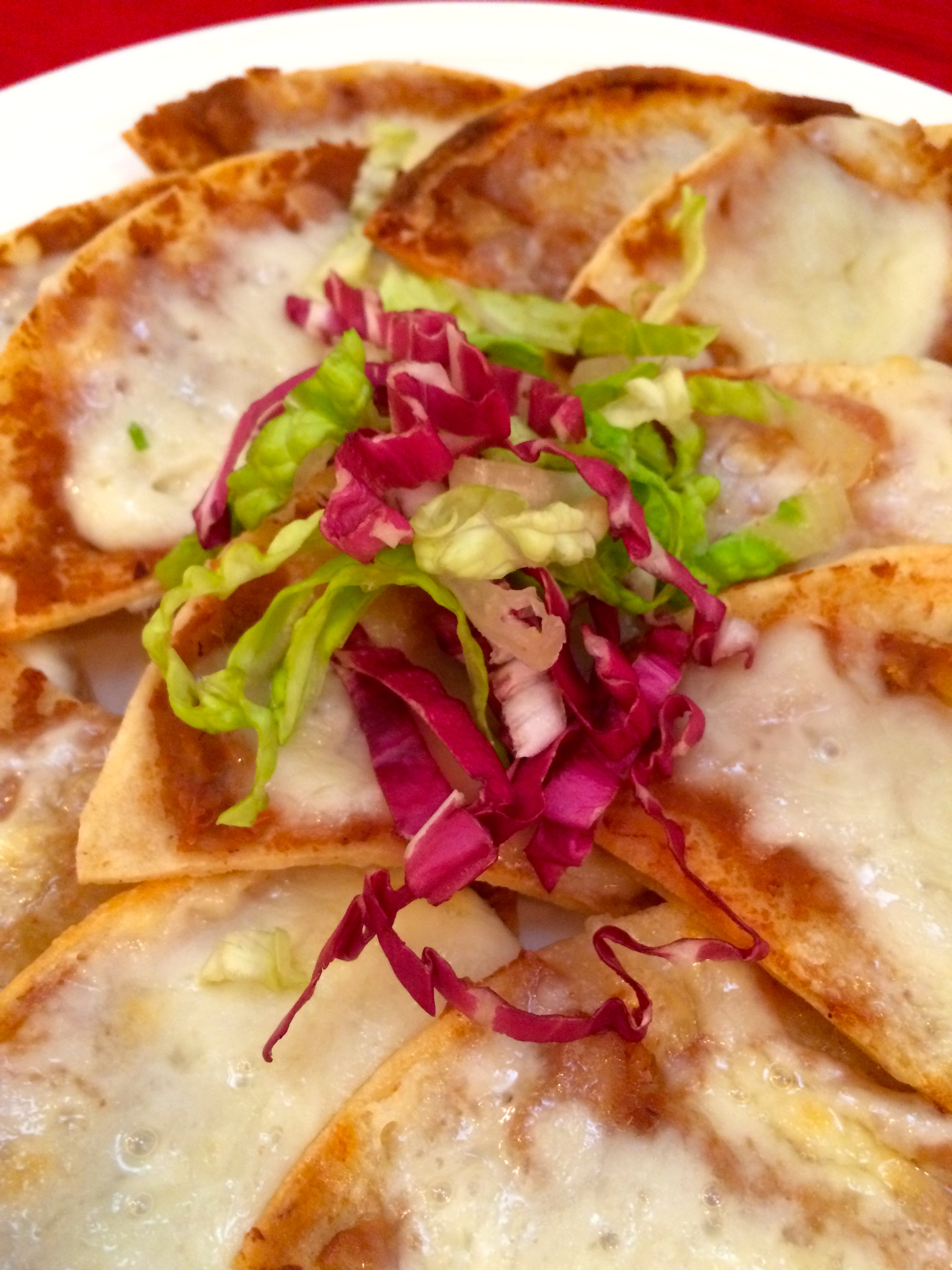 When our kids were young, a number of them were picky eaters. We would constantly brainstorm—trying to come up with new ideas of what to cook for dinner. It was out of these brainstorming sessions that our nachos recipe was born! So simple, they require just a handful of ingredients—deliciously crunchy homemade tortilla chips spread with refried beans and topped with melted, mild, Monterey Jack cheese. Now that most of our formerly finicky eaters are teenagers, or in their twenties, they still ask for these nachos when they are home. They are crispy, cheesy, and pleasingly addictive.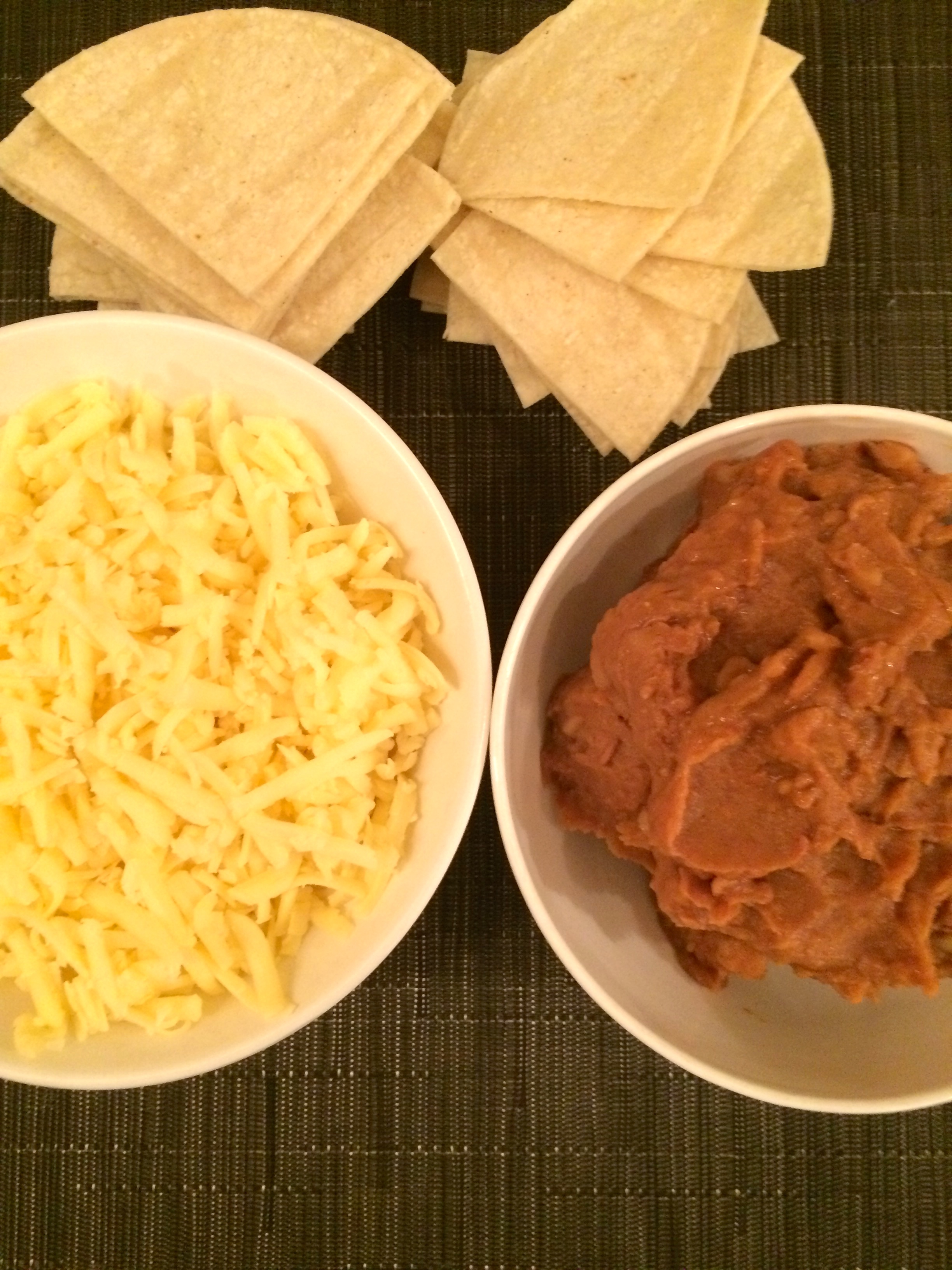 The three main ingredients: corn tortillas, cheese, and refried beans.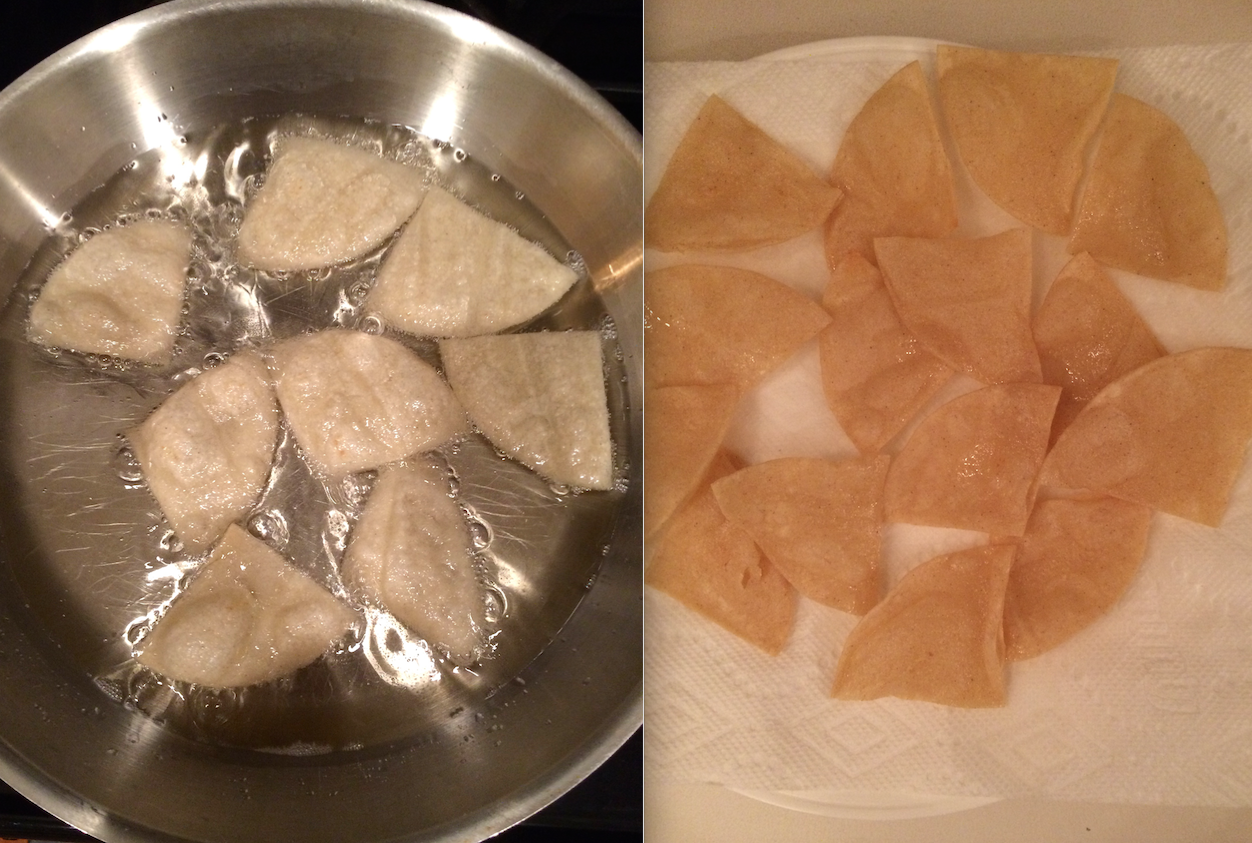 The tortilla wedges are cooked until crisp.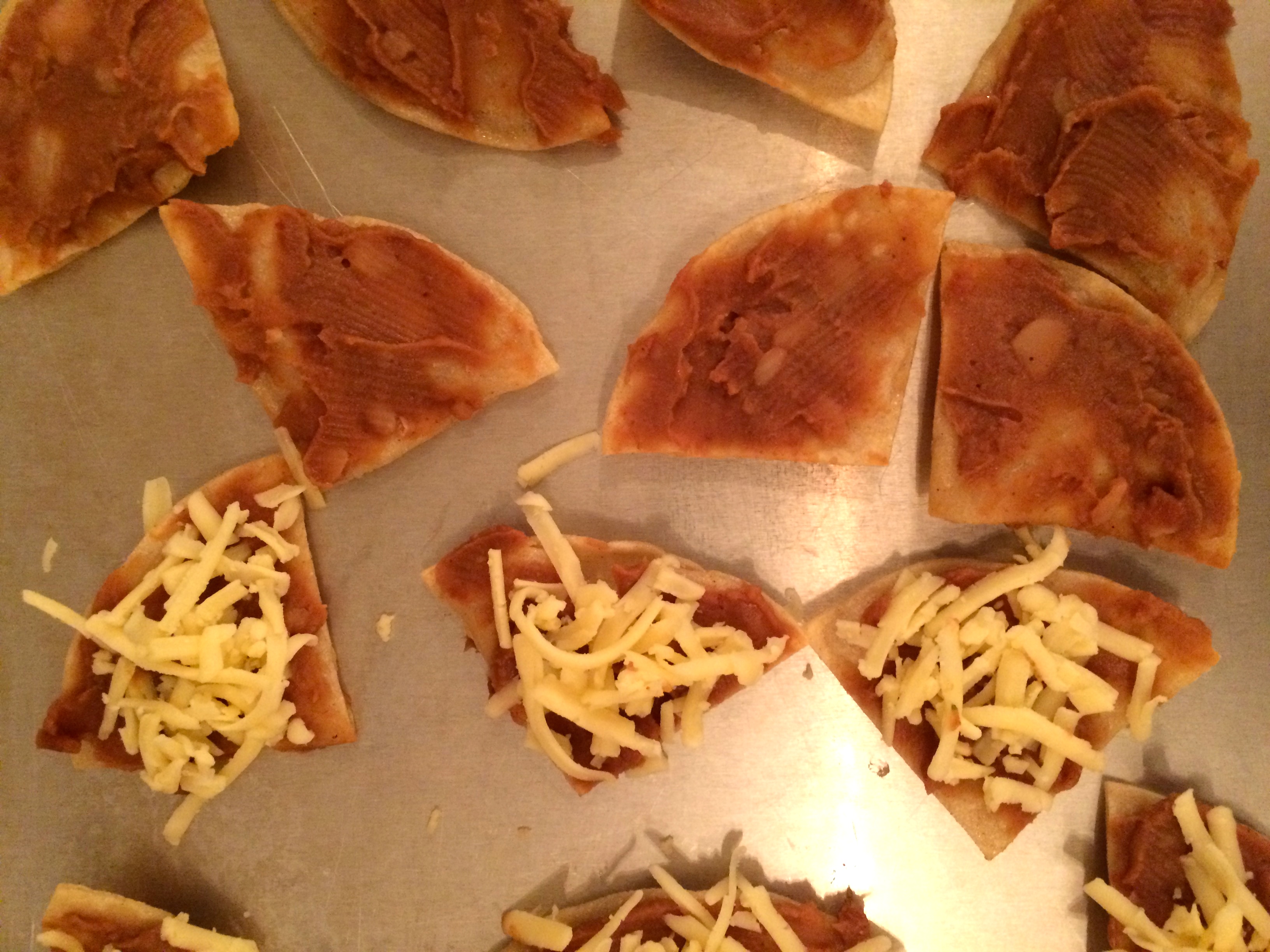 We spread a thin layer of beans and add a small tablespoon of cheese to each wedge.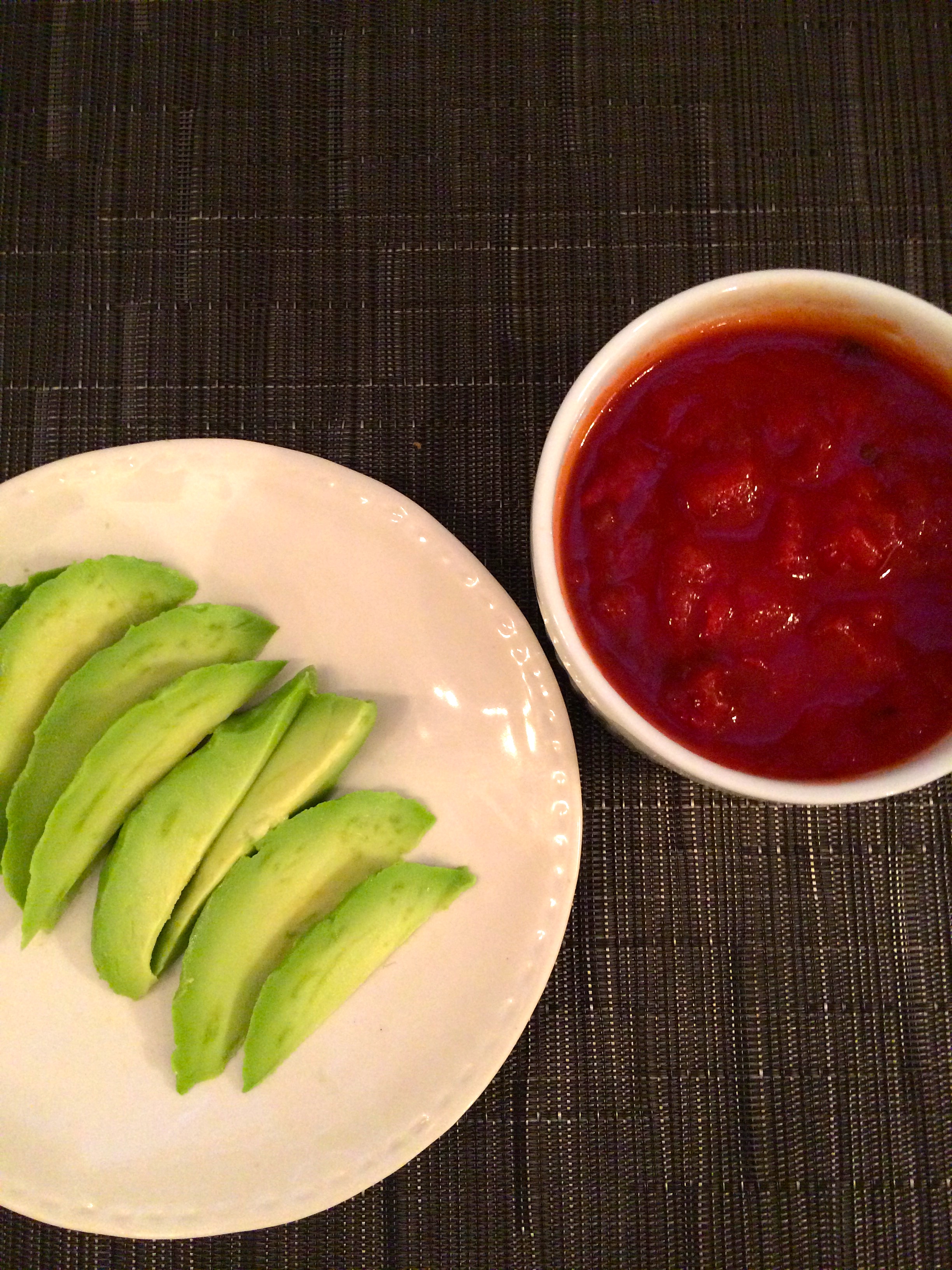 We are big fans of salsa and avocado and like to serve them with our nachos.
Nachos with Vegetarian Refried Beans and Cheese
4 to 6 servings
Vegetable oil for frying
9 corn tortillas each cut into 4 wedges
8 ounces organic refried beans (about ½ of a can)
2 cups shredded Monterey Jack cheese
½ cup shredded romaine lettuce
½ cup shredded radicchio
½ cup home-made or favorite store-bought salsa
1 ripe avocado, sliced
Line 2 large plates with paper towels.
Set a rack in the top third of the oven.
Heat 2 inches of oil over medium-high heat in a large skillet. (To test if the oil is hot, place a small piece of tortilla in the oil and if it sizzles it's hot enough). Add a handful of the tortilla wedges into the skillet, being careful not to overcrowd and fry them for about 1½ minutes. Using tongs, flip the tortillas and fry for an additional 1½ to 2 minutes or until the tortillas are crisp. Remove them from the oil and place the tortillas on the paper towel—lined plate. Cover the wedges with a paper towel and pat lightly to absorb any additional oil.
Repeat with the remaining tortilla wedges.
Place the tortilla chips in a single layer on 2 rimmed baking sheets. Spread a thin layer of the beans on each, then sprinkle on the cheese, covering each nacho.
Turn the oven on to broil.
Put one of the baking sheets in the oven and broil for about 2 ½ minutes, until the cheese melts and bubbles and the tortillas are lightly browned. Rotate the baking sheet midway so all the nachos cook evenly watching closely so they do not burn. Remove the pan and repeat with the second baking sheet.
Place the nachos on a platter, top with a handful of the romaine and radicchio and serve. Pass salsa and sliced avocado separately.