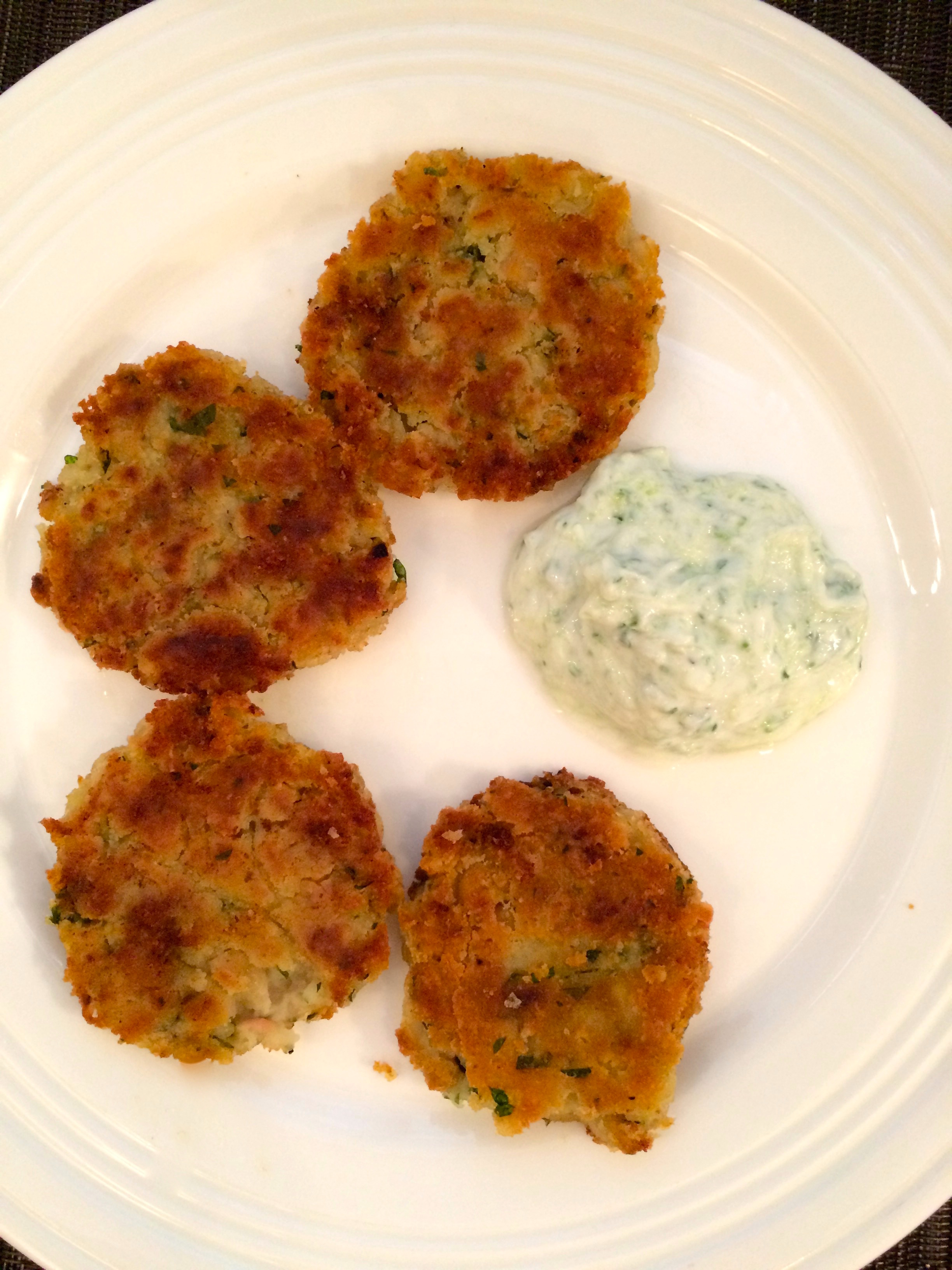 So much has been written about the wonders of the Mediterranean diet, one of the primary elements of which—is beans. Beans have tremendous health benefits—they are packed with fiber, vitamins, protein, and phytochemicals. We wanted to incorporate even more of these nutritional powerhouses into our diets, so using cannelloni beans we made fritters that are both light and flavorful.
Our white bean fritters are so quick and easy to prepare. Mash up the beans and add the Parmesan, shallots, and parsley, form into small patties, and cook. They are crisp on the outside, and soft and creamy on the inside. They go especially well with our Yogurt Cucumber Dip—also easy to make. Greek yogurt mixed with cucumber, lemon juice, and garlic is a refreshing complement. These fritters are perfect served as an appetizer or as a side—ideal for entertaining, or paired with a salad for lunch.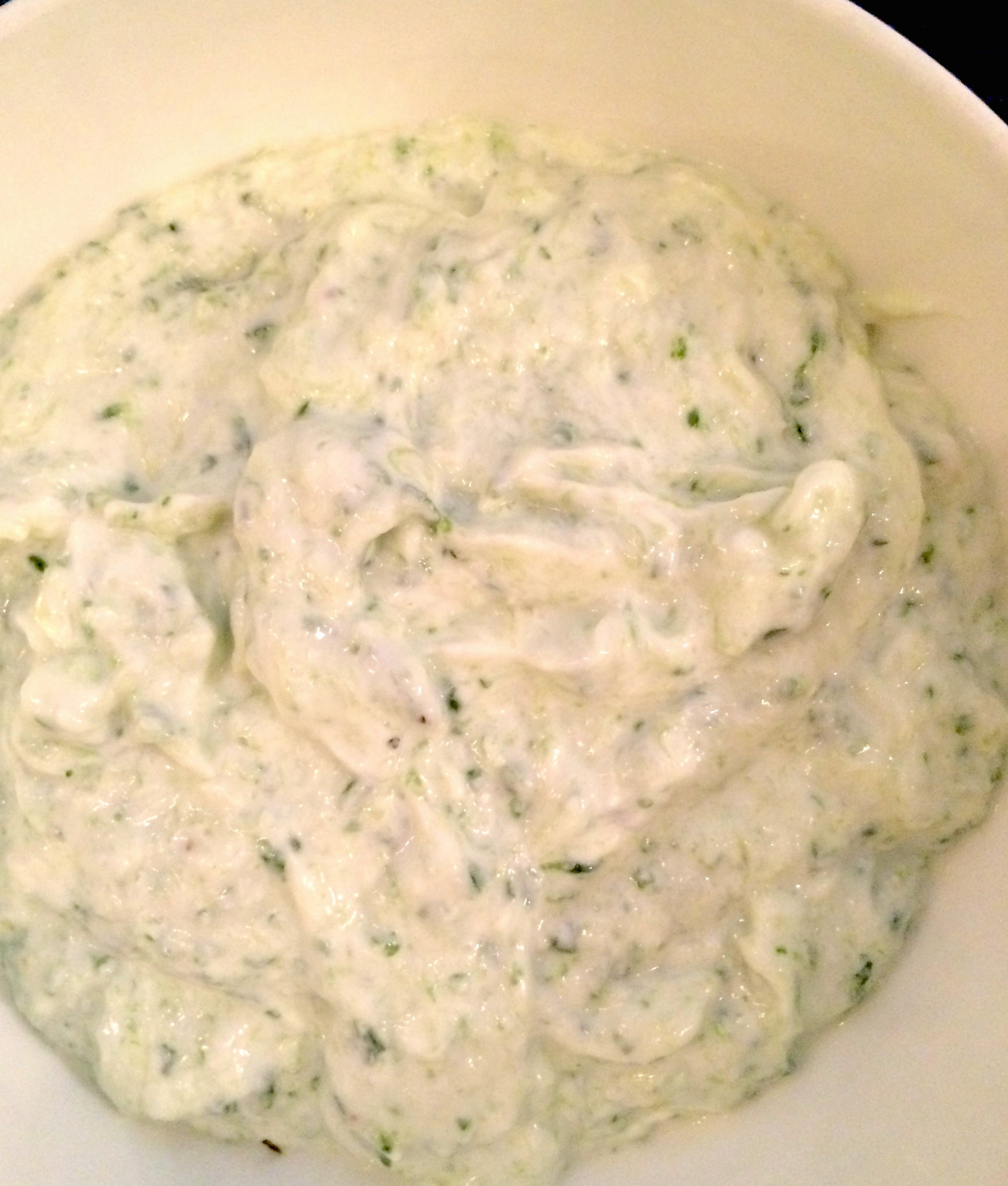 Be sure to mix the Yogurt Cucumber Dip well before serving.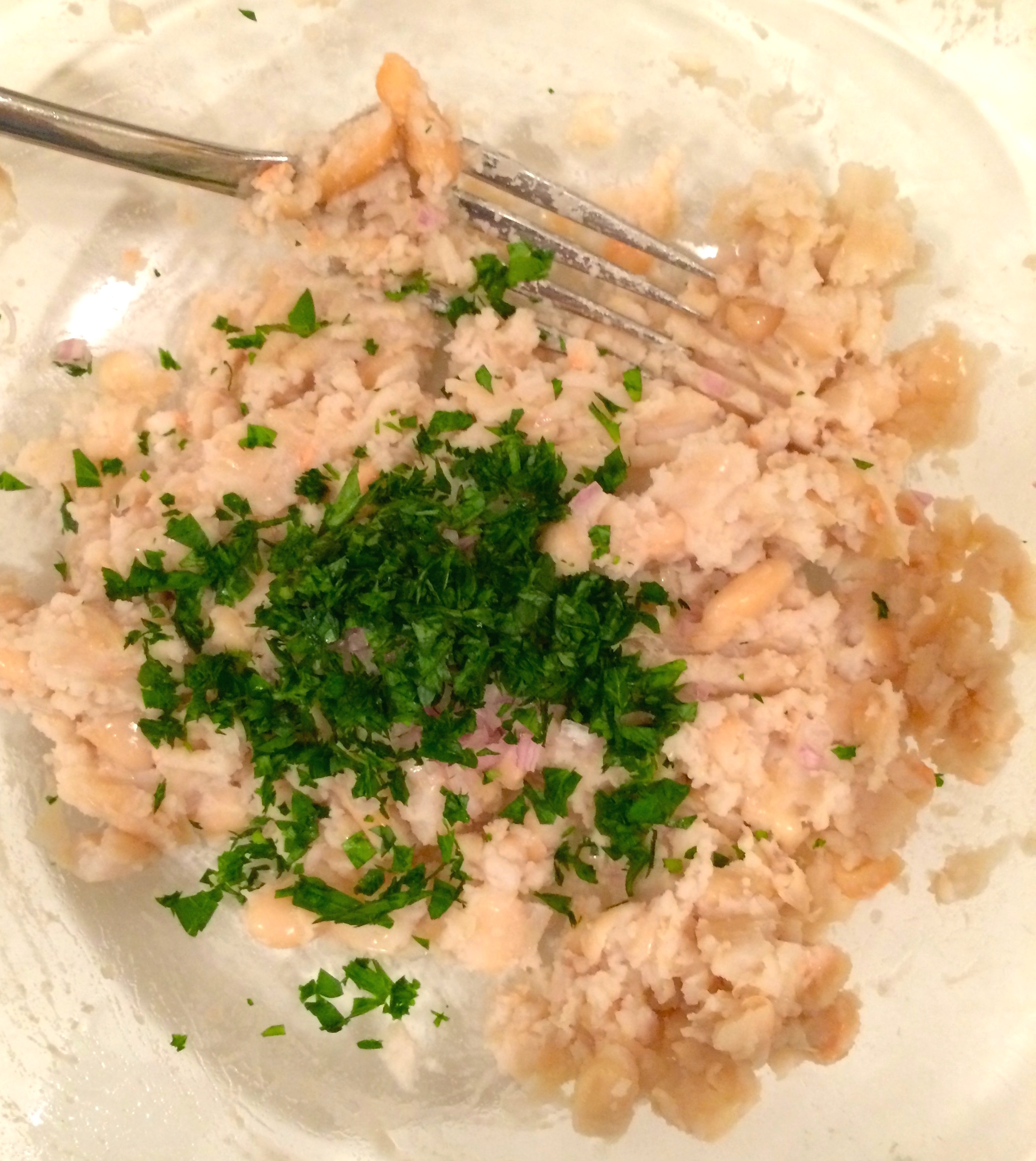 Mash the beans with a fork making sure to leave a few chunks.The shallots, parsley, and Parmesan cheese are then added.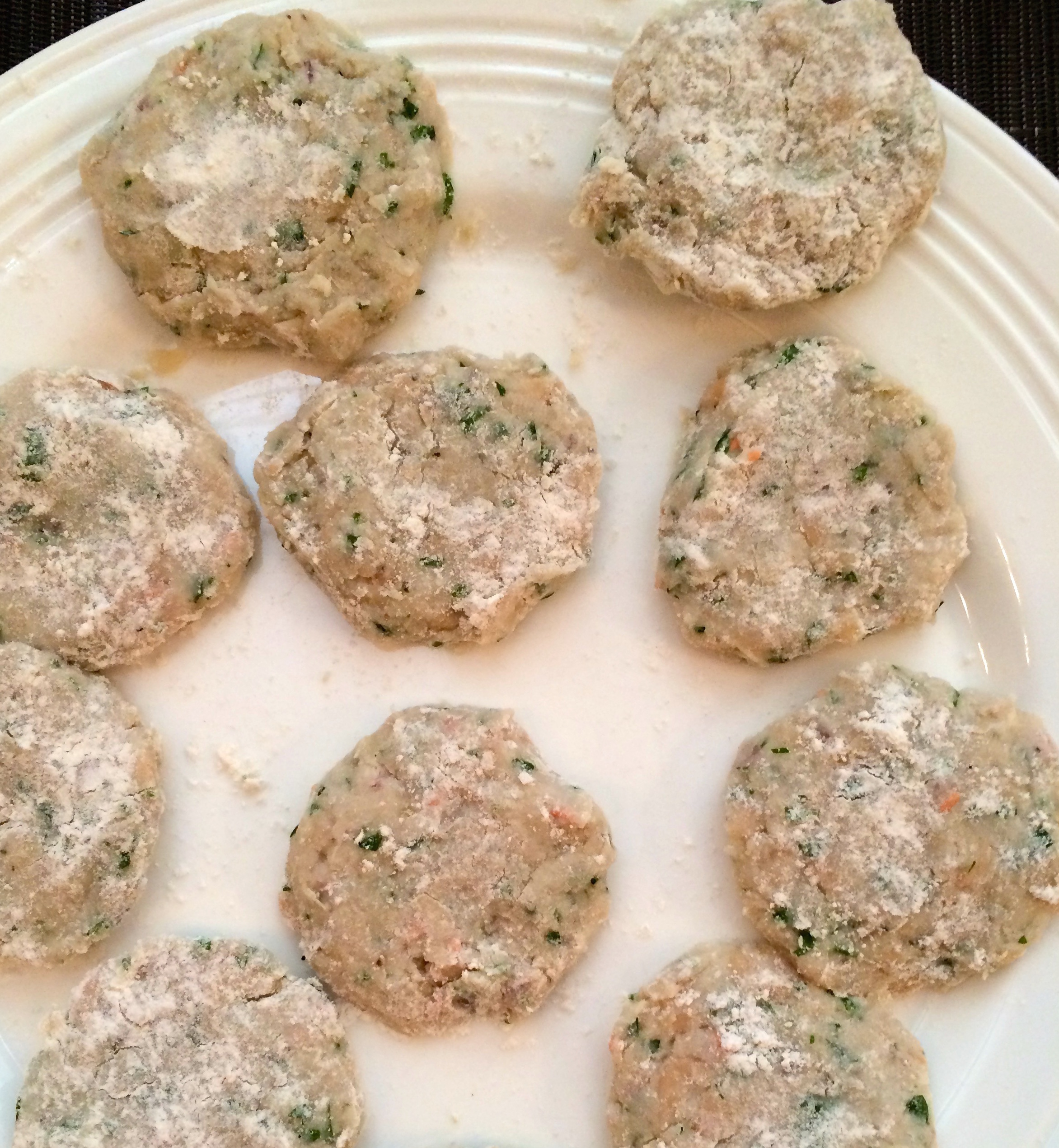 Using your hands, form the mixture into 2 1/2 inch round patties.
White Bean Fritters With Yogurt Cucumber Dip
4 servings
For the Dip
1 cup whole milk Greek yogurt
1 English cucumber, finely grated and drained
1 teaspoon fresh lemon juice
1 clove garlic, minced
Kosher salt
Freshly ground black pepper
For the Fritters
One 15-ounce can organic cannellini beans, rinsed and drained
2 1/2 teaspoons finely chopped shallots
1 tablespoon finely chopped Italian (flat-leaf) parsley
2 tablespoons freshly grated Parmesan cheese
Kosher salt
Freshly ground black pepper
1/3 cup all-purpose flour
5 tablespoons extra virgin olive oil, plus extra if needed
For the Dip
In a medium mixing bowl mix together the yogurt, cucumber, lemon juice, and garlic. Season with salt and pepper to taste. Cover the bowl and place in the refrigerator while you make the fritters.
For the Fritters
Place the flour in a wide, shallow dish and set aside.
In a large mixing bowl mash the beans with a fork making sure to leave a few chunks. Add the shallots, parsley, Parmesan cheese, 1/8 teaspoon of salt and 1/8 teaspoon of pepper and mix well.
Using your hands, form the mixture into 2 1/2 inch round individual patties (about ¼ inch thick) and dredge each one in the flour, shaking off any excess. Place the formed patties on a platter. You should have ten to eleven patties.
Heat a large nonstick skillet over medium heat. Add 2 1/2 tablespoons of the oil and heat until shimmering. Add half the patties to the pan and cook undisturbed until golden brown, five to six minutes. Flip the patties carefully with a spatula and cook until the second side is golden, about five minutes more. Add a little more oil if the pan looks dry (the fritters can absorb the oil).
Wipe the skillet clean with paper towels, add 2 1/2 tablespoons of olive oil, and cook the remaining patties. Add more oil if necessary.
Transfer to a platter or individual plates and serve with the Yogurt Cucumber Dip.