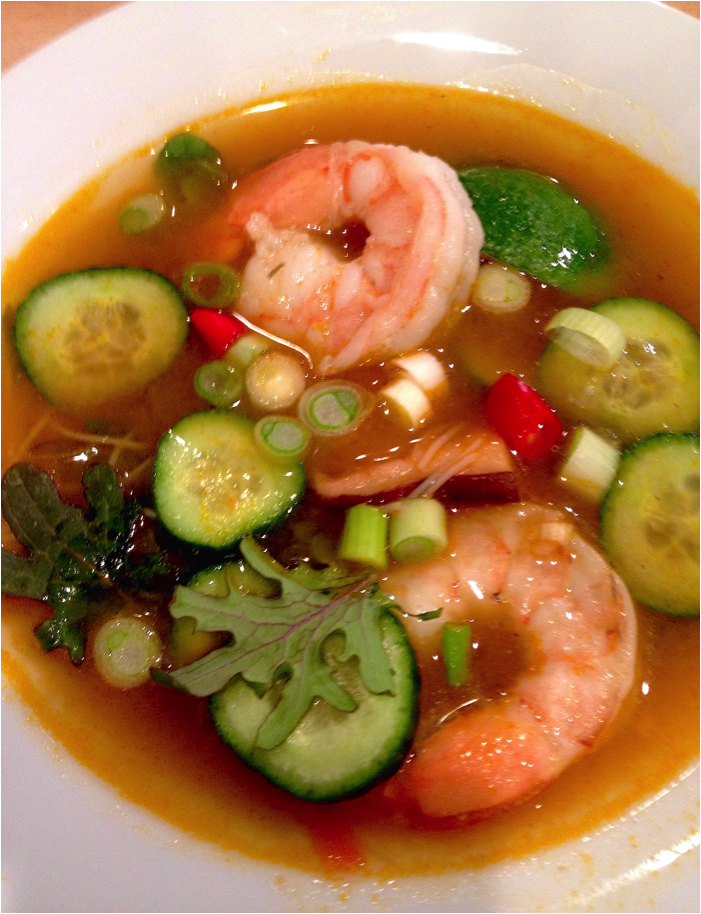 We must admit that we've fallen in love with hot pots. These one-pot dishes encourage all sorts of variations to fit a range of tastes and diets, and they make getting dinner on the table so easy since protein, vegetables, and a starch are all right there in one dish. We've chosen shrimp for our hotpot because these little crustaceans have always been our family's favorite seafood. We love how sweet and succulent they are, how super quickly they cook, and how deliciously they absorb a multitude of flavors. Since a fragrant broth is key to a successful hot pot, we lightly sauté the shrimp and the vegetables for an added depth of flavor. Then we toss an abundance of baby kale, our newest obsession, into our broth. These tiny leaves are nutrient dense, packed full of vitamins and minerals. To finish the soup we garnish it with crunchy Persian cucumbers and a spritz of lime to brighten the flavors.
Those who are not fond of shrimp can easily substitute cubes of tofu, or strips of beef or chicken to the dish, and if kale is not to your liking you can use broccoli florets, asparagus, bok choy, or Napa cabbage.
The vermicelli noodles are gluten free, so this is a lovely soup for those on a gluten-free diet. And this heady, Asian- inspired soup is comforting on a chilly summer evening, yet light and airy for a hot and humid August day.
We're aware that shrimp once had a bad rap for being high in cholesterol, but the thinking on that has changed. Recent studies have shown that the bad cholesterol in shrimp is balanced by good cholesterol, so now shrimp are prized for zero saturated fat, high protein content, as well as omega-3 fatty acids and an abundance of vitamins and minerals.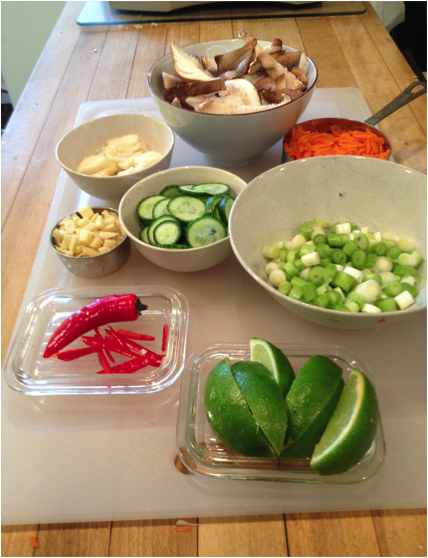 Here's our mise en place, with everything washed, cut, and measured.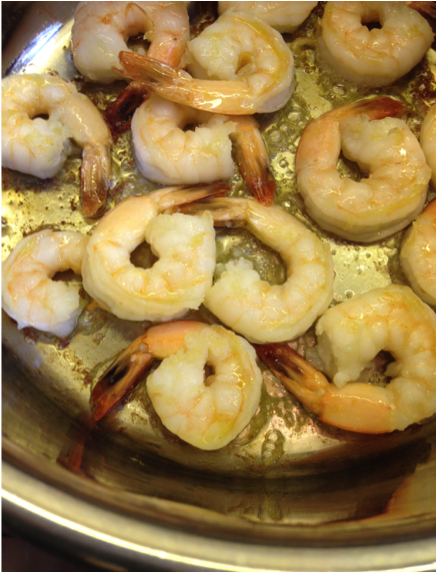 Quickly and lightly sautéed shrimp.
Shrimp and Kale Hot Pot
4 servings
4 ounces rice stick vermicelli noodles
3 tablespoons extra virgin olive oil
3/4 pound large shrimp (15 to 20 per pound), peeled and deveined
2 cups shitake mushrooms, stemmed and sliced
4 cloves garlic, thinly sliced
1/4 cup fresh ginger, peeled and finely chopped
3/4 cup carrot, coarsely grated
4 cups organic low-sodium vegetable broth
3 tablespoons organic low-sodium soy sauce
Kosher salt
Freshly ground black pepper
2 cups baby kale, tightly packed
2 teaspoons rice vinegar
2 teaspoons sesame oil
1 small red hot chili pepper (or to taste), sliced
1 bunch scallions, thinly sliced
1 Persian cucumber, diced
1 lime, cut into wedges
Place the noodles in a large mixing bowl and completely cover them with boiling water. Let stand for 3 to 5 minutes, until soft but still firm. Drain, and set aside.
Heat 1 tablespoon of the olive oil in a large saucepan over medium-high heat.   When shimmering, add half the shrimp in a single layer and cook for 1 to 2 minutes, until just pink, being careful not to overcook. Remove with tongs to a paper- towel lined plate. Repeat with the remaining shrimp.
Add the remaining 2 tablespoons of the olive oil to the pan, and when shimmering add the mushrooms and cook over medium-high heat until the mushrooms are golden, about 5 to 7 minutes. Add the garlic, ginger, and carrots, and cook, stirring, an additional 5 minutes. Stir in the vegetable broth, 2 1/ 2 cups of water, the soy sauce, 1 /2 teaspoon of salt, and 1/ 8 teaspoon of pepper, and bring to a boil.
Reduce the heat to simmer, stir in the baby kale, rice vinegar, sesame oil, chili pepper, and noodles and simmer for 5 minutes. Add the shrimp and scallions and simmer for an additional 5 minutes.
Ladle the soup into individual bowls, garnish with the cucumbers, and serve with the lime wedges.