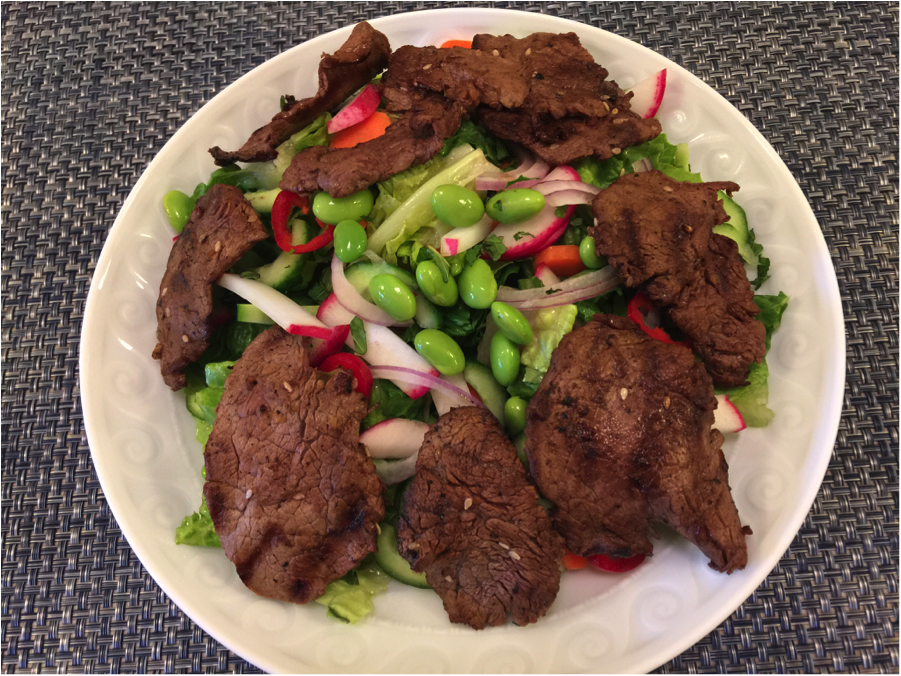 As you must know by now, we love salad! As the weather gets warmer, we especially love a big salad for dinner. Often we top our salads with sliced chicken, a beautiful piece of grilled fish or, if it is Meatless Monday, tofu to create a full meal.
We were in the mood to try something different, something with steak. We had eaten and loved Thai beef salad many times and wondered how a salad would taste prepared with a Korean style beef. We have always loved Korean Barbecue, particularly Bulgogi. The combination of the tender slices of meat, with the sweet and salty marinade is irresistible. It turns out; this is a crazy good combination. For those who don't eat beef, chicken or tofu would be delicious too!
The key to success when preparing the beef is to slice as thinly as possible. That is why we recommend freezing the meat beforehand. This makes slicing so much easier. Sprinkling sugar on the meat gives it that beautiful caramel coloring when sautéed.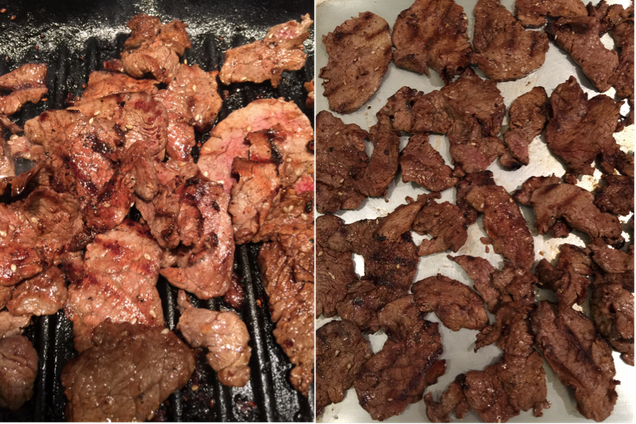 To make the garlic sugar paste, a mortar and pestle works beautifully, but you can also use a fork as an alternative.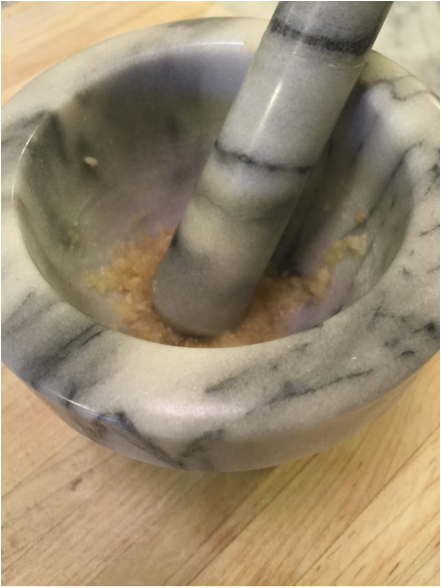 We love using radishes and hot Fresno peppers on the salad. This spicy combination pairs beautifully with the sweetness of the beef, but most any vegetable works well, so feel free to improvise.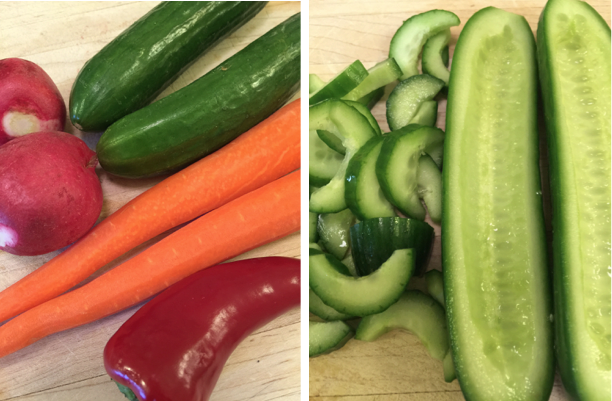 Bulgogi Beef Salad
4 servings
1 1/4 pounds beef tenderloin (you can also use sirloin)
2 teaspoons granulated sugar
1 tablespoon extra virgin olive oil
For the Marinade
2 tablespoons low-sodium soy sauce
2 cloves garlic, minced with 1 teaspoon granulated sugar to make a paste
2 tablespoons toasted sesame oil
Freshly ground black pepper
For the Salad
1 head romaine lettuce, torn into bite sized pieces
2 small heads Bibb lettuce, torn into bite sized pieces
2 carrots, sliced into rounds
2 radishes, sliced into rounds
2 Persian cucumbers, sliced in half lengthwise, seeded, and cut into half moons
1/4 of a red onion, thinly sliced
1/2 cup cooked, shelled edamame beans
1 Fresno chili pepper, seeded and thinly sliced
For the Dressing
5 tablespoons grape seed oil
3 tablespoons rice wine vinegar
1 tablespoon freshly squeezed lemon juice
1 teaspoon low-sodium soy sauce
1 tablespoon toasted sesame oil
1/2 teaspoon maple syrup
1 teaspoon fresh mint, chopped
Freeze the beef for a minimum of 30 minutes or up to an hour. This will make the beef easier to slice thinly.
Remove the beef from the freezer and slice as thinly as possible. Layer the slices of beef in a large casserole dish, sprinkling the two teaspoons of sugar over each layer.
In a small bowl combine the 2 tablespoons low-sodium soy sauce, the garlic paste, 2 tablespoons toasted sesame oil, and 1/8 teaspoon of pepper and stir. Rub the marinade all over the beef and set aside.
For the Dressing
In a glass jar with a lid, or a small mixing bowl, combine the grape seed oil, the rice wine vinegar, the lemon juice, 1 teaspoon of low-sodium soy sauce, 1 tablespoon of sesame oil, the maple syrup, and 1/2 teaspoon fresh mint, and shake vigorously or whisk in the bowl to emulsify.
For the Beef
Heat a large grill pan over medium heat. Add 1 tablespoon of extra virgin olive oil and heat until shimmering. Raise the heat to medium-high and fry the meat in a single layer until nicely browned, about 15 to 20 seconds per side. Remove the cooked meat to a platter and continue until all of the meat is fried, set aside.
For the Salad
In a large bowl, toss the lettuce with half of the dressing to coat, adding more to taste. Put the lettuce into individual shallow bowls or plates. Top each salad with carrots, radishes, cucumbers, red onion slices, and edamame. Place the beef slices on top of each salad, sprinkle with the remaining 1/2 teaspoon of fresh mint, and serve.