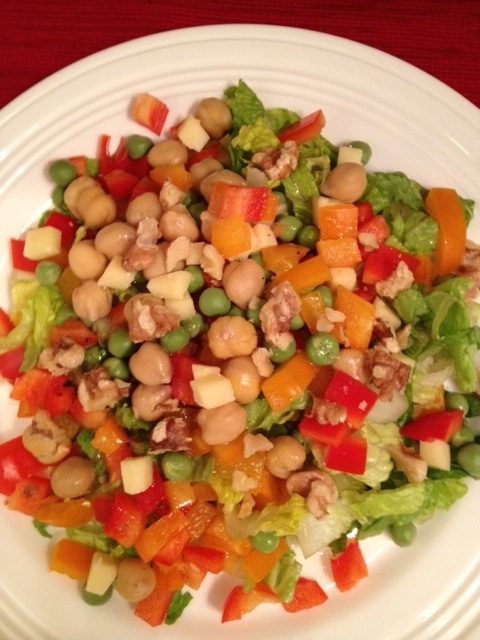 We crave salads—especially in the spring and summer when the warm weather cries out for lighter meals. Paired with a crusty loaf of whole grain bread they are perfect for lunch or dinner. We particularly love chopped salads– because you can chop any vegetable and add it to your salad and you know it's going to be delicious–and the beauty of this salad is you can substitute any fresh seasonal vegetables that you find at your farmer's market or grocery store.
In this colorful Chopped Market Salad we've combined Romaine lettuce, lots of peppers (so healthy!), sweet green peas, chickpeas, Gruyere cheese, and walnuts.
One of our current obsessions is walnut oil and it tastes so good in this vinaigrette. In addition to its rich and nutty flavor, it's filled with those healthy omega 3's that we can never get enough of! Pair it with the toasted chopped walnuts and you have double the omega 3's. Who could ask for more? We added Gruyere cheese which has that sweet and slightly salty flavor so it complements the walnut oil perfectly.
This is one of those salads that is great for entertaining. You can prep all your ingredients in advance, add your dressing right before serving–and it's ready to go.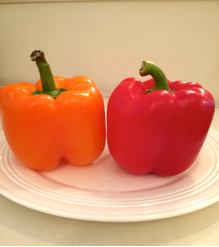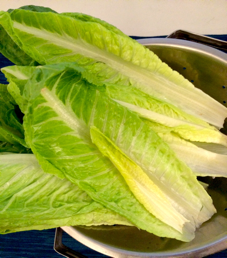 We love the Romaine lettuce in this salad. Its crunchy texture is great with the peppers.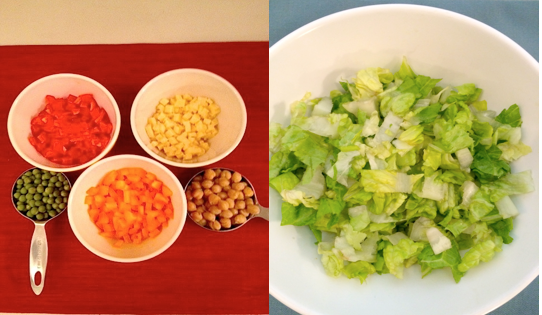 Chopped Market Salad With Walnut Oil Vinaigrette
4 servings
1/3 cup chopped raw walnuts
2 tablespoons sherry vinegar
1 1/2 teaspoons Dijon mustard
1/2 cup walnut oil
Sea salt
Freshly ground black pepper
3 cups chopped Romaine lettuce, 1/2 inch pieces
1 large red bell pepper chopped into ¼ inch pieces (1 cup)
1 large orange bell or yellow bell pepper chopped into 1/4 inch pieces (1 cup)
1/3 cup fresh peas
1/2 cup garbanzo beans, rinsed and drained
3 ounces Gruyere cheese cut into 1/4 inch cubes
Preheat the oven to 350° F
Place the walnuts on a rimmed baking sheet in a single layer and toast them until they begin to brown and give off a nutty aroma, about 10 minutes.
For the dressing
In a small mixing bowl whisk together the vinegar and mustard. Slowly whisk in the oil. Season with 1/8 teaspoon of salt, and black pepper to taste.
For the salad
Put the chopped lettuce in a large salad bowl. Add the chopped peppers, peas, garbanzo beans, and cheese. Pour in half the dressing and toss. Add the walnuts and more dressing to taste (taking care not to overdress) and toss again.