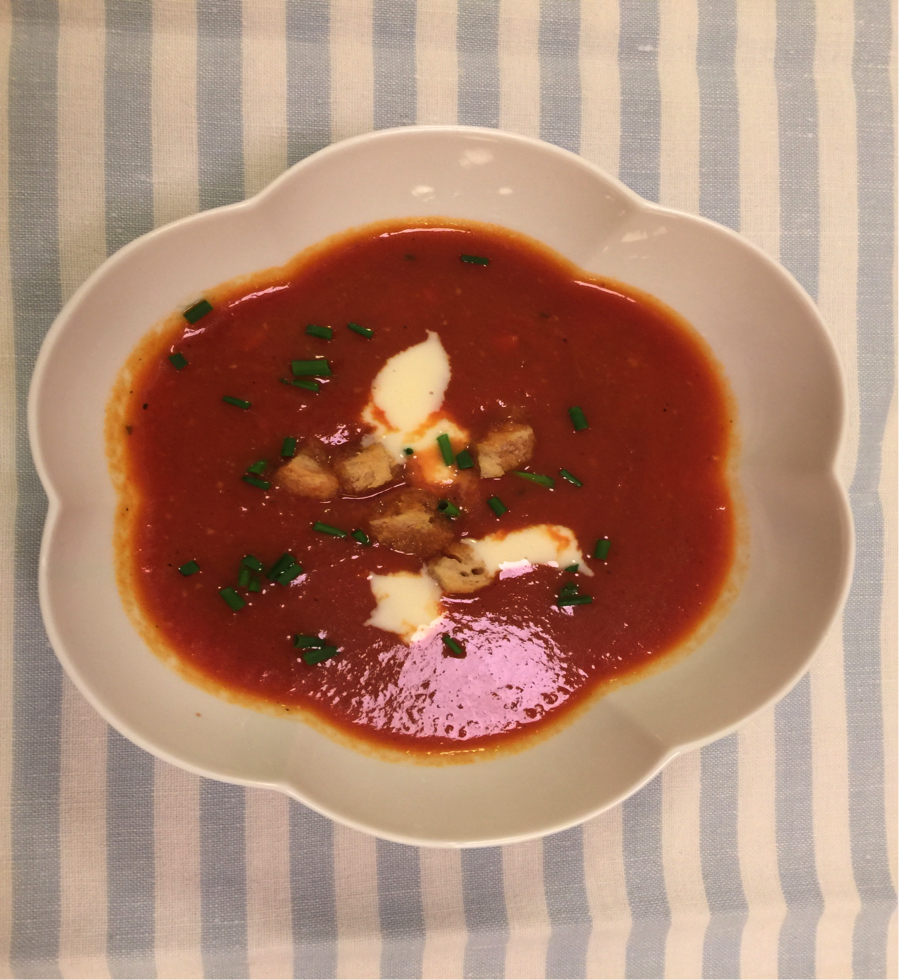 Cream of tomato soup is the ultimate comfort food. We especially like it paired with an even more comforting grilled cheese sandwich. The wonderful thing about this soup is that it is a favorite with both kids and adults alike. It also looks very elegant in a beautiful white bowl served as a starter for company.
We like to make up a huge batch of chicken stock to freeze and use when preparing soups. This makes any soup a great quick last minute weeknight meal. Here, we have prepared it with canned tomatoes but in August, when tomatoes are at their peak, this soup is absolutely dreamy!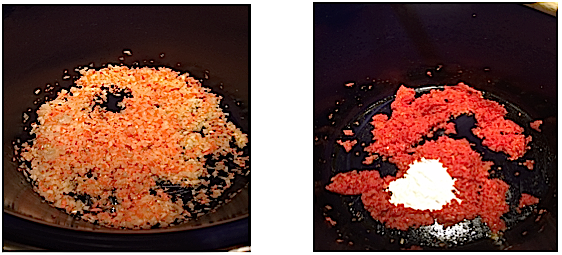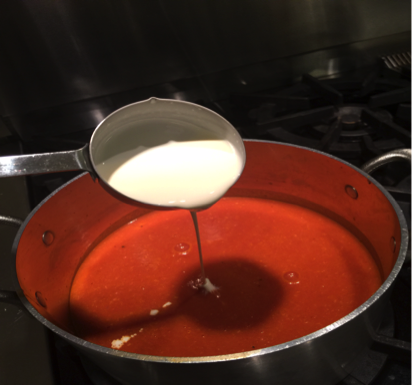 Cream of Tomato Soup
4 to 6 servings
Ingredients
2 tablespoons unsalted butter
1 tablespoon extra virgin olive oil
1 medium onion, finely chopped
3 cloves garlic, minced
1 medium carrot, finely chopped
3 tablespoons tomato paste
2 tablespoons all purpose flour
5 cups organic low-sodium chicken broth (or vegetable broth)
One 15- ounce can peeled tomatoes in juice, crushed with a fork or the back of a wooden spoon
3 sprigs thyme leaves
1/4 cup heavy cream
2 tablespoons dry sherry
Kosher salt
Freshly ground black pepper
2 tablespoons crème fraiche
1 tablespoon chopped chives
Croutons, about 4 or 5 per bowl
Heat the butter and olive oil in a large stockpot over medium-high heat. Add the onions, garlic, and carrots and cook, stirring occasionally until the onions are soft and translucent, about 10 minutes. Add the tomato paste, and cook, stirring for 3 minutes. Add the flour and cook, stirring an additional 2 minutes. Pour in the broth, tomatoes, and the thyme. Raise the heat to high and bring to a boil. Reduce the heat to medium-low and cook, stirring occasionally for 30 minutes.
Remove from the heat. Remove the thyme sprigs and transfer the soup from the saucepan to a food processor or blender and puree, in small batches, until smooth. (As an alternative you can use a handheld immersion blender and blend the soup right in the pot.) Return the soup to the saucepan, turn the heat to medium-low, add the heavy cream, the sherry and stir. Season with salt and pepper to taste.
Ladle the soup into individual bowls. Garnish with a dollop of crème fraiche, a sprinkle of chives, and four or five croutons. Serve hot.