Our kids all love a good meal—they all do really walk in the door and ask, "What smells so good?" And as they've gotten older they've started to emulate us and take photos of things they've cooked or great meals they've had––they send them to us and we continue to connect over sustenance even when they are far away—or just in Brooklyn.
So, when we started to write the cookbook they were so sweet and a bunch of them asked if they could contribute one of their favorite dessert recipes. We loved this idea so much that we asked each of them to make a contribution and the results were all amazing.
These Nirvana Bars are from Lori's youngest, Micaela (aka Mica). This is what Mica had to say about her recipe:
"My mom always made these bars as a teenager, so I decided to give them a try and make a batch for my friends in my homeroom. After a couple of tries I made my own edits to the recipe and brought them into class the next day. Following the consumption of the first couple, word of the bars quickly spread and soon I was being swarmed by hungry teenagers attracted to the smell of chocolate, nuts, coconut, and all the rest of the chewy, crunchy deliciousness. Within five minutes the container was empty and I was already taking orders from people for more the next day. Now, these Nirvana bars have become a favorite middle of the night treat for friends that sleep over and have a tendency to sneak into the kitchen."
––Micaela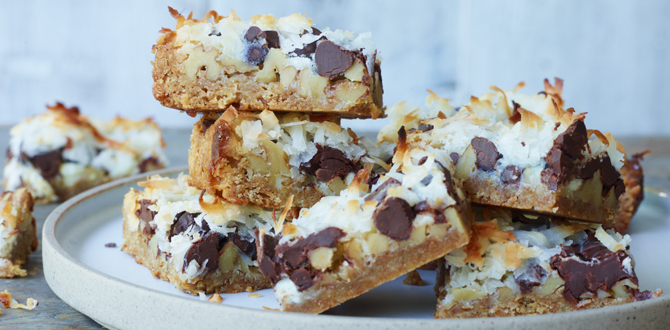 Makes 3 dozen 1-1 1/2 inch bars
6 tablespoons (¾ stick) unsalted butter, melted
9 full graham cracker sheets, crushed into coarse crumbs
¼ teaspoon Kosher salt
1 cup chopped raw walnuts or pecans
½ cup semisweet chocolate chips
½ cup white chocolate chips
½ cup bittersweet or dark chocolate chips
1 cup sweetened shredded or flaked coconut
½ of a 14-ounce can sweetened condensed milk
Set a rack in the middle of the oven and preheat the oven to 350°F. Line the bottom of a 9-inch square baking pan with parchment paper.In a large mixing bowl, combine the butter, graham cracker crumbs, and salt; stir to mix well. Press the crumbs into the bottom of the baking pan. Layer on the chopped nuts, then the semisweet chocolate chips, white chocolate chips, and bittersweet chocolate chips. Sprinkle the coconut evenly on top. Lastly, drizzle on the condensed milk, covering everything with a thin layer.
Bake until golden brown, about 25 minutes. Let cool completely in the pan, then cut into 1½-inch bars. Store in an airtight container.