Nothing says summer more than watermelon and it's one of our favorite summertime fruits. However, we can't tell you how many times we've come home in the summer with a 20-pound watermelon and have been forced to throw out half of it because we can't eat it fast enough! Last summer, we went to a restaurant and for the first time ordered a savory watermelon salad. It was so different and delicious that we decided to create our own version. We experimented combining watermelon with different ingredients and discovered that salty feta cheese enhances the sweetness of the watermelon. We added basil and finished it off with a balsamic vinegar glaze. This is our new "go to" summer salad because it's so refreshing on a hot day. This summer we want to try mixing yellow and red watermelon together for an even more spectacular presentation.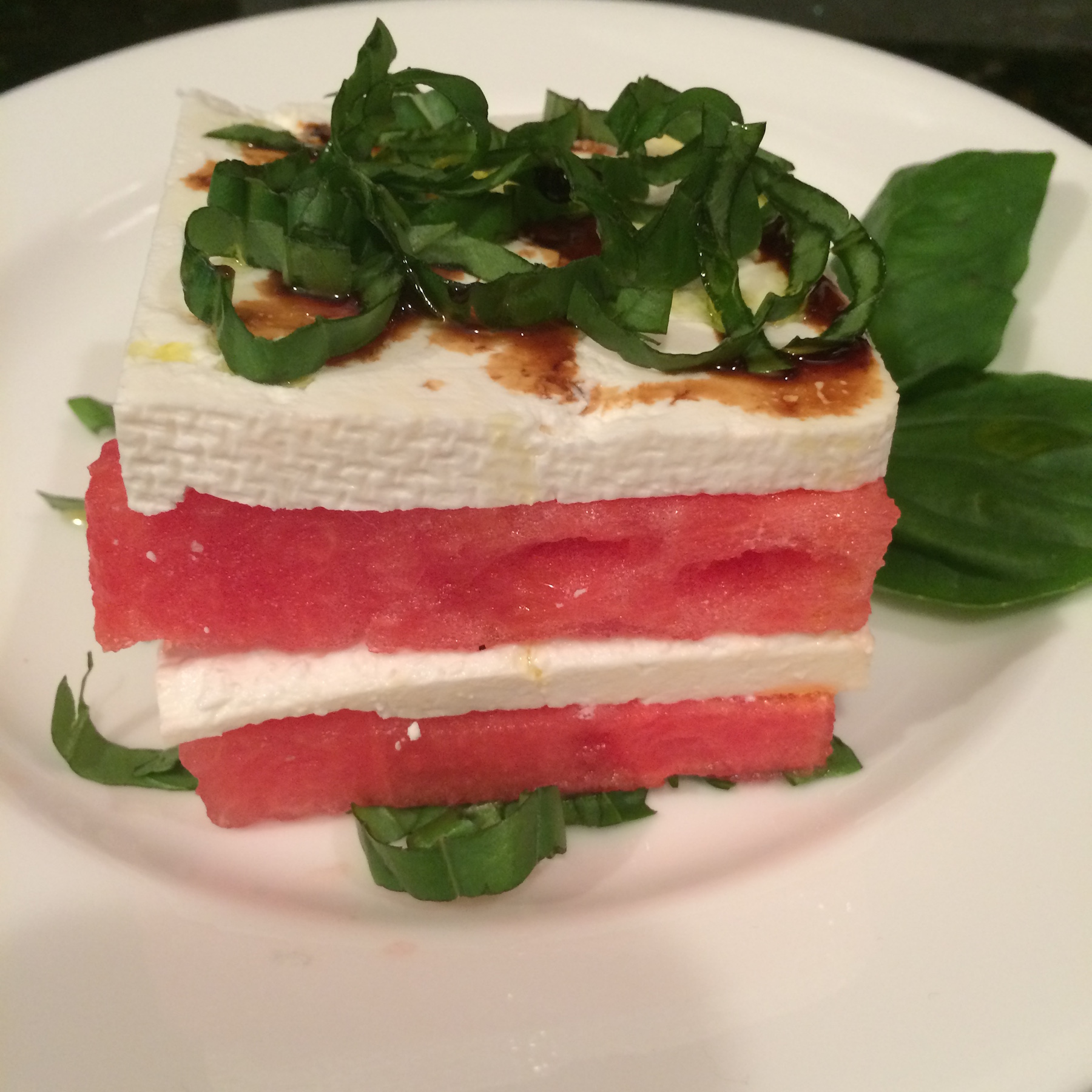 4 servings
1/3 cup basil leaves (16 to 18 leaves), sliced into chiffonade (thin strips), plus 8 whole leaves for garnish, optional
1/4 watermelon (4 pounds), rind removed and cut into eight 2 1/2 by 2-inch rectangles, 1/2 inch thick
8-ounce block good-quality Feta cheese, cut into eight 2 1/2 by 2-inch rectangles, 1/4 inch thick
2 teaspoons extra virgin olive oil
1 teaspoon balsamic vinegar glaze, or Saba
Freshly ground black pepper
To assemble each stack, scatter approximately 2 teaspoons of the basil chiffonade on an individual salad plate. Place a watermelon rectangle on top, followed by a Feta cheese rectangle, and 1 teaspoon more of the basil.Repeat with another layer, stacking the watermelon, Feta cheese, and basil. Drizzle 1/2 teaspoon of the olive oil, then 1/4 teaspoon of the balsamic vinegar glaze on top.Finish with freshly ground black pepper to taste. Repeat these steps for each salad, garnish with whole basil leaves as desired, and serve.