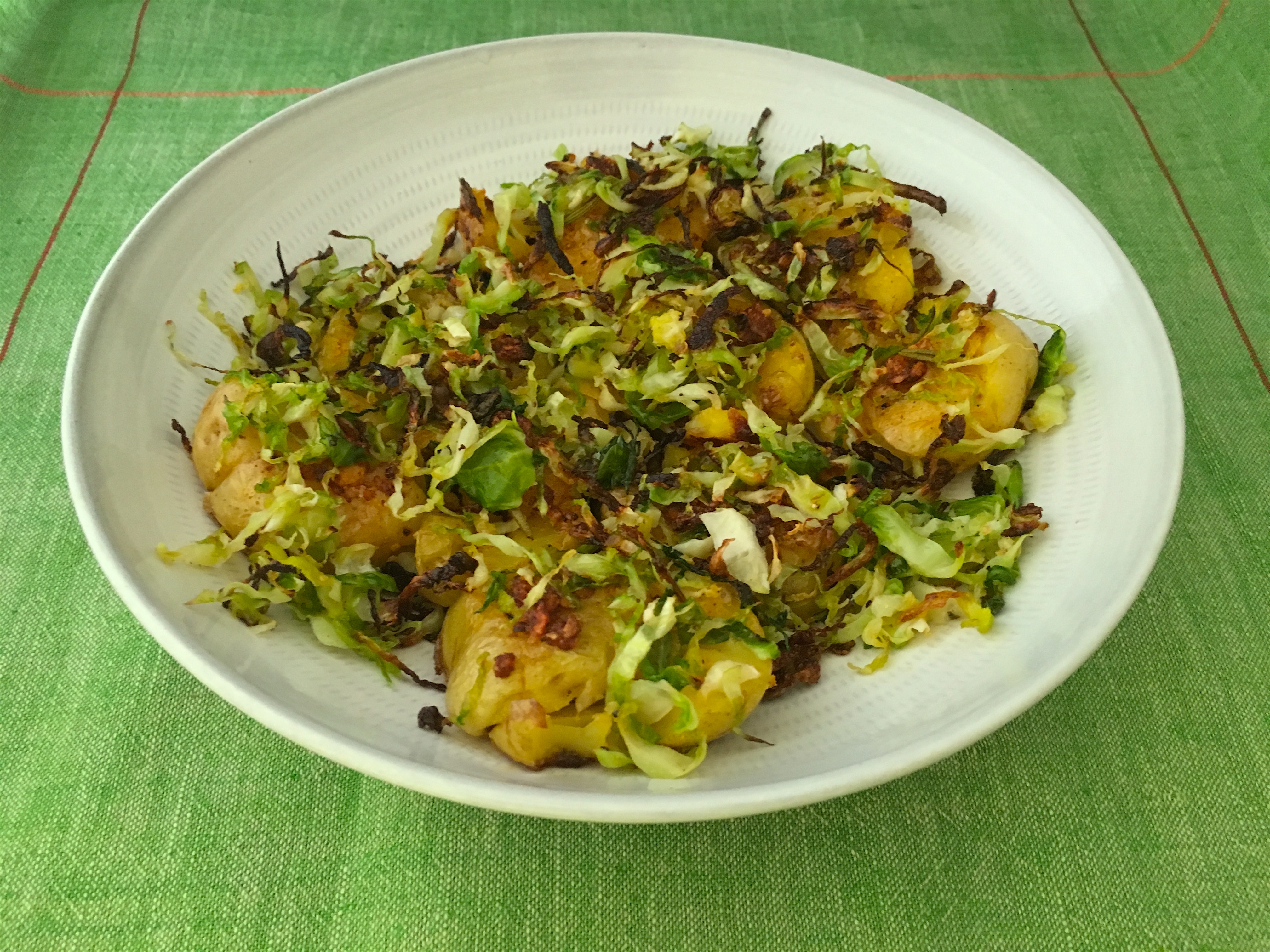 There is something about the combination of roasted potatoes and Brussels sprouts that we always love––they just seem to go together synergistically: the taste together is even better than the individual elements. For this recipe we tried something new. We finely shredded the Brussels sprouts before adding them to the already roasting potatoes. The result is a delightfully flavorful and crispy side dish. And if you love potatoes but are trying to cut back on the starch a little—this is a perfect way to do it.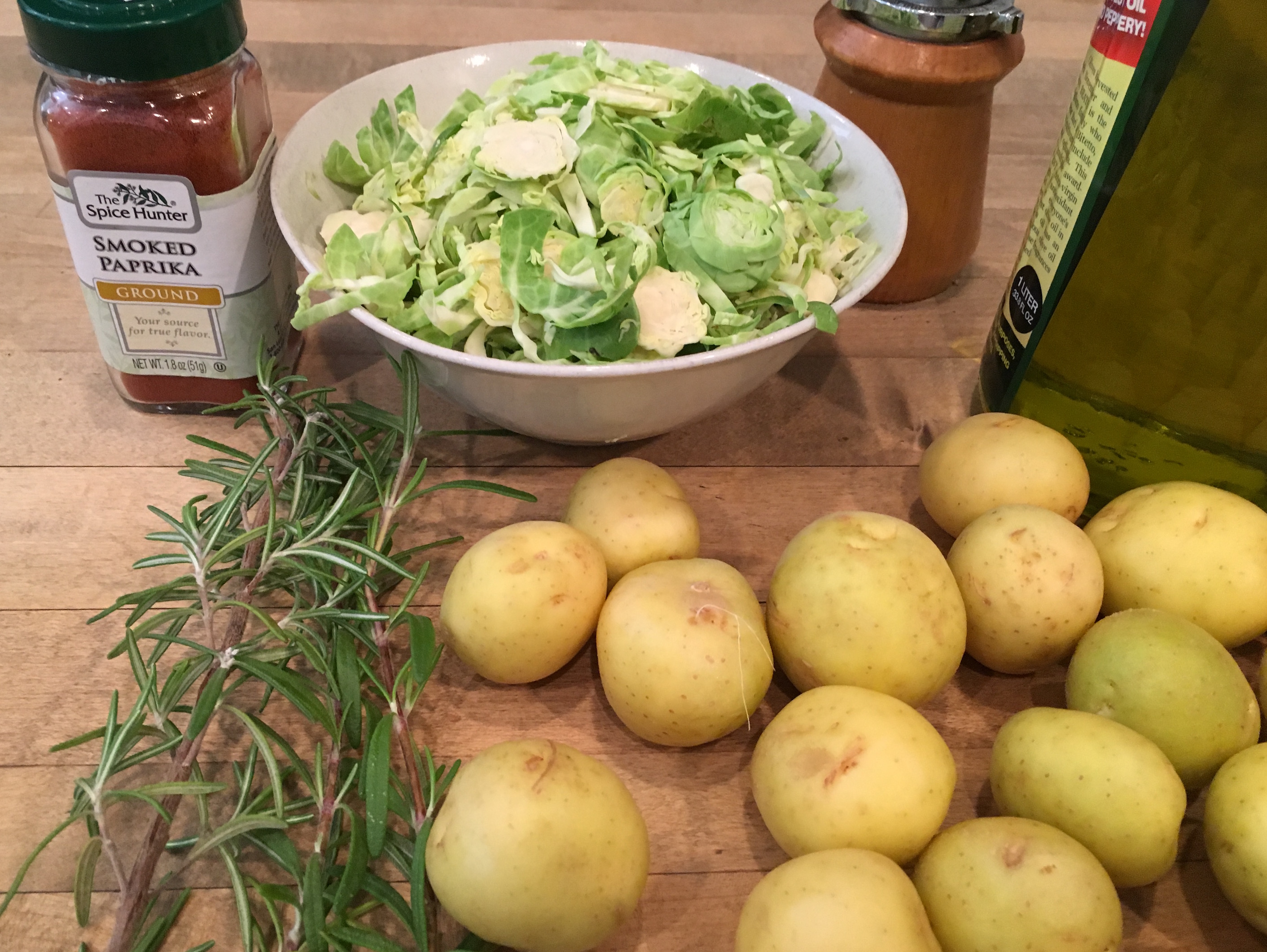 Simple ingredients create this savory dish.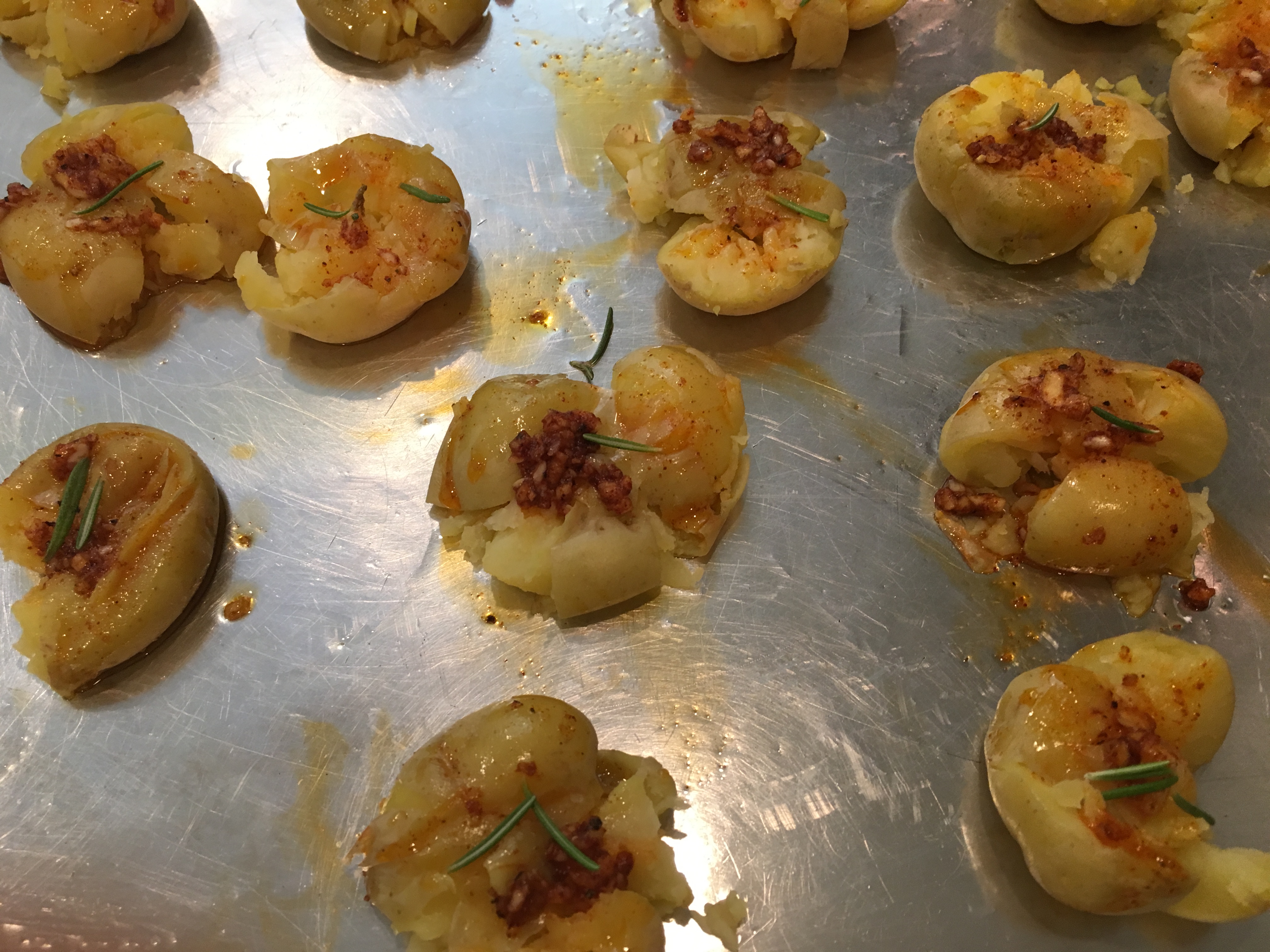 Gently smash the potatoes to flatten before roasting, and baste with the olive oil, paprika, garlic mixture.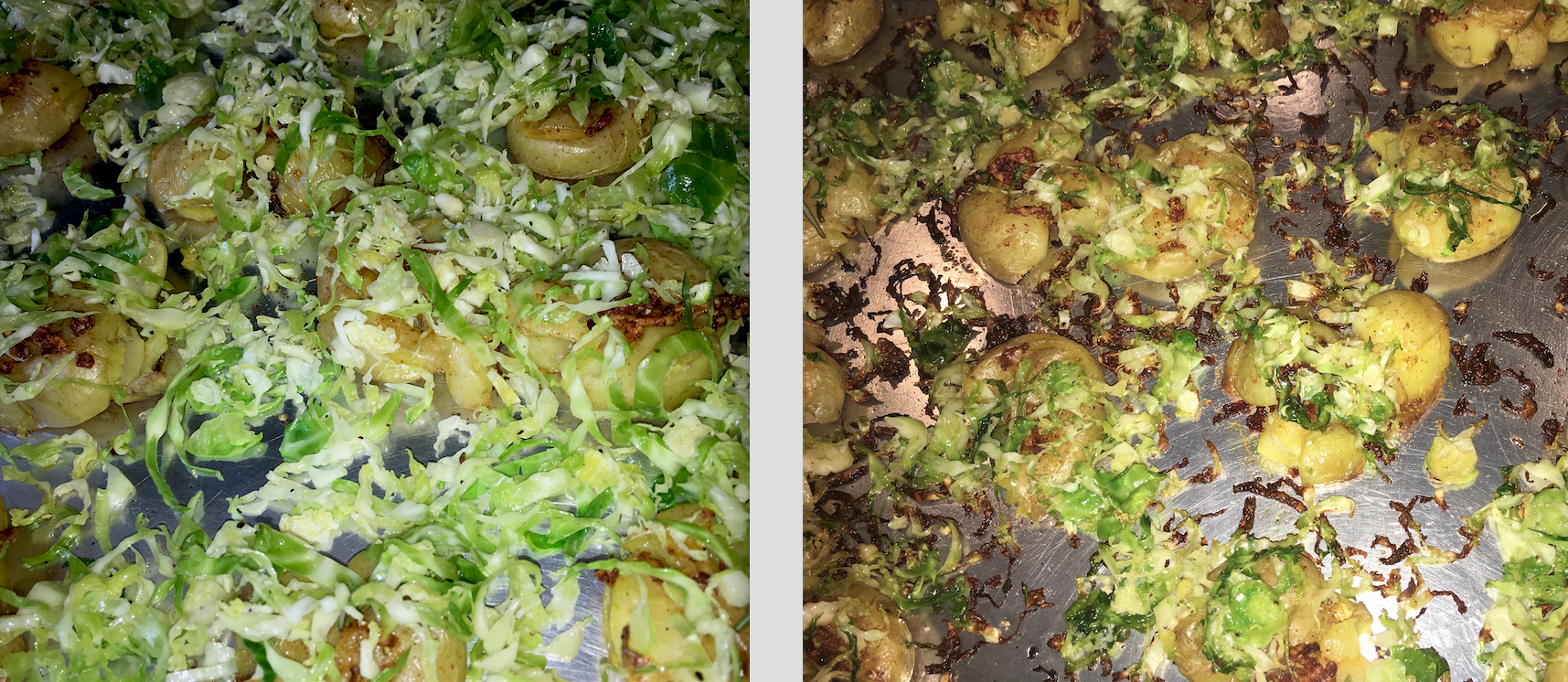 Add the shredded Brussels Sprouts to the partially roasted potatoes and roast once more.
Smashed Potatoes with Shredded Brussels Sprouts
4 servings
1 1/4 pounds small potatoes, scrubbed but not peeled
3 tablespoons extra virgin olive oil, plus extra for coating the baking sheet
2 cloves garlic, minced
1/2 teaspoon smoked paprika
Sea salt
Freshly ground black pepper
2 cups finely shredded Brussels sprouts, firmly packed
2 sprigs fresh thyme
Preheat the oven to 425°F. Lightly oil a rimmed baking sheet.
Place the potatoes in a pot and add enough water to cover. Set over high heat, cover the pot, and bring to a boil. Cook, partially covered, until just fork-tender, 10 to 12 minutes.
Meanwhile, in a small mixing bowl add 2 tablespoons of olive oil, the garlic, paprika, 1/2 teaspoon of salt, and 1/4 teaspoon of pepper, and combine well.
Next, in a medium mixing bowl, combine the Brussels sprouts, the remaining tablespoon of oil, 1/2 teaspoon of salt, and 1/4 teaspoon of pepper. Mix well, and set aside.
Once fork-tender, drain the potatoes thoroughly in a colander. Place them on the prepared baking sheet leaving space between them. Using a potato masher or fork, gently but firmly press down on each potato until somewhat flattened but whole (don't worry if they come apart slightly, simply push them back together with your fingers.)
Using a pastry brush coat the top of each potato with the oil, garlic, and paprika mixture. Sprinkle each with a couple of thyme leaves and place in the preheated oven.
Roast undisturbed until the potatoes begin to turn golden brown, 15 to 20 minutes. Remove the baking sheet from the oven and spread the Brussels sprouts mixture all over the potatoes and the pan. Rotate the pan and roast again until the Brussels sprouts are crisp and browned, approximately 10 minutes more. Remove to a platter, season with additional salt and pepper, and serve hot.