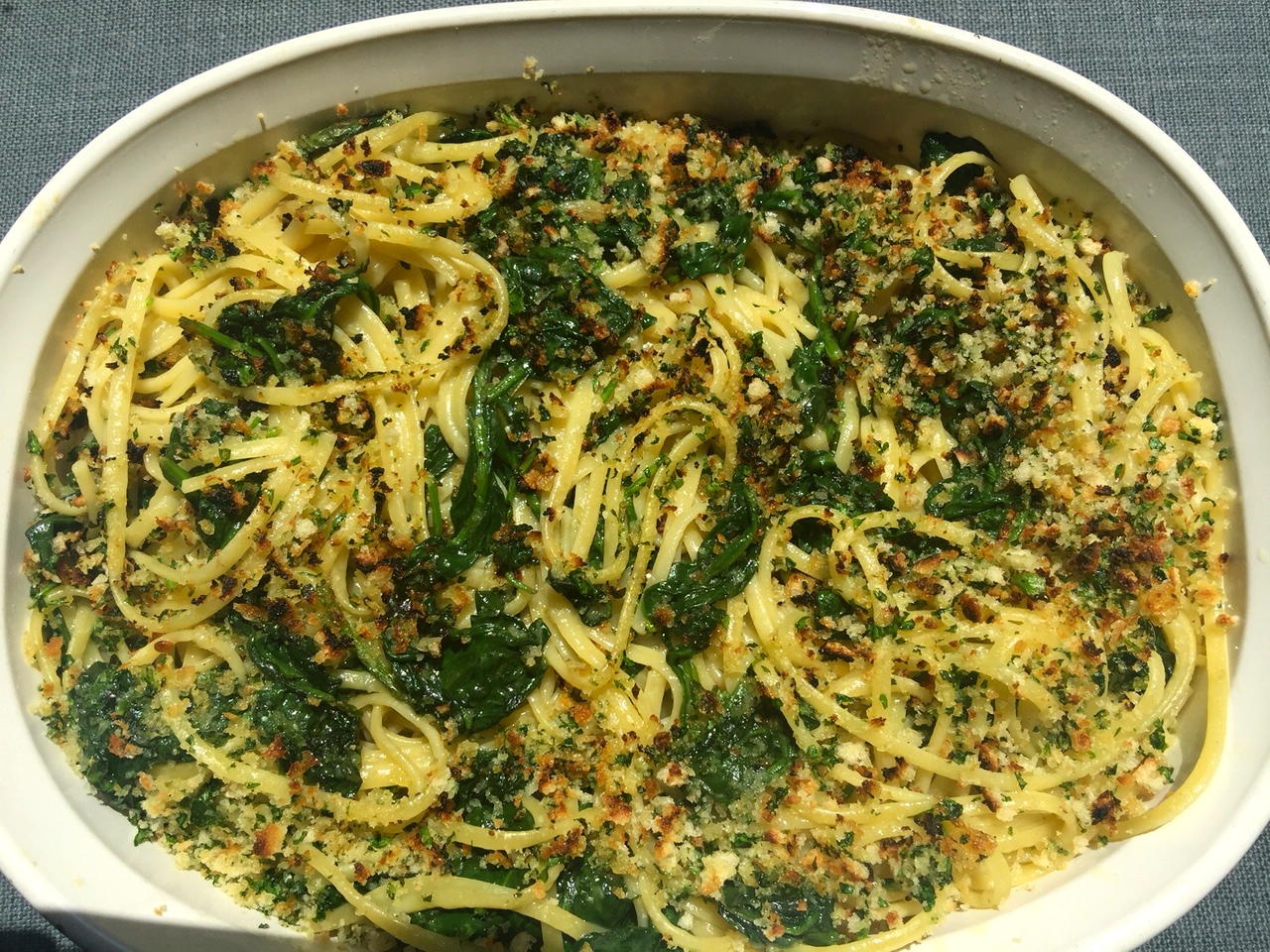 Swiss chard and kale have become so popular that we sometimes forget our earlier love –spinach–that nutrient powerhouse packed with flavor.  In this ultra easy dish we sautéed spinach and garlic, added linguine, and sprinkled breadcrumbs flecked with Parmesan cheese and parsley on top.  We then placed the pasta under the broiler for less than a minute. The result? A whole new taste dimension to an old family favorite.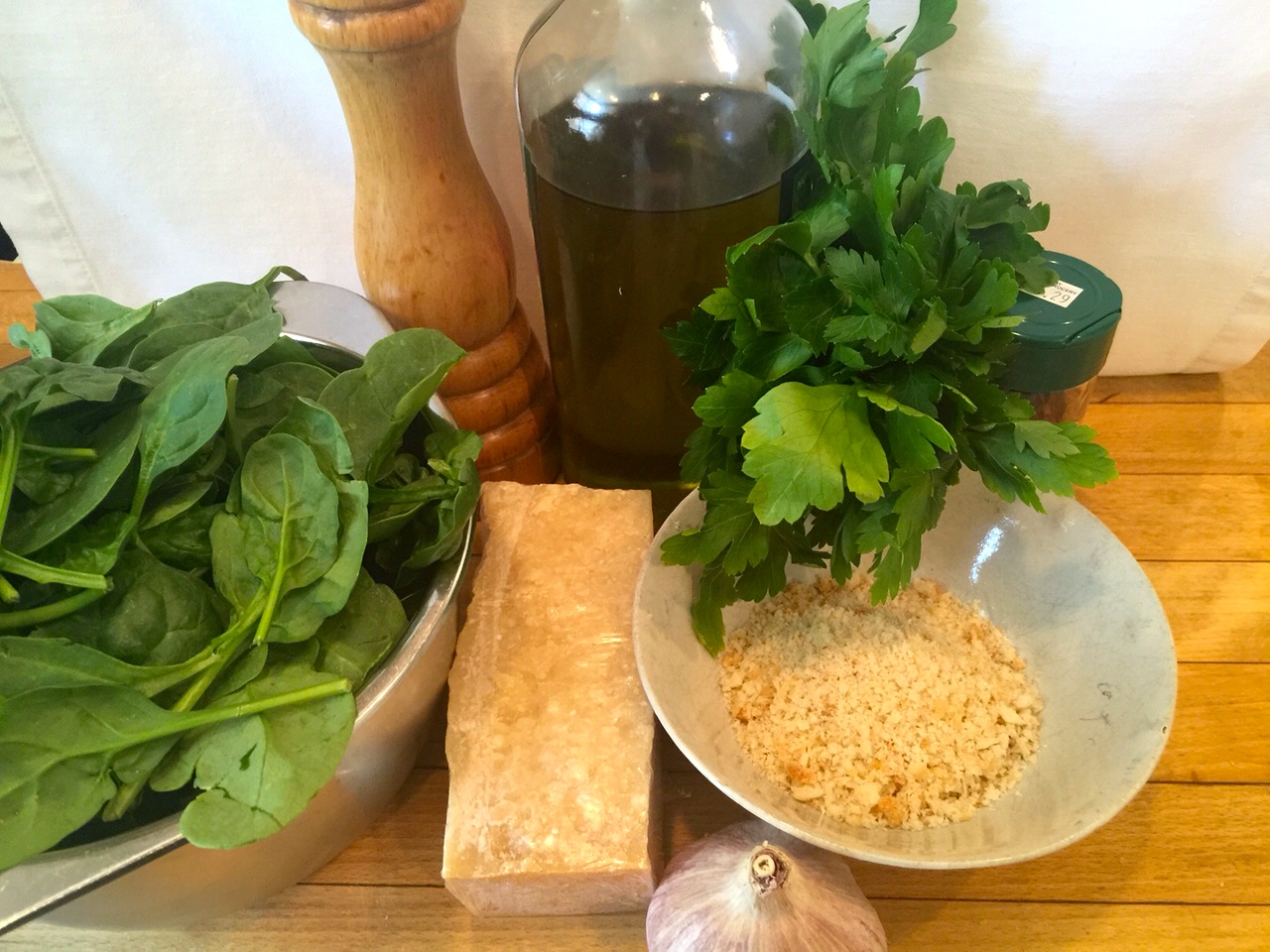 Mise en place.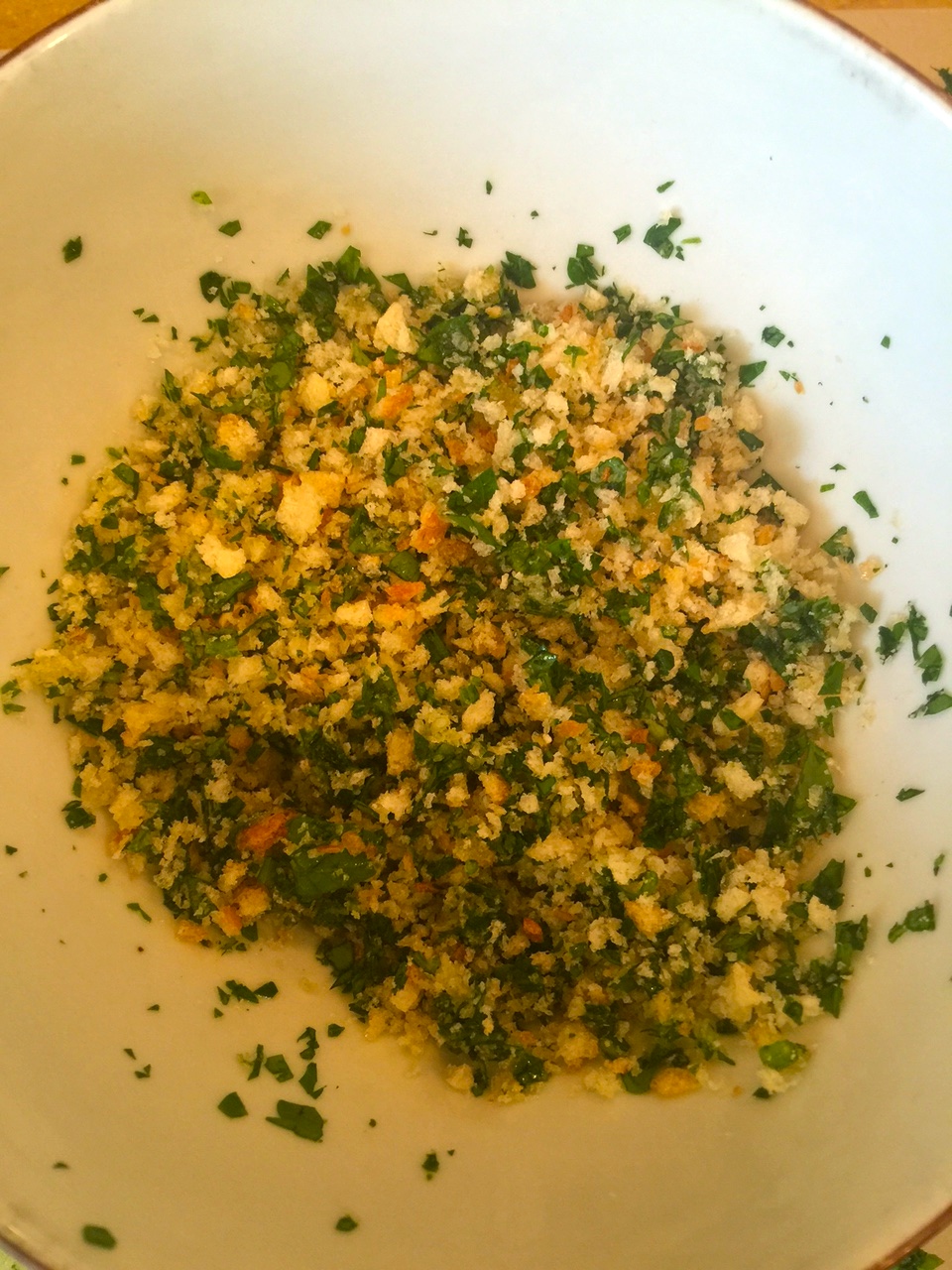 We make the breadcrumb topping first and set it aside.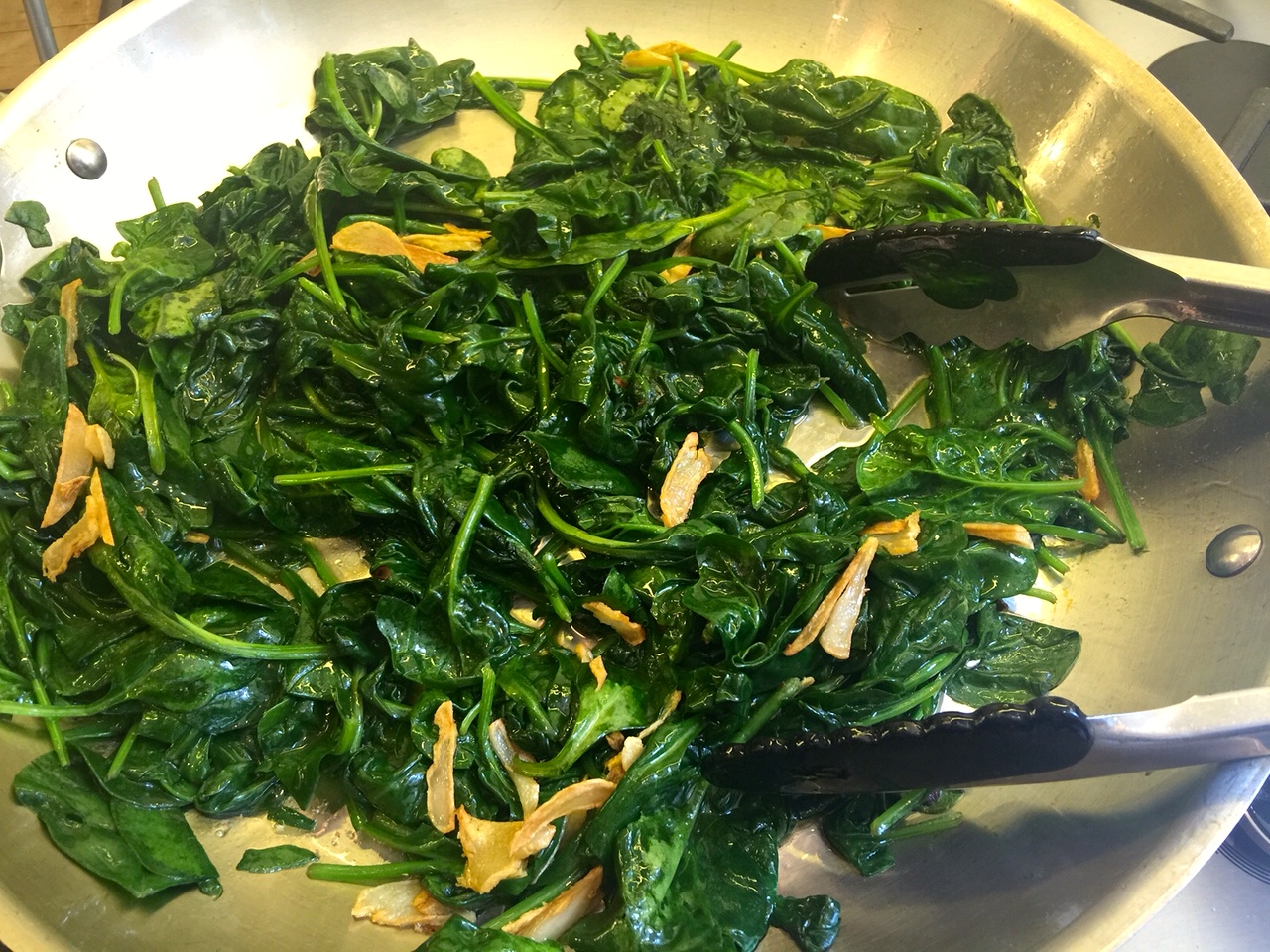 After the spinach wilts, the garlic slivers are added back to the skillet.
Linguine with Spinach and Parmesan Breadcrumbs
4 to 6 servings
Breadcrumb Topping
½ cup plus 2 tablespoons plain breadcrumbs
3 teaspoons freshly grated Parmesan cheese
3 tablespoons finely chopped Italian (flat-leaf) parsley
3 teaspoons extra virgin olive oil
¼ teaspoon kosher salt
Spinach Pasta
1 tablespoon kosher salt
½ cup extra virgin olive oil
5 garlic cloves, peeled and sliced into slivers
¼ teaspoon crushed red pepper flakes, or to taste
15 ounces baby spinach leaves
1 pound linguine
3/4 cup freshly grated Parmesan cheese
Freshly ground black pepper
Bring a large pot of water to a boil over high heat and add 1 tablespoon of salt.
Combine the breadcrumb topping ingredients in a small bowl and set it aside.
Add the pasta to the boiling water and cook until al dente, about 1 minute less than the directions on the package. Reserve ½ cup of the pasta water and drain the pasta in a colander.
Heat ½ cup of olive oil over low heat until shimmering. Add the garlic slivers and cook until lightly browned, about 2 to 3 minutes. Remove the slivers with a slotted spoon and set aside (the garlic will be added to the spinach later). Add the red pepper flakes and cook for 30 seconds. Add the spinach and cook until limp, using tongs to mix it thoroughly with the oil. Remove from the heat.
Turn the oven on to broil.
Return the reserved garlic back into the skillet with the spinach. Pour in the reserved pasta water and mix well. Turn the stove on to medium heat. Add the cooked linguine and pour ½ cup of Parmesan cheese over the hot pasta before mixing both into the spinach. Add 1/8 teaspoon of black pepper. Using tongs, mix the cheese well into the pasta and spinach.
Transfer the pasta to an ovenproof serving dish and sprinkle with the breadcrumb mixture. Place in the oven and broil until breadcrumbs are golden brown, 30 seconds to a minute, watching closely so they don't burn. Serve hot.