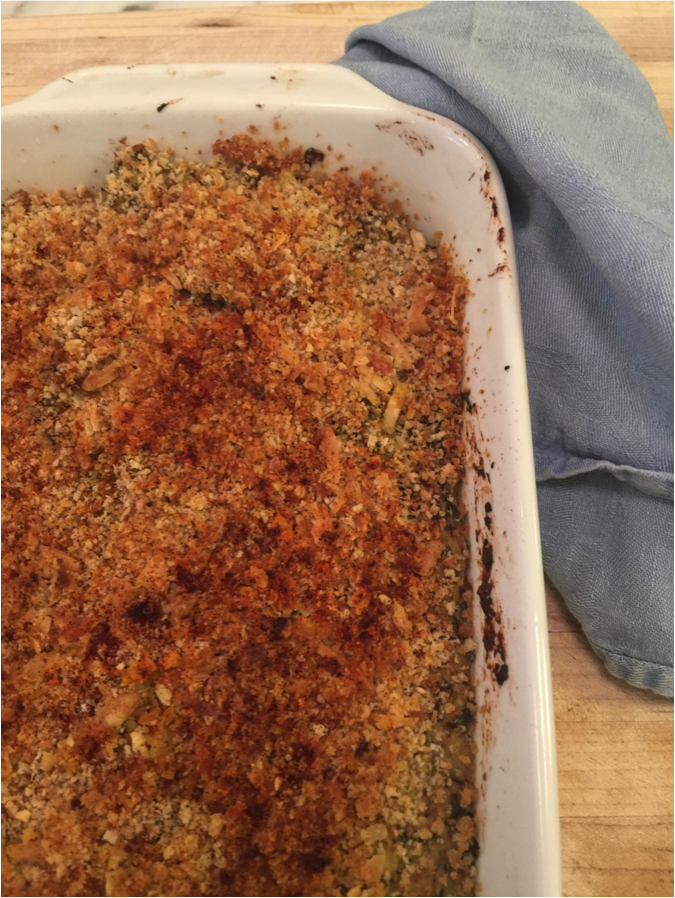 We just may love artichokes more than any other vegetable. Corky introduced us to them early. In fact, when she first cooked them for us, most of our friends had never even heard of them. Etched in our memories is the crazy amount of work she put into preparing them; trimming the ends, scraping the choke, and soaking in lemon juice (to keep their beautiful green color). At the table, we kids loved the ritual of taking each separate leaf, and dipping it one at a time into the warm melted butter or creaming, citrusy hollandaise. Little did we know that many of the men in our lives would find eating artichokes almost as arduous and labor intensive as we found cooking them. We experimented, tried the canned, but didn't love that tinny, preserved taste, and we found that artichokes in the jar had seasonings that didn't go with how we wanted to prepare them. Then we discovered frozen artichokes! They are not only delicious, but have all of the nutritional benefits with none of the fuss.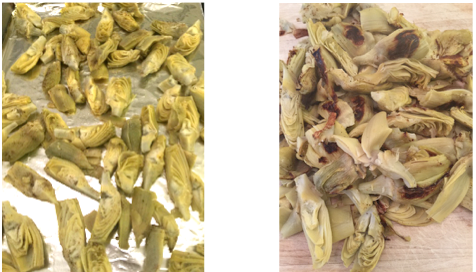 We created a zesty artichoke dip as an appetizer for company but soon realized it also makes a perfect side dish at dinner. As an added bonus, scooping with a pita chip makes eating artichokes a snap.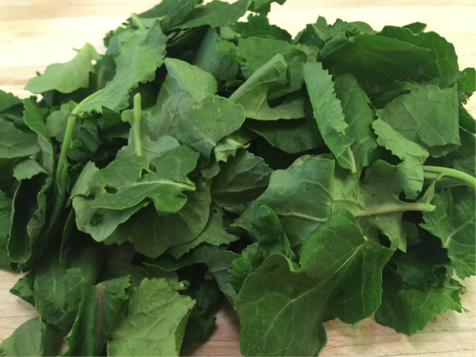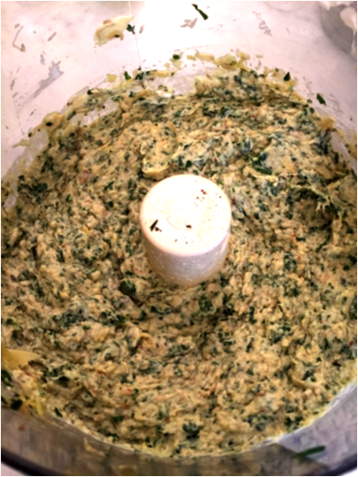 Adding baby kale to the dip not only makes it healthier, but even more flavorful.
Baked Artichoke Dip with Baby Kale
6 to 8 servings
For The Topping
1/2 cup fresh breadcrumbs
2 tablespoons fresh Parmesan cheese, shredded
1 1/2 tablespoons melted butter
For the Dip
Two 9 ounce boxes frozen artichokes, do not thaw
2 tablespoons extra virgin olive oil
1 teaspoon kosher salt
1/4 teaspoon black pepper
1 cup chopped yellow onion
2 cloves garlic, minced
2 cups packed chopped baby kale
1 cup reduced-fat mayonnaise
1/2 cup light cream cheese, at room temperature
1/3 cup freshly grated Parmesan cheese
1 tablespoon freshly squeezed lemon juice
1 tablespoon fresh thyme
Cayenne pepper, to taste
Organic olive oil cooking spray
Sweet paprika, to taste
Set a rack in the middle of the oven and preheat to 450˚ F.
In a small mixing bowl combine all of the ingredients for the topping, mix well and set aside.
Line a rimmed baking sheet with foil. Place the artichokes in a medium sized mixing bowl. Combine 1 tablespoon of the olive oil, 1/2 teaspoon of kosher salt, and 1/8 teaspoon of pepper, and toss to coat. Spread the artichokes on the prepared baking sheet and roast in the oven for 25 minutes. Allow the artichokes to cool, and set aside.
Reduce the oven temperature to 400˚ F.
Meanwhile, heat the remaining tablespoon of olive oil in a large skillet over medium heat until shimmering. Add the onion, and the garlic, and cook until the onion is soft and translucent, about 10 minutes. Add the kale and stir to incorporate. Cook for an additional 6 to 7 minutes, until the kale is soft.
In a food processor combine the artichokes and kale mixture. Blend until just smooth. Add the mayonnaise, cream cheese, the 1/3 cup of Parmesan cheese, lemon juice, thyme, and cayenne pepper, and blend until just combined, leaving a few chunks. Add additional salt and pepper to taste.
Spray the bottom of 9- by 13- inch casserole dish with the olive oil spray. Transfer the mixture to the casserole and using the back of a wooden spoon or spatula, to smooth the top.
Generously sprinkle the breadcrumb mixture over the artichoke dip. Top with a sprinkle of paprika and place in the oven. Bake for 20 to 25 minutes until browned.
Serve warm with pita chips, toasted French bread slices, or crackers.