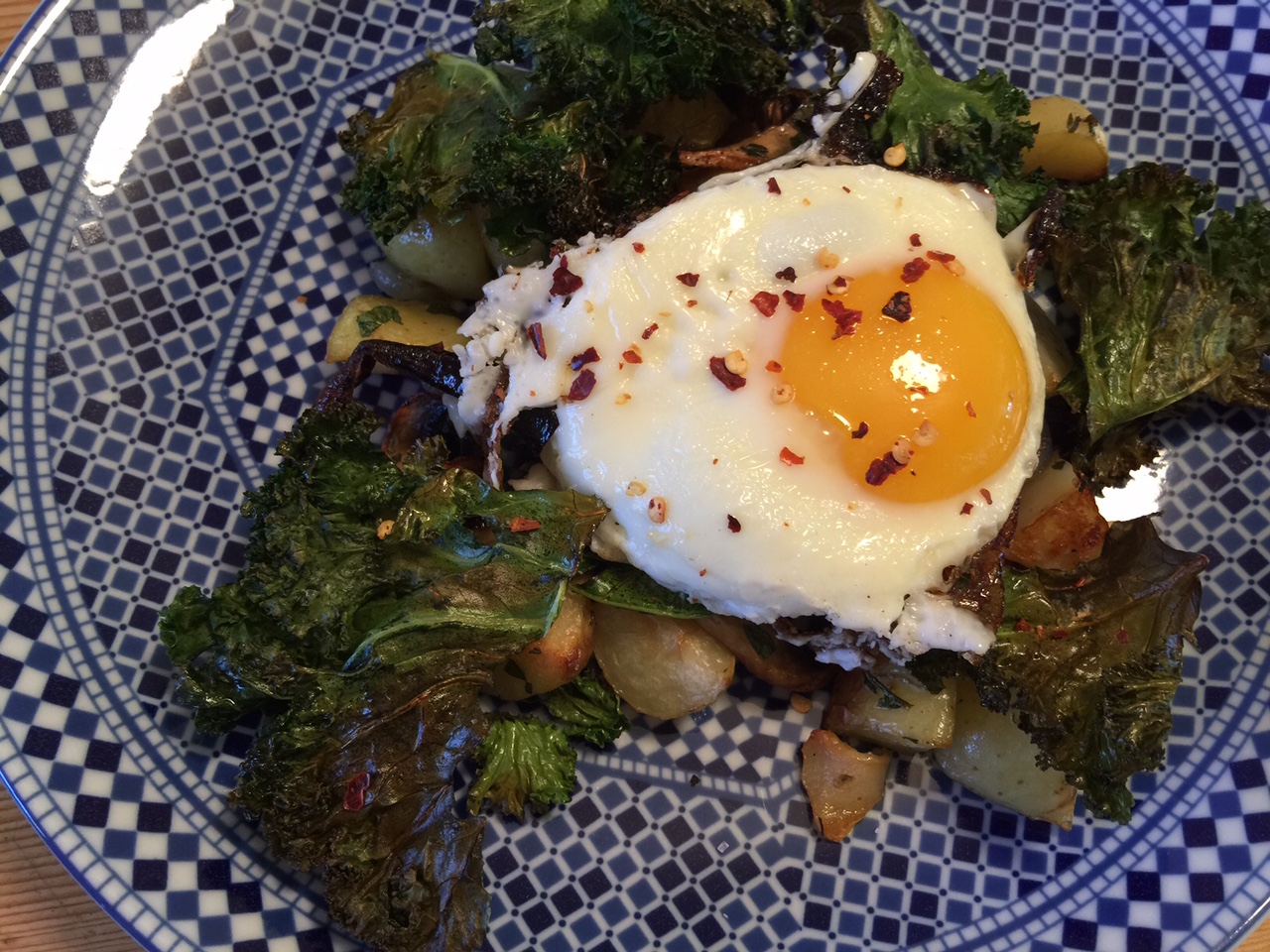 Sometimes the perfect comfort food is a meal of potato hash and eggs. In this recipe we elevate the dish many notches by adding roasted garlic, onions, kale, and mushrooms. The result—a healthy, light, and delicious hash that is comfort food at it's best.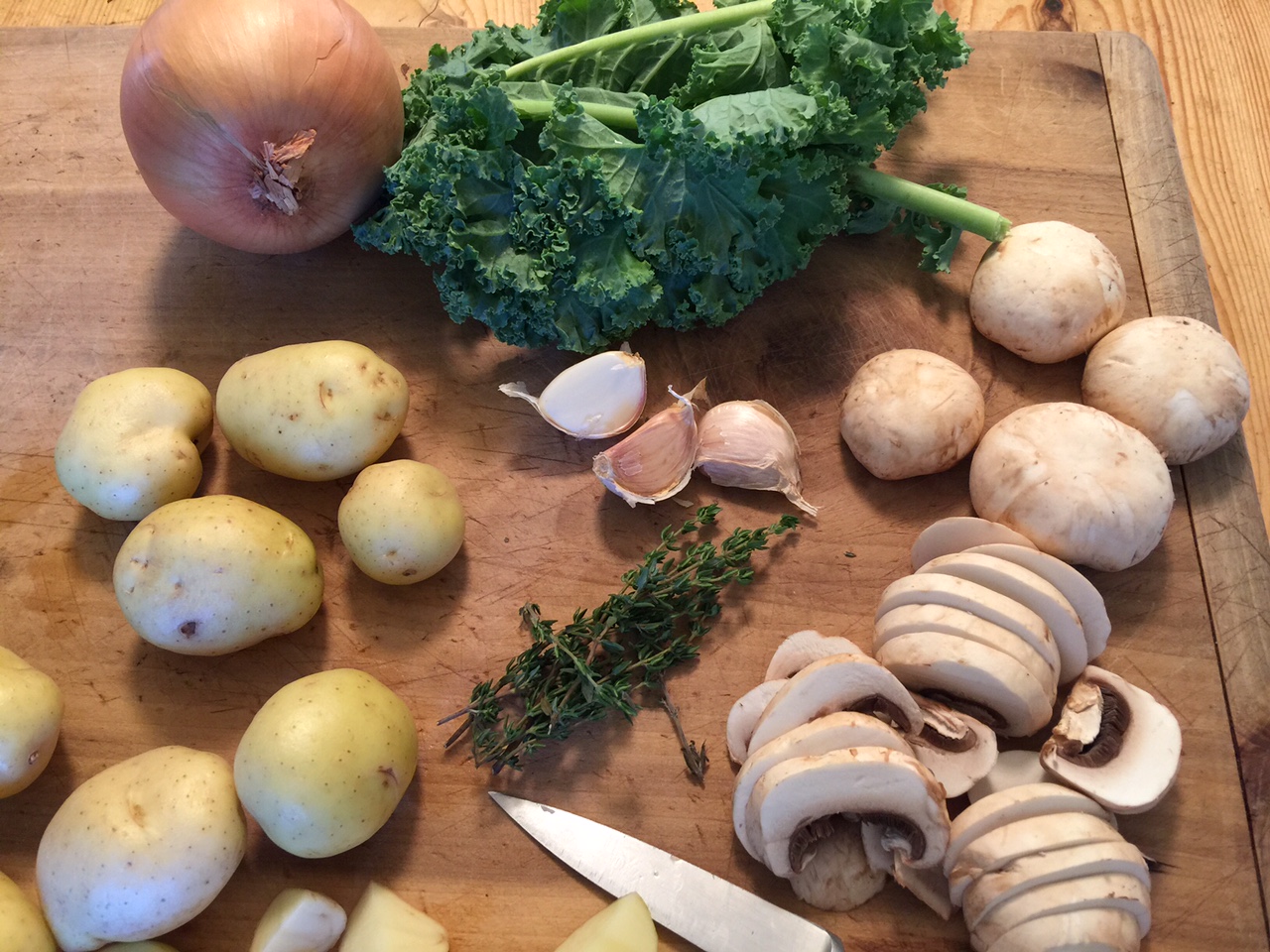 These vegetables go great with eggs.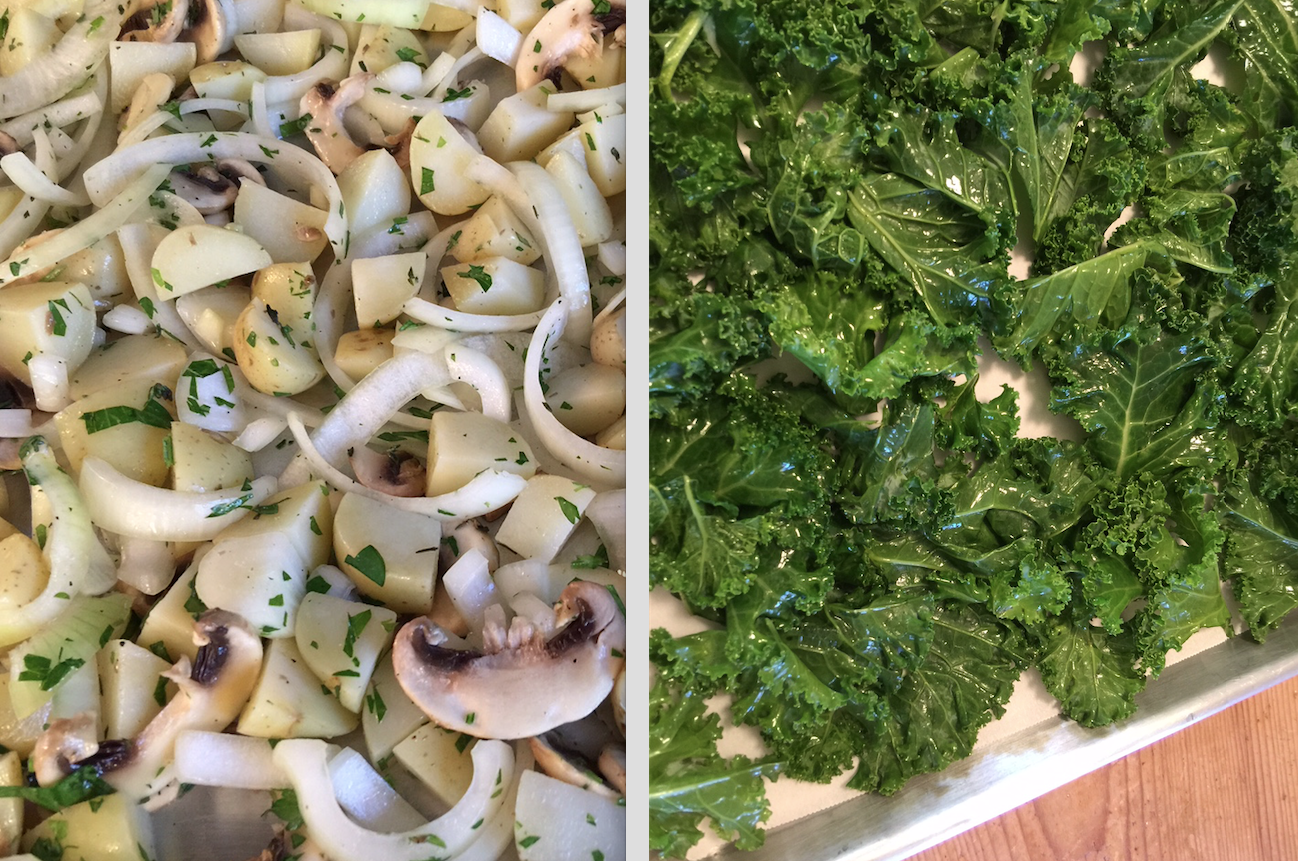 They are roasted on rimmed baking sheets.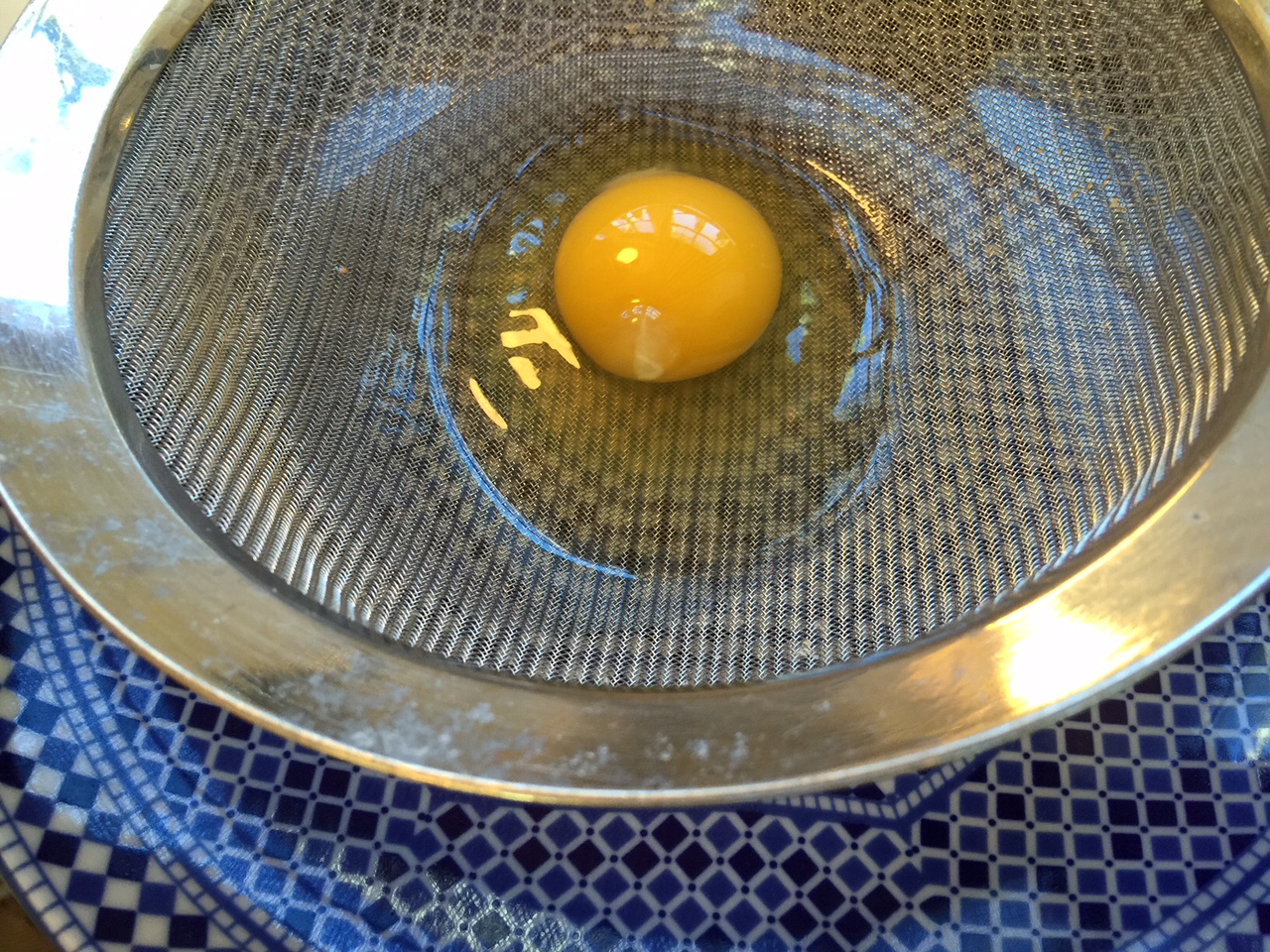 It's optional, but the sieve removes the excess watery part of the white.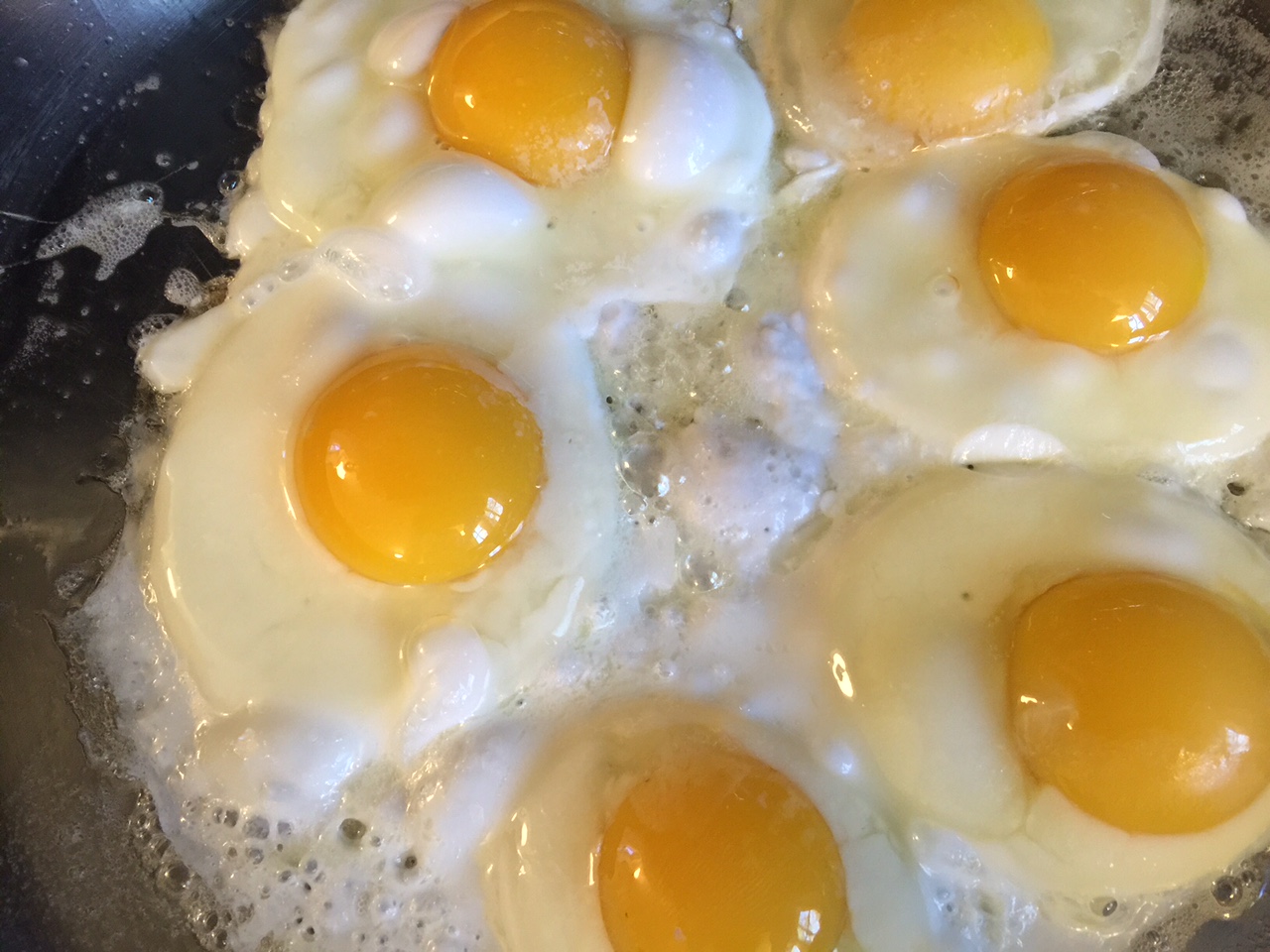 The last step is frying up the eggs.
Crispy Kale, Potato, and Mushroom Hash with Fried Eggs
4 servings
1 1/2 pounds small potatoes sliced into 3/4 inch pieces
1 tablespoon white or cider vinegar
1 medium yellow onion, cut in half, then thinly sliced in half moons
8 ounces white button mushrooms, thinly sliced
3 cloves garlic, thinly sliced
1 teaspoon chopped fresh thyme, plus 3 to 4 sprigs
2 tablespoons chopped flat-leaf (Italian) parsley
Sea salt
Freshly ground black pepper
3 tablespoons extra virgin olive oil
4 cups packed kale, completely dry, stemmed and torn into 2-inch pieces
1 to 2 tablespoons unsalted butter (or substitute extra virgin olive oil)
4 to 8 large organic eggs
Crushed red pepper flakes (optional)
Preheat the oven to 425° F.
Line two rimmed baking sheets with parchment paper.
Place the potatoes in a medium size pot and add enough water to cover. Add the vinegar (this helps the potato pieces keep their shape.) Set over high heat, cover the pot, and bring to a boil. Reduce the heat to medium-high and cook, partially covered, until just fork-tender, 5 to 7 minutes. Drain well.
In a large mixing bowl, combine the cooked potatoes, onions, mushrooms, and garlic. Add the chopped thyme, parsley, 1 1/2 teaspoons of salt, 1/4 teaspoon of black pepper and 2 tablespoons of the olive oil. Toss to coat completely.
Arrange the vegetables in a single layer on one of the baking sheets. Roast undisturbed until the bottoms of the vegetables are golden brown, 25 to 30 minutes. Flip and roast on the other side until golden brown, 20 to 25 minutes more.
Meanwhile, place the kale in a large mixing bowl and add 1 tablespoon of olive oil. Using your fingers massage the oil well into all the leaves (do not add salt at this stage*.)
*Salting before roasting will bring out the moisture  leading to less crispy kale.
Place the kale in a single layer on the other baking sheet. Roast until browned and crisp, 12 to 14 minutes, flipping once halfway through. Season with salt to taste. Set aside.
Melt 1 to 2 tablespoons of butter (use 2 if making 8 eggs) in a large non-stick skillet over medium heat (you can substitute olive oil.)  Gently pour the egg into the skillet and repeat with the remaining eggs. Cook until the whites set and the yoke is at your desired runniness, 4 to 5 minutes.
Spoon a generous serving of the potato and mushroom hash onto individual serving plates, top with 1/4 of the roast kale, and finish with 1 or 2 fried eggs. Sprinkle with red pepper flakes as desired, and serve.